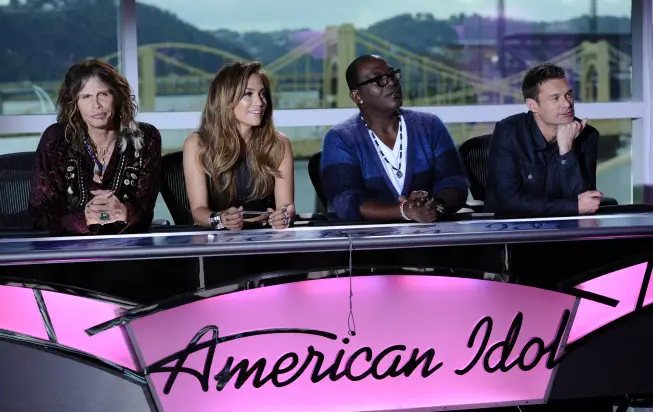 The American Idol 11 crew, including Randy Jackson, Jennifer Lopez, Steven Tyler and Ryan Seacrest auditioned golden ticket winners in the golden triangle Wednesday and Thursday. Oh. That would be Pittsburgh, PA.  It's Idol's first trip to the Steel City!
About 50 hopefuls auditioned Wednesday at the David L. Lawrence Convention Center, of which five or six had top-12 potential, according to Randy Jackson.
"To put that in context, that's a supremely strong day, " said  Ryan.
"We've seen some very interesting, quirky kinds of singers, " said Randy, describing them as ones who wouldn't fit the traditional pop mold.
Ryan let it slip that a singer named Courtney had just wowed the judges. It was Courtney Flege from Kentucky, who minutes earlier "was seen emerging from an elevator screaming with delight, clutching a gold ticket pass to the fourth-round in Hollywood. She was surrounded by friends and family in matching Courtney-goes-to-Hollywood T-shirts."
"It's brutal" having to tell ambitious singers that they're not advancing to Hollywood, " says Steven, but, "It's gotten a little easier to tell them they might not have something we're looking for."
"You really have to just go with exactly what you feel, " said Jennifer. "Sometimes, you don't know."
The judges  were surprised by how many contestants were eager to quarrel with their decisions.
Idol officials said the judges do not work with quotas or have a set amount of Golden Tickets.
How does Randy feel about Pittsburgh? "I like it, "  he  said. "There's a guy not from here. He's from Los Angeles. He's fascinated with this tasty cake thing. His name is Mike Darnell. He loves the tasty cake thing. He's buying every one in town."
(Tasty Cake. Not a Pittsburgh thing. FAIL)
"And that sandwich with the french fries on it, coleslaw, Primanti Brothers, yeah, " judge Steven Tyler said.
(Primanti Brothers. DEFINITELY a Pittsburgh thing. Gold star for Steven)
"I got a question for you guys, what about the Steelers, " Jackson asked. "Where are your 'Terrible Towels?' What's going on here?"
Randy is a Steelers fan. Or so he says…
See video of the press conference below.
Sources: Beaver County Times, Pittsburgh Live, WTRF