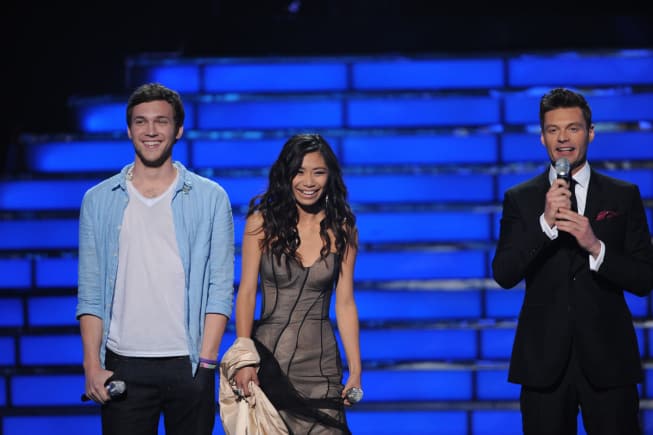 Ya'll are in for a treat. Windmills will be live blogging tonight's show! Join her, will you, for the fun as we find out who will be our next American Idol. Will it be Jessica Sanchez or Phillip Phillips? Special guest stars include: Aerosmith, Jennifer Lopez, Jennifer Holliday, Kristin Chenoweth, Fantasia, John Fogerty, Reba McEntire, Jordin Sparks, Neil Diamond,  Chaka Kahn, Gloria Gaynor, Thelma Houston and more. Check out the deets HERE.
–
I'll be live blogging all the action at Entertainment Weekly. Join me there, will you? After, I'll be back with a recap. Watch this space for photos and videos.
And we're off! Opening montage of P2 and Jessica. Their journeys will end very differently, ya'll. How much or little that has to do with tonight's result remains to be seen.
Group number! And the whole t13 minus our t2 is covering Joshua Ledet's cover of Bruno Mars's reprising "Runaway" by Bruno Mars! Everybody's dressed in all white with glittery silver accents. Erika's blonde again! Dancers in black spicing up the number. No lip synching here, as there are a few mic fails mixed in there. Heejun does his "My Life" version of "Runaway" for his solo.
Our judges make their way into their places through a promenade defined by our t13. Hello Dean Cain! Now comes Ryan Seacrest, all gussied up in a tuxedo. He announces a record 132 million votes last night. Unlike last night there isn't an obvious audience favorite when he asks whom the crowd wants to see win (well, maybe the signs tilt P2's way). He brings out P2 and Jessica and asks them if they slept at all last night. Neither of them cooperate with his drama attempt, with Jessica saying she got a little sleep and P2 saying he got 9 1/2 to 10 hours of rest. He ain't even mad. Hello Jane Lynch!
A special P2 duet is up next!
P2 and John Fogerty are up singing "Have You Ever Seen The Rain". And Carrie Underwood is singing along! This is a serviceable version of the song, though they don't sound so hot when they're singing together. P2 mentions what an honor it is to sing with John Fogerty, and they move on to singing "Bad Moon Rising." Once again they're better trading lines than singing together but this is an improvement in energy over the first song. P2 seems genuinely thrilled to perform with Fogerty, and Fogerty is a very gracious duet partner.
Now it is time to reminisce about the auditions phase. Ryan introduces a montage from the auditions. Many bleeps are involved.
So it's time to take us all to church. Joshua Ledet and Fantasia are up, singing "Take Me To The Pilot" by Elton John. Fantasia is wearing a very long weave and a skintight bodysuit that may or may not have a split down one of her thighs, Joshua is dressed in his white sport coat with silver trim and black pants. I'll say this for them – they are happy to be singing together, and they have absolutely no intention of holding back. And, they don't, as they go from the stage into the audience. This turns into a screamfest fast, and the audience is either really into it (Carrie) or a little confused (Scotty, Jimmy Iovine). Jennifer Lopez is grooving along too, and Joshua and Fantasia have most of the house on its feet if for no other reason than they've made it clear they will accept nothing less. They don't even seem to be done when AI cuts to commercial. Or, AI went to commercial and they just decided to keep singing.
And we're back! This time, Jimmy Iovine bloopers! OMG, he got Jessica and Jennifer mixed up! Repeatedly! He is on his knees begging forgiveness from Forbes Most Powerful Celebrity or whatever her title is as Jennifer Lopez laughs and laughs.
Now up the ladies of the top 12, decked out in metallic minidresses, all looking fly! Erika and Elise start us off with "Ain't Nobody" by Chaka Khan, then Shannon, Skylar and Hollie trade lines in "Through The Fire". Chaka Khan rocks a skintight brown bodysuit as she leads the girls in singing "I'm Every Woman." Chaka is werking it!
And now for our Ford segment. P2 is in this week's commercial! But only because it's a retrospective of all of this season's finalists with scenes from an early shoot. P2 and Jessica talk about the people have inspired them (his brother in law, her musical mentor). And there are cars for everybody!
Rihanna is up, singing "Where Have You Been". Oddly enough she is not wearing a bodysuit. She does make her entrance in a cube. Not an incubator though, because that was so last year. I know I'm the country freak and all but Rihanna does actually sample Johnny Cash for this song, right? "I've Been Everywhere".
Now it's Skylar singing with Reba! They're singing Reba's most recent (18 months ago) #1 hit "Turn On The Radio," which is Reba channeling Carrie channeling Shania. Skylar is loving this chance to sing with an idol and a country legend – she's so comfortable up there on stage, and they're sounding really strong, really good together.
Now it's time for a tour of Steven Tyler's love shack, complete with Playboy bunnies, a sloth, a monkey, a skull, pirate gear, and a slightly confused Randy Jackson.
Now it's Jessica's turn to reprise "I Will Always Love You." The ensuing standing ovation is led by Haley Reinhart!
It's time for the t12 boys (sans P2) to do a Neil Diamond medley that including "America" where Heejun gets some fun solos Most of these guys, Joshua being the obvious exception along with Deandre, are not built for Neil Diamond songs. Neil Diamond himself comes in for "Crackling Rosie," "I'm A Believer" and then, you guessed it, "Sweet Caroline."
Heyyy, shout out to Idols for topping the charts, congrats Carrie and Adam Lambert for your chart topping albums!
And now, to honor one of Randy Jackson's overused phrases, the t12 Idols (minus our t2) dress in choir robes to actually sing from the phone book. LOLZ! Inspired idea. Ryan has Scotty gift Randy with a phone book, while Ryan begs Randy to find some new material. They introduce Jennifer Lopez's performance. The expression on Scotty's face is solemn. Amber Riley looks on in the row behind him!
Jennifer Lopez performs, and by performs I means dances while she mimes on a mic. She is joined by Wisin y Yandel for her 2nd song, and they don't appear to be rapping live either. OK.
Ryan introduces our very own Idol couple Ace and Diana. They talk about their relationship…OMG he's proposing!! Diana looks genuinely surprised, and she says Yes! They kind of lose themselves in a kiss, which is sweet, and Ace seems genuinely emotional. Putting cynicism aside for a second, Awh! Congrats you two! Maybe next year we'll have Taylor Hicks proposing to whomever he goes on a date with from The Choice!
Hollie's on to sing "You'll Never Walk Alone." She introduces Jordin Sparks, who's somewhat a vision of what Hollie could be in a few years as far as her poise and confidence on stage. Two beauties and powerhouse voices, that's for sure!
After a commercial break, it's 5 of the 6 t12 boys (no P2, who hasn't performed since about 15 minutes into the 1st hour) paying tribute to the late great Robin Gibbs with a Bee Gees medley that includes "How Can You Mend A Broken Heart?" and "To Love Somebody," where Joshua takes the lead. I'm not sure how I feel about this many reprises from the season.
But this next reprise is a showstopper – Jennifer Holliday and Jessica Sanchez bring down the house with their duet version of "And I Am Telling You I'm Not Going". The chemistry is great and it's actually very sweet seeing Jennifer Holliday encouraging Jessica, as if she's showing her how to sing ugly without making it too ugly. This isn't a diva off, it's 2 people singing their faces and our faces off without trying to outdo each other. Awesome! Man if Jessica Sanchez could've shown some of this swagger as a solo performer…(but, it's a sign she's got it in her so maybe when she's out of the confines of this show).
Somebody's got to follow that after a commercial break. And…it's Aerosmith debuting their new single in what turns out to be a medley with "Walk This Way". They have the crowd on their feet, waving their hands like they just don't care. Steven Tyler made at least one gesture towards his crotch that I cannot unsee. But, fun performance!
Next up, a Jessica/P2 duet on the Joe Cocker song "Up Where We Belong." Hey, Carrie and Bo sang this at the s4 finale! Jessica and P2 actually sound good together, nice complementary tones. They return to the stage from the platform behind the judges, and thank the AI band, crew, and fans for the experiences of this season. And now, it's time to reveal your newest American Idol. And it's…….
PHILLIP PHILLIPS. Yeah, the guy who never once hit the bottom 3. Phillip shares a hug with Jessica and gets a big old hug and kiss from Heejun. Scotty McCreery takes the stage to give P2 the Idol trophy and a guitar. Oh please have Scotty hand him the guitar ohpleaseohpleaseohplease. That would be as symbolic a message as any about how these things are going to go if they keep casting and more importantly presenting the show this way. The trophy and guitar make it to P2 through Ryan, and P2 starts singing his surprisingly decent coronation song "Home". The guitarist in the band starts playing before he does. In a sweet moment, he is overcome by emotion about a minute into the song and can't even croak out a sound. It's actually great to see how much this means to him – the guy who seemed so unaffected by it all is crying. As the song fades out he leaves the stage to embrace his family, and then the judges.
Congrats Phillip! Now please, get yourself well! Thanks and good luck to all the s11 finalists!