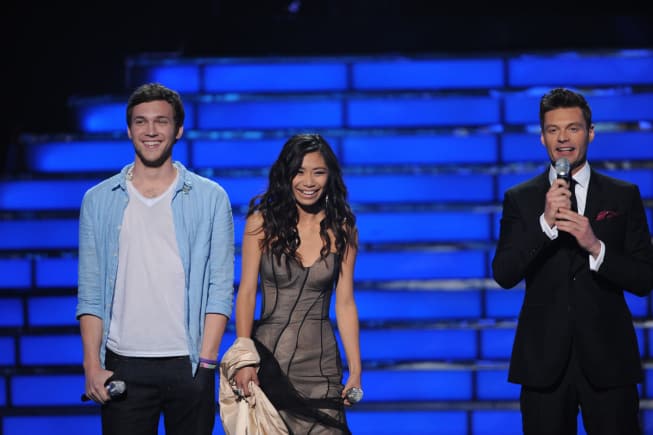 It's the American Idol 11 Finale 2 show down LIVE from the Nokia Theater!! HOLY COW.  Jessica Sanchez and Phillip Phillips face off tonight. Your votes determine who takes the Idol crown in tomorrow night's finale!
At the end of the broadcast, download studio versions of the performances.
Download Studio Performances From Tonight's American Idol
I'll be live blogging all the action at Entertainment Weekly. Join me there, will you? After, I'll be back with a recap. Watch this space for photos and videos.
Entertainment Weekly Live Blog
Phillip won the coin toss last week and chose to go last. Each will sing 3 songs – A reprise of a competition performance, Simon Fuller's choice and an original song/new single.
UPDATE: Kristin Chenoweth and Jessica Sanchez are pre-taping a tribute to Donna Summer for the finale!
I haven't enjoyed a Final Two performance show since Season 7, so I really should not be disappointed that Season 11 was another bust. Jessica Sanchez delivered 3 underwhelming performances tonight.  Philip Phillips was only marginally better.
The only surprise in a night of predictable performances was Phillip Phillip's single, which is actually pretty damn good. The judges fawned all over him after he performed it, failing to point out that his low energy and pitch problems. The panel didn't care for Jessica Sanchez's song, and they let her know it. Funny thing–the praise for Phillip's song, and the obvious disparity in quality between the two singles–nullified Jessica besting Phillip in the 1st two rounds.
I think Phillip has this contest in the bag. But then I was positive last week that Joshua was in the final. For what it's worth—Dialidol has Philip in the lead. The site has predicted the final correctly since the software program has been available to fans.
If you judge Jessica's performances over the course of the competition—she easily out-sung and out-performed Phillip.  But it doesn't matter. Jessica excelled early in the competition, while Phillip coasted through the middle rounds. But in the last few weeks, those roles have reversed. Peaking close to the finale is what matters. Yeah, I'll be REALLY shocked if Phillip isn't the 5th white male to be crowned American Idol tomorrow night.
***
The final show opened with a typically overdramatic video package featuring bright blue ink running all over the dreams of the final two….or something. Really not a fan of the opening packages that are seemingly produced by Lifetime Television For Women.
Here we are at the Nokia Theater LA live!  Seven thousand DIE HARD idol fans are IN THE HOUSE to see it all go down. Ryan wants to hear from the Phillip fans.  YAY. Then the Jessica fans. YAYYYY.  Jessica and Phillip descend the stairs. Jessica looks appropriately glammed up.  Phillip looks like he's about to drop by the local bar for a brew.  And can I say Phillip doesn't look like he's feeling well.
The first round will be Simon Fuller's pick, the second a reprise of the finalists' choosing, and the third will be the winner's single.
Phillip won the coin toss taped last week after the results show. Jessica will take the stage first, Phillip second.
Simon Fuller's Pick
Jessica Sanchez – "I Have Nothing" by Whitney Houston  – Kudos to Simon Fuller and his impressive creativity! No. PSYCH. WTF is this song choice? RIP Whitney, but I don't want to hear no more covers of your songs!  This is the THIRD Whitney song Jessica has performed in competition! And Shannon Magrane sang this very song for Whitney week. UGH.  Finale is the time to be BOLD. Jessica's performance is paint by numbers. Vocally, there's nothing to critique.  The girl can sang. She hits all the big notes. But she's been here and done that. Also, this performance is a little subdued. I'm not getting any fire in the belly from Jessica here like she displayed when she KILLED "I Will Always Love You" and "And I Am Telling You". Is she saving the best for last? – 1-866-436-5701 –  1-866-436-5703 – 1-866-436-5705 – 1-866-436-5707

Jessica Sanchez – I Have Nothing – American Idol… by IdolxMuzic
There will be NO judges' remarks until the end of the round.
Phillip Phillips – "Stand By Me" by Ben E. King –  Good to know that Simon Fuller isn't playing favorites. The song he chose for Phillip is equally craptastic. "Stand by Me."  REALLY? Lame. Phil was probably not crazy about the song pick either, because he proceeds to "re-arrange" it ie turn the melody into hot buttered ass. Phil's pretty acoustic guitar intro is nice, but as soon as he opens his mouth to sing, it's all over. I'm not digging this arrangement AT ALL. Plus, Phil's vocals are off. He's more gravelly and raspy than usual. I swear I can hear the exhaustion in his performance.  It makes ME want to take a nap.  My verdict on round 1? Zzzzzzz. – 1-866-436-5702 –  1-866-436-5704 – 1-866-436-5706 – 1-866-436-5708

Phillip Phillips – Stand By Me – American Idol… by IdolxMuzic
Round 1: Jennifer's outfit?. HEY JLO. The DWTS finale is THATAWAY. Ryan shoos Phil off the stage. Guess the finalists won't have the opportunity to respond to the judges' critiques. But it turns out that It doesn't matter that much, as there is no real critiquing to speak of. Ryan asks Jlo who won the first round and she babbles on about it being the battle of the opposites—vocal prowess vs soulfulness, originality and artistry.  She calls Phillip a "modern day crooner".  It all comes down to which contestant is making you feel something. Blah blah blah.  Randy, at least is willing to come right out to say Jessica won the round. After the break, Jennifer finally gets to the point. She also believes that Jessica won the round.
Jason Derulo takes the stage after the break to sing "Undefeated" a song fans helped write as part of a Coke sponsored contest.  The song is so cheesy—the melody sounds suspiciously like the Coke jingle, and after we go to break again, there it is, incorporated into a new Coke ad.  The performance—complete with obvious Nappy Tabs choreo—was entertaining, I'll admit.
Favorite Performances
Jessica Sanchez– "The Prayer" by Celine Dion – This was a smart song choice in terms of fatigue factor. This is the song that got Jessica into the Top 24, so it's been awhile since the audience heard it. The downside is that it's yet another Adult Contemporary ballad. My criticism of Jessica's performances is that she does far too many of these. Once again, it's a perfectly solid vocal performance, but I just can't get excited about this treacly ballad.  This is not the kind of music that will land her on the pop charts. Even the big note she hits in the middle of the song does not transform this performance into a moment. If she's going to beat Phil, she's got to have one of those.

Jessica Sanchez – The Prayer – American Idol… by IdolxMuzic
Phillip Phillips– "Movin Out'" by Billy Joel – Wait. WUT? Phil chose his song from freaking Billy Joel night? WHY? "Still Rainin" by Jonny Lang, "Volcano" by Damien Rice, "The Stone" by Dave Matthews ALL better showcases for Phil's talents.  The thing those songs I namechecked have in common—Phil didn't change them up much. And that's probably why I liked them. And probably why Phil didn't choose them. "Movin" Out" is yet another example of Phil destroying the melody of a song until it's non-descript. NO LIKEY.

Phillip Phillips – Movin Out' – American Idol… by IdolxMuzic
Round 2: Steven thinks Jessica took it again, after mumbling some nonsense about chicken's hatching eggs or something. Randy thinks the round is a draw. Jlo gives the round to Phil, because she's "seen Jessica do that before." Uh I'd say ditto for Phil.
Judges: a Tie.
Winner's Songs
Jessica Sanchez– "Change Nothing" written by Joleen Belle & Harry Sommerdahl – Another ballad? Really Jessica? That's no way to win a competition. The song itself is generic like these coronation songs generally are.  Making matters worse—Jessica hits some bum notes for the first time tonight. This does not bode well for her final performance. No moments in that song. Not a one. Randy does NOT like the song, but loves that she made more out of the song. Doesn't like when Jessica sings straight up pop songs, 'cause she's got soul and swagger.  Jennifer says that although she sang the song well, she doesn't think a pop ballad is a good first single for her. Jennifer urges Jessica to assert herself when the producers are choosing her music. Steven is also not down with the song. Jessica explains that she picked the song because it was the most like a "winners'" song. Basically, Jessica went for the puppies and rainbows on purpose. Not convinced that was a smart move.

Jessica Sanchez – Change Nothing – American Idol… by IdolxMuzic
Phillip Philips– "Home" written by Andrew (Drew) Pearson and Greg Holden. – After Jessica's crapfest, I was literally afraid to hear Phillip's song. But wouldn't you know, this song is not terrible. Let me rephrase. We've got a coronation song THAT DOES NOT SUCK.  Phil opens with an acoustic guitar. The tune is a cross between Billy Joel and Mumford and Sons.  I can actually hear this song on Adult Alternative radio. The problem is, the format is notorious for its allergy to Idol alums.  Phil gets the drum corp of pimpage.  Unfortunately, Phil's vocals are off—he's flat for parts of the song. But the judges don't care! They are on their feet and FULL of compliments. Randy is WHOOING. "Dude, I love the song, I love you, I love the production, I love the marching band. Everything about that was perfect. That's your best performance of the night! That was amazing! True artist performance. Reminds me a little of Mumford and Sons, Fleet Foxes. Brilliant. Genius."   Jennifer says, "It was so different, I couldn't think of any other singer or band in that moment. It was just Philip. It was a Phillip Phillips song. And there's nothing else on the radio that sounds like that. Congratulations." (Actually, there is Jlo) Steven says, "By virtue of your vulnerability and style, you have made the world your home, my friend. I heard a little Paul Simon in there, and other ungodlike creatures on this planet and you were perfect tonight and I think you are the man."

Phillip Phillips – Home – American Idol 2012… by IdolxMuzic
Round 3: Phillip. Quite decidedly.
After the numbers roll, Jessica and Phillip take the stage for a little mutual love fest. "He's an amazing artist," Jessica says of Phillip. "Everyone knows that already, that's why he's in this position. I love him so much. This is going to suck when this is over." Phillip replies, "I'm not good at talking with a bunch of people looking at me." (Aw SHUCKS) "She's an amazing person. She deserves every bit of this. One of the most amazing singers I've heard in a long time, especially at 16 years old. She's got a huge future ahead of her. I'm gonna miss her."  HUGS.
Season 10 Idol winner, Scotty McCreery, takes the stage to sing the Idol farewell song, "Please Remember Me" as a montage of memories from the season flash on the screen. Aw.

Scotty Mccreery – Please Remember Me – American… by IdolxMuzic