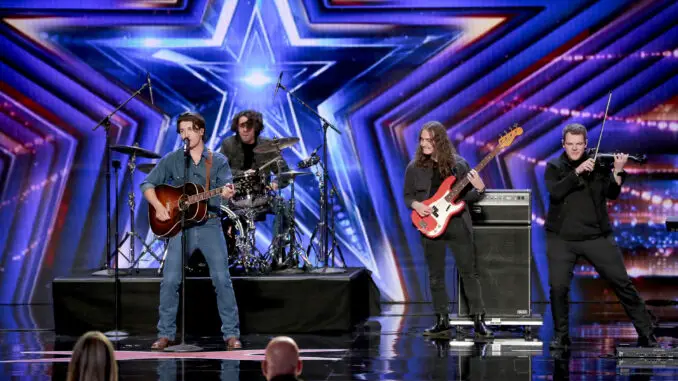 So, will record labels be sending their artists to television talent competitions in order to promote their music? BBR Music Group, which is also the record label partner of American Idol's 19 Recordings, sent out a press release promoting contestant Drake Milligan's audition last night.
America's Got Talent: Drake Milligan to Drop Album Debut Day After Finale
Drake's current record label BBR Music, promoted his AGT appearance in a press release
The country singer-songwriter, who performed his original song "Sounds Like Something I'd Do" with his band, is current and active on BBR's Stoney Creek imprint. From the press release: "
Making the absolute most of a massive national TV audience, emerging country artist, Stoney Creek's Drake Milligan mesmerized the America's Got Talent audience last night (6/7), performing his high-energy honky tonker "Sounds Like Something I'd Do."

Uncorking the twangy track with a restless rhythm, his booming baritone vocal and dynamic stage presence, the fresh face crushed his moment in the spotlight. By the end, Milligan had wowed judges Simon Cowell, Heidi Klum, Sofia Vergara and Howie Mandel, earning a standing ovation.

Part of his 2021 self-titled EP, Milligan's "Sounds Like Something I'd Do" performance was the high point of his appearance on the primetime NBC show, but it wasn't all Milligan had to offer.

Speaking with host and talent icon Simon Cowell, who asked "so you think this is the platform to showcase your talent best?"

Milligan's response was spot on. He explained that by appearing on the show, he was in some ways walking in his hero Elvis Presley's blue-suede shoes. Milligan reminded viewers that The King scored his big break on TV as well, when he sang and swiveled on the Ed Sullivan Show in 1956.
It used to be a big deal when a talent show contestant had a previous label deal, or some measure of success on the charts PRIOR to auditioning. But now it seems that record labels are sending off their CURRENT artists to promote their music on talent shows. We have come a very very long way, have we not!
Drake Mulligan auditioned for American Idol 2018, but quit after his audition
Some of you may remember Drake from his 2018 American Idol audition. The 19 year old singer from Fort Worth introduced himself as an Elvis Presley super-fan and impersonator. He sang "You Look So Good In Love" by George Strait for judges Lionel Richie, Katy Perry and Luke Bryan. Luke called him "Cowboy cool." Katy called him "a star in the making."
However, Drake disappeared after his audition, never to be seen on the Idol stage again. Drake he explained in an Instagram post, "After my audition I decided that I wasn't quite ready for that platform yet, and that it would be a better step for me to move to Nashville and focus on my music first!"
Watch Drake Milligan's America's Got Talent audition
According to BBR's press release "The performance has already racked up over 1.4 million views and Milligan's self-titled EP shot to No. 1 on iTunes Country Album Chart. Simultaneously, Milligan's performance has peaked at No. 1 on iTunes Country Video Chart."
Drake, for the record NEVER mentioned his record deal during his audition. Is Drake the pantiest plant that ever planted? I'm sure the plan is not to win, but go as far as possible and sell more records. PLANTY MCPLANTFACE.