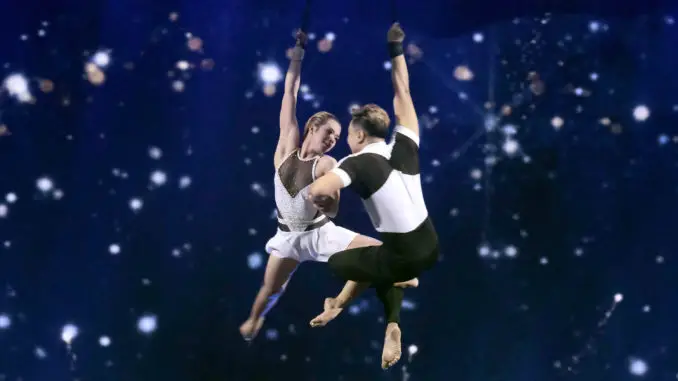 AGT: All Stars 2023 Week 4 Results
AGT: All Stars 2023 Week 4 Results continues tonight with the FOURTH set of 10 out of 60 America's Got Talent All Star acts. Simon Cowell calls the contestants the best of the best of the best. These are acts who performed well on AGT and Got Talent franchises around the world.
Each week 10 acts will perform for the judges for the chance to earn one of the coveted five Golden Buzzers and move on to the finals. The AGT Superfans will also vote on one additional act per episode who will also move onto the finals for a total of 11 acts in the finale.
AGT: All Stars 2023 Week 4 Lineup: Which 10 Acts Compete?
America's Got Talent: All Stars Reveal Top 60 Acts Competing
The Superfans will vote for the winner and results will be revealed during the two-hour finale. Simon Cowell, Howie Mandel and Heidi Klum sit on the judges panel. Terry Crews hosts.
Each week, a cast member is the designated Golden Buzzer pusher of the night. Tonight, it's Heidi Klum.
Power Duo – Pilipinas Got Talent 2016 WINNER – Aerialists
Power Duo is the first of four acts performing tonight that won international versions of Got Talent. The two won the Pilipinas Got Talent crown in 2016. They describe their act as a dance/aerial combo. Indeed, they auditioned for PGT with a contemporary dance routine! The two admit they didn't have chemistry initially. But in front of the PGT audience, the pair confessed their love for each other. Now, they are married and have a 1 year old son.
Power Duo have improved by leaps and bounds since 2016, despite a tiny mistake made in the middle of the routine. They mostly danced on PGT–the aerial act they performed for the finale was primitive by comparison. Fellow contestant Aiden Bryant is a better aerialist, but the combination of skills and romance should please fans. Also, the female half is doing ALL the heavy lifting. She is talented.
"I love you two," Simon declared. The pair describe to the panel how they loved each other secretly at first. Howie points out the mistake, which the pair acknowledge. "It doesn't matter," Heidi replies. "You guys are great."
Cristina Rae – AGT Season 15 – Singer
Heidi screams when Cristina enters the stage. She was the judge's Golden Buzzer back in 2020. The singer lived in a car with a toddler son before she auditioned for the show. Now she lives in a house. She finished the show in 3rd place. Despite not winning, opportunities came her way afterward. But still, she wants to be a SUPERSTAR. That's why she's returned to compete again.
In her big voiced style, Cristina sings Lady Gaga's "Hold My Hand," from the movie Top Gun : Maverick. It is two years later, and Cristina sounds terrific. She had a tendency to oversing and screech on some high notes. She's learned how to control her instrument. .
Simon said, "You deserve to be here, you deserve to be in the final. I love you." Howie thinks what she did "bordered on great." Here comes the but from Howie (who is often a butt). He doesn't think it's an "out of the park" song. That's her best performance to date, Howie! Then, Heidi explains why she won't be hitting her Golden Buzzer for Cristina again. "You don't need me to hold your hand this time." AWKWARD.
Human Fountains – AGT S13 – Variety Joke Act
"I feel like last time, there were four of you," Heidi observes. "I feel like last time there were four of YOU" one of the Human Fountains quips back. Good one. The gross out act basically spits water, often into each others mouths. They left the competition in 2018 at the Quarterfinals, after receiving the "fan favorite wildcard" during the Judge Cuts. Aptly, they are now social media stars, with over 1 million followers and almost 18 million likes on Tik Tok.
The act is still really gross! And really dumb. Progress is spitting mustard on to hot dogs and then eating them. Simon still hates it, eventually hitting his red buzzer.
Heidi is so excited to see them back on AGT. But Simon thinks they are missing the fourth person, adding "I think the spitting was higher last time." The trio is thrilled to be back. They call Heidi their mom, Howie the crazy uncle, and Simon the dad who never loved them.
Emil and Dariel – AGT Season 9 – Music Act
Now, lets go way back to the Howard Stern era of AGT, in 2014, when two teenage sibling cellists wowed the panel with their energetic takes on rock n roll classics. The brothers lost the Judges Vote at the Top 12 right before the grand finale. Now, they're all growed up and looking forward to performing for Simon, finally
They play a high energy rendition of A-Ha's 80s classic "Take on Me." The video screen needs rotoscope! The rock band backing them is solid. They could certainly do the Vegas thing.
Heidi "thinks it really works." She was entertained. But Howie doesn't think they rose the bar from 2014. Simon calls them really boring to their faces. The crowd boos. Simon pushes them to say something "interesting." Why are the judges being so hard on them? So mean. The two admit they are currently in dental school. Simon rolls his eyes. That was unnecessarily awkward.
Darius Mabda – Romania's Got Talent 2022 WINNER – Dance
Now, the acts are nervous. Darius, the 2022 winner of Romania's Got Talent is so nervous, he bursts into tears in front of the judges. He probably heard the cellists getting ripped. Despite being a Golden Buzzer winner already, Darius attributes his nerves to AGT being the biggest stage in the world.
At 14, Darius is already a talented contemporary dancer. He performs like he's been training for years. He also has the ability to convey emotion on stage, which is impressive for a kiddo his age.
Heidi is on her feet. "You are borderline a contortionist," she remarks. Howie calls him a cross between a gymnast and a dancer. Simon got more into his performance as it went on. "I think you've given yourself a shot," he says.
Sacred Riana – Asia's Got Talent Winner – AGT Season 13 – Magician
NBC previewed this audition last week HERE. Finally, Sacred Rina takes the stage after hints throughout the episode of looming dread. The Sacred Riana, a horror themed magic act, calls back to spooky films and novels to inform her magic. She won Asia's Got Talent in 2017, and then appeared on AGT the following year. Simon loved this act, but viewers not so much. She was cut at the Quarterfinals.
Like last time, Sacred Riana approaches the judges table to freak them out. The new bit involves Howie who picks a piece of paper that matches an old photograph. She brings the judge on stage to sit in a chair. When she stabs the photo, he can feel it. And then the act ends in some kind of Howie curse. Or something. It's a very muddled bit.
The judges play along, behaving as if they are terrified. But it isn't very convincing. There is something about this act that doesn't land. The concept is good, the execution questionable.
Aidan McCann – Britain's Got Talent 2020 – Magician – HEIDI'S GOLDEN BUZZER
Young Aidan McCann, whom Simon has dubbed "Harry Potter" hails from Ireland. He finished Britain's Got Talent in 2020 in 7th place at 11 years old. Aidan began practicing magic at 5 years of age. After BGT, he toured the world and hosted his own chat show. AGT winner Shin Lim is his favorite magician.
Terry joins Aidan on stage. The two sport identical gray suits, which will play an important role later on. The comic book themed routine is clever and fun and ends with Terry and Aidan stripped down to super hero suits. Aidan delivers his magic with cheeky charm and nerdy wit.
Simon calls the act "unbelievable." Heidi calls Aidan magic and "a little star" before SMASHING her golden buzzer.
Robert Finley – AGT Season 14 – Singer
NBC leaked this audition earlier HERE. Robert auditioned for AGT in 2019 with an original song that impressed the judges and viewers alike. But he left the competition at the semi-finals after being criticized by the judges. A sharecropper's son who served in Vietnam, Robert pursued his musical dreams after losing his eyesight to glaucoma. After the show, Robert toured and dropped an album.
Once again, Robert sings an original song, titled "Souled Out on You," a cut from his post AGT album, Sharecropper's Son. The song starts off in an unexpected craggy falsetto. He's much better in his lower register. While his well worn sound adds to his world-weary vibe, falsetto is probably best left to strong vocalists. The songwriting is still solid.
"You had absolutely everybody on their feet," said Howie. Heidi Klum said, "Your voice is unbelievable!" Simon wishes he had a "platinum buzzer" at the moment. He added, "Gold's not even good enough for that. That was extraordinary." Simon ladles on the praise, a little too thick.
Mini Droids – Belgium's Got Talent 2021 WINNER – Dance
It's the last International winner of the night. Breakdancers Mini Droids won Belgium's Got Talent in 2021. Since their win, the young guys seem to have a fan following of young girls.
This dancing quartet is entertaining. In between athletic breaking, they toss in humorous visual jokes. For instance, a dancer dips the another, and they both look surprised. That move, for the shippers, probably!
Howie believes they have the "skill set" to move to the next round. Faint praise. Simon calls them "charming." When Simon asks if any of them sing, the boys look completely baffled. Then he adds, "That, in this competition, isn't going to be good enough to win." Heidi thinks they were only scratching the surface of what they could do. She wants more flips. It's weird what the judges decide to completely dismiss.
Ndlovu Youth Choir – AGT Season 14 – Choir
The group, based in South Africa, formed in 2009 composed of orphaned and at risk children living in the rural village of Moutse, Limpopo. They finished the finale in 2019 outside of the Top 5. The exposure made them stars at home. They performed around the world, and were able to improve the lives of their families.
Ndlovu is arguably the best choir to compete on AGT. Yes, better than Detroit Youth Choir (Ndlovu should have nabbed the Golden Buzzer). These kids can sang. They burst with energy on stage. This time, they perform an original song. It isn't terrible! Original songs engineered to be "inspiring" are often bad. But It doesn't matter, as their voices elevate the material. To use a cliche, the group could make the phone book sound uplifting.
Howie, who doesn't like choirs, compares the performance to a finished Broadway show. "For me, this would have been a Golden Buzzer moment." Simon thought the song was "strong" and couldn't be more thrilled that the group returned to AGT.
AGT: All Stars 2023 Week 4 RESULTS
Aidan McCann is already through to the finale, thanks to Heidi's Golden Buzzer. Now how did the "superfans" vote? Terry announces the Top 3, in no particular order: The first act in the Top 3 is…Power duo! The next act in the Top 3 is…Ndlovu Youth Choir! The third and final act in the Top 3 is…Darius Mabda! Oh Heidi. Looks like Cristiana needed your help! Oh well.
Leaving in 3rd place is…Darius Mabda. The act going into the final is…Power Duo. Ndlovu Youth Choir is eliminated. The superfans were probably swayed by the duo's love story. Ndlovu deserved it, though.
Through to the finale:
Adrian McCann – Heidi's Golden Buzzer
Power Duo – Superfan vote