AGT: All Stars 2023 Week 4 lineup: The series moves on to feature 10 more contestants. After this week's episode, TWO more weeks of auditions will air before the finale.
Does America's Got Talent: All Stars Have a Cash Prize for the Winner? More about the "superfans"
Heidi Klum has the Golden Buzzer this week. Who will she choose to advance straight into the finale? Could it be her AGT 2020 contestant, Cristina Rae? The second contestant to advance to the finale will be voted through by the "superfans."
FOUR international winners compete this week: Dancer Darius Mabda from Romania's Got Talent, Dance troupe, Mini Droids from Belgium's Got Talent, Aerialists Power Duo from Pilipinas Got Talent and Sacred Riana from Asia's Got Talent (the spooky magician also competed on AGT season 13).
Simon Cowell, Howie Mandel and Heidi Klum sit on the judges panel. Terry Crews hosts. America's Got Talent: All Stars features acts from around the world competing for the ultimate All-Star title. See a list of the full Top 60 line up HERE.
AGT: All Stars 2023 Week 4 Lineup
Aidan McCann – Britain's Got Talent 2020 – Magician
Young Aidan McCann, who hails from Ireland, finished Britain's Got Talent in 2020 in 7th place at 10 years old. In his audition, Aidan presented skillful tricks with a sense of humor. Aidan began his magic career honing his skills at home. In his BGT video package, Aidan claimed that he had never performed in front of a crowd before. However, he did visit the Ellen Show in 2019. – VIDEO
Cristina Rae – AGT Season 15 – Singer
A classically trained singer from Nashville, Cristina Rae finished America's Got Talent 2020 in third place behind Broken Roots and winner Brandon Leake. Heidi Klum chose Cristina as her Golden Buzzer. The singer lived in a car while pregnant, but eventually got a job in a body salon. Still, her living situation at the time was precarious. After the belty singer performed Phil Collins' "In The Air" Simon another song. She delivered the classic rock song "Gimme Shelter" and finally won him over. Since AGT, Cristina has been touring and releasing music. – VIDEO
Darius Mabda – Romania's Got Talent 2022 WINNER – Dance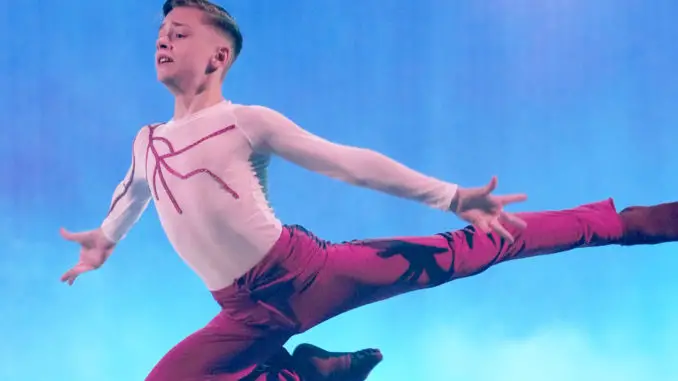 Darius Mabda won Romania's Got Talent last year and was also a Golden Buzzer winner. The young dancer performs in a contemporary style. Watch his audition. He's actually very good. – VIDEO
Emil and Dariel – AGT Season 9 – Music Act
And it's another visit to the Howard Stern era of AGT! Emil & Dariel are brothers who performed covers of rock songs on cellos. Nine years ago in 2014, the pair were teenagers. Their Russian grandfather earned a living playing cello and taught the brothers how to play. The video package set up the audience to expect classical music, before the two busted out the Jimi Hendrix classic, "Purple Haze." The brothers lost the Judges Vote at the Top 12 right before the grand finale. – VIDEO
Human Fountains – AGT S13 – Variety Joke Act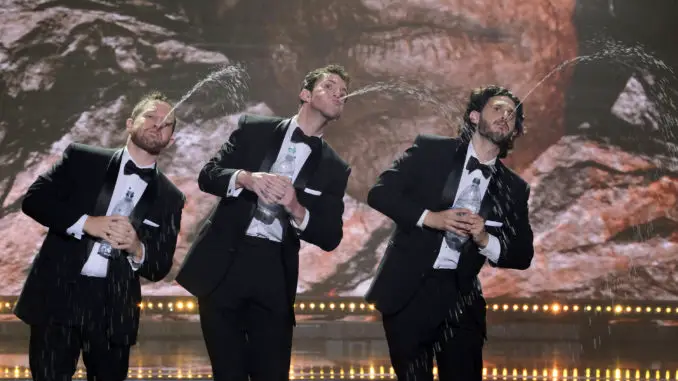 The name, Human Fountains, says it all. These gentlemen from Denver, decked out in tuxedos, swill bottled water before spitting the liquid out of their mouths in a stream. It's actually pretty gross, especially when they spit water in each others' mouths. Host Tyra Banks got in on the act. Yuck. They were eliminated in the Quarterfinal. Not really sure why they're back! ETA: They are big TiK Tok stars now with over 1 million followers and 18 million likes. That's why! Simon hated it. – VIDEO
Mini Droids – Belgium's Got Talent 2021 WINNER – Dance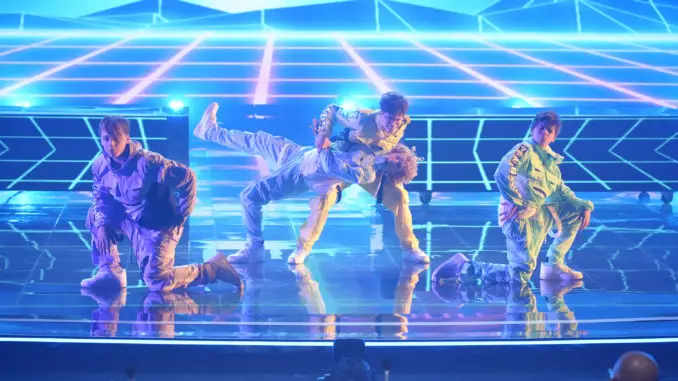 The name Mini Droids suggests dancing against a light show or LED backdrop. Nope, they are a group of adorable boys who perform breaking moves to pop songs. The minis are an offshoot of an older group named Battle Droids. They're all part of a Belgium "breaking" school begun by Samuel Revell. The group won Belgium's Got Talent in 2021 – VIDEO
Ndlovu Youth Choir – AGT Season 14 – Choir
Ndlovu Youth Choir, a group of talented youth singers from South Africa, are one of the best choirs to perform on America's Got Talent. The group formed in 2009 composed of orphaned and at risk children living in the rural village of Moutse, Limpopo. The group left the competition in 2019 outside of the Top 5. After AGT, the group toured Europe and performed on numerous TV shows. Ndlovu released a record on Simon's SYCO record label in partnership with RCA. – VIDEO
Power Duo – Pilipinas Got Talent 2016 WINNER – Aerialists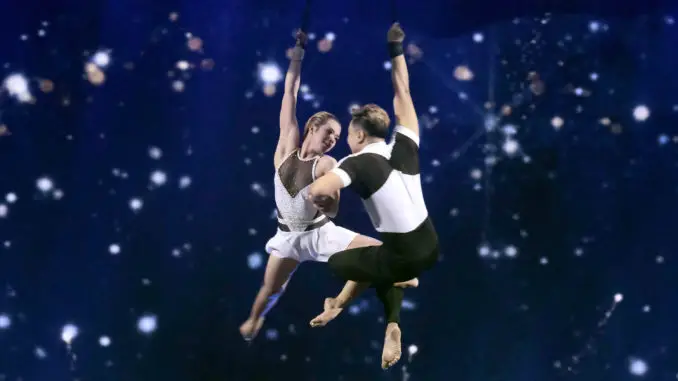 The now married couple were only friends when competing on the Philippines version of Got Talent in 2016. During their audition, they performed a romantic contemporary dance routine featuring the female's impressive gymnastic ability. She's the star of this show, for sure. They saved the aerial tricks for their finale performance, and now AGT: All Stars. – VIDEO
Robert Finley – AGT Season 14 – Singer
In 2019, Robert Finley, a 65 year old Vietnam war vet, and part of a Louisiana sharecropping family, auditioned for America's Got Talent in 2019. His music career held promise before the draft got him at age 19. But after he returned from the war, the singer started a family, leaving his music dreams behind. Glaucoma has left him legally blind, but it didn't stop him from pursuing music once again. Robert performed an original tune "Get it While You Can" in his audition, but was cut from the competition in the semi-finals. NBC dropped a leaked audition HERE. – VIDEO
Sacred Riana – Asia's Got Talent Winner – AGT Season 13 – Magician
She's baaaack! NBC previewed The Sacred Riana's spooky audition earlier this week. Marie Antoinette Riana Graharani is an Indonesian native who won Asia's Got Talent season 2 in 2017. The following year, the horror themed magician appeared on America's Got Talent. Simon tried really hard to make her happen–talking her up in interviews, featuring her in promos–but fans voted her out in the quarterfinal round. – VIDEO
The AGT: All Stars 2023 Week 4 lineup performs Monday, Jan. 23 at 8 p.m. ET/PT on NBC.