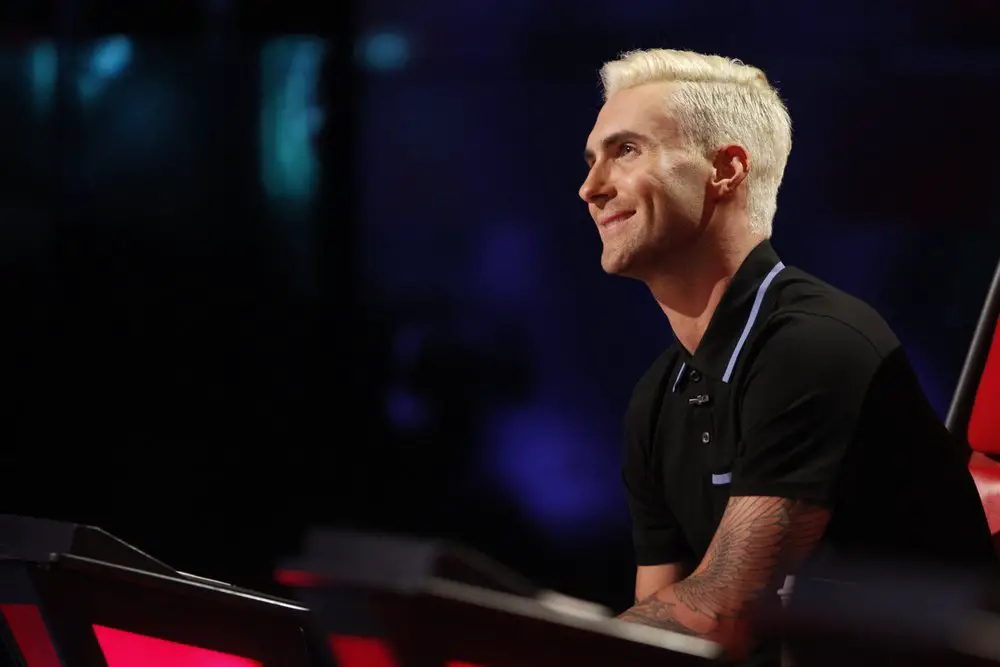 Adam Levine has made an interesting about face.  At one time, The Voice coach poo pooed the importance of the NBC competition reality show producing winners who make a mark in the entertainment business.
Now, Adam tells Rolling Stone magazine that he thinks The Voice has  "problems" because the show has yet to produce a superstar:
Asked by Rolling Stone magazine if he's been surprised at the "decline" of American Idol, Levine replies, "Idol has to be satisfied with what they've accomplished. The Voice is very successful, but it's got a ways to go if it wants to have as profound an impact as Idol. I'm not going to lie to you: I think there are problems."

Among those problems, says Levine, is the failure of the show's winners to become multi-platinum recording stars.

"Millions of people watch the show every week and fall in love with a singer, then you don't hear much from them," he tells Rolling Stone. "We haven't had a breakout success, like Kelly Clarkson or Carrie Underwood."
I actually disagree with him. I don't think The Voice is conceived as a show whose mission is to produce "superstars," therefore, it's not really a problem. Producer, Mark Burnett, who helms successful reality competitions,  Survivor and Shark Tank, is all about entertainment. The Voice is about  spinning chairs, faux boxing rings and superstar coaches hoping to prevail as they mentor talented singers to the win. When a season is over, in a few short months, it all starts again, leaving prior contestants to their own devices. The advantage for the contestants appearing on the show is that bit of TV exposure they receive. After, it's up to them to leverage their fanbase and any fame they earned. If they're lucky, the mentor who coached them might lend a hand.
Danielle Bradbery and Cassadee Pope, winners of Season 3 and 4 respectively, are The Voice contestants with the most success so far.  Both were handed over to country label, Big Machine Records (home of Taylor Swift), which put effort into promoting them. It didn't hurt that Cassadee came into the process with a fanbase from her days as an indie artist. Each has earned some country music chart success. Cassadee's single, "Wasting All These Tears" recently went platinum.
American Idol is produced by 19 Entertainment, a company started by Idol creator, Simon Fuller. He always envisioned Idol, like the English original, Pop Idol before it, as a mechanism to create successful music acts. He personally managed the careers of his winners, including Carrie Underwood (who he still manages at his new company XIX) and Kelly Clarkson (who eventually moved on). 19 also releases the albums of the alums they sign, in partnership with UMG (Seasons 1-9 it was Sony). American Idol only airs once a year, but it's a 365 day cycle that begins with the competition, moves on to the summer tour, and ends with the fall record releases from the artists they sign.
In theory, a performer looking for an opportunity beyond their singing show stint, is better off auditioning for Idol for the all-inclusive support they offer. However, while that was certainly true a few years ago, I don't think it is so much any more. As Idol's ratings drop, they seem less willing to put a ton of muscle behind their winners. The last two champs, Candice Glover and Caleb Johnson seem to be receiving the bare minimum as far as promo of their product is concerned. Last year, for the first time ever, the runner-up was not signed–let alone anyone else in the Top 10. Winning Idol is looking less like a clear path to an enduring career in the music business.
Maybe Adam worries as he watches the ratings for The Voice begin to slide. But honestly, whether the show creates a superstar or not probably won't affect their ratings. Although the coaches may pay lip service to it during their critiques and in interviews, changing the lives of their contestants is not a promise The Voice has ever made.
Read more at ABC News Radio