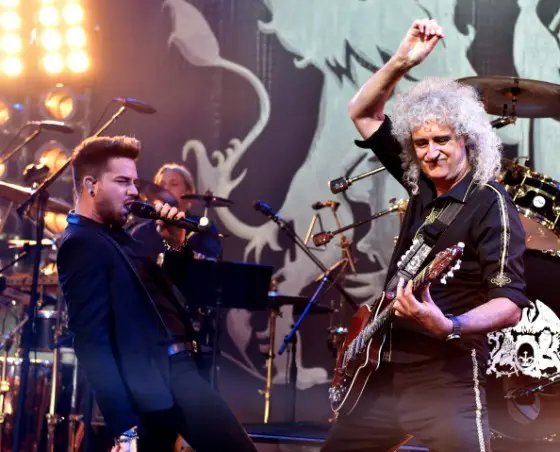 Adam Lambert and Queen will give fans a live preview of their North American concert tour tonight! The special iHeartRadio concert live stream from the iHeartRadio theater in Los Angeles begins at 6pt/9et.
Queen's summer concert tour featuring Adam Lambert kicks off on June 19 in Chicago Illinois.
Nikki Sixx hosted an interview with Adam, Brian May and Roger Taylor first. Roger promised a concert with no click tracks and real singing! Also, there will be lots of early songs on the set list, from when Queen was a heavier rock band. Adam had input on the set design. After a dream about gold, he suggested incorporating more of the color on set.  The band was happy to incorporated the idea.
As soon as the mini-concert began with the Queen standard, "We Will Rock You," it became clear that Adam has been diligent about the throat coat and herbal tea! He sounded superb during Queen's 9 song set–just a taste, I'm sure, of what fans can expect on tour.
Mid-set, Adam and Brian took to the stools to perform a ballad Freddie wrote with Giorgio Moroder for the movie Metropolis. It's a song that's never been performed live. Adam sang "Under Pressure" with Roger picking up David Bowie's part. Adam's introduction to "Fat Bottomed Girls": 'This is for all the fat-assed bitches out there!' Ha. "We Are The Champions" ended in a shower of gold confetti, with "Don't Stop Me Now" closing up the show on an upbeat, energetic note.
Setlist:
We Will Rock You
Another One Bites the Dust – Awesome riffing!
A Crazy Little Thing Called Love
Love Kills – Unheard song Freddie Mercury and Giorgio Moroder created for the movie Metropolis
Fat Bottomed Girls –
Under Pressure – With Roger Taylor
We Are the Champions – Gold confetti shower!
Don't Stop Me Now
Watch the streaming concert below.
VIDEO:
Photo Gallery