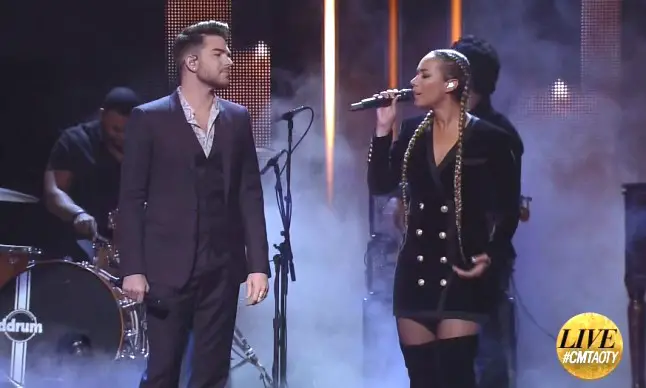 It's not unusual for country music specials to feature crossover performances with pop artists. Justin Timberlake joined forces with Chris Stapleton for an unforgettable performance at the CMA Awards last month. But CMT was really thinking out of the box when they invited Adam Lambert and Leona Lewis to perform Little Big Town's "Girl Crush" on this year's 2015 CMT Artist of the Year Special.
After all, Adam Lambert is the singer who flipped Johnny Cash's "Ring of Fire" on its head for country week while he was competing on American Idol in 2009, much to the chagrin of that week's mentor, Randy Travis. In those days, Adam seemed a tad allergic to country music. Leona Lewis isn't well known on this side of the pond, other than her pop hit, "Bleeding Love," from several years ago, the first single after winning X Factor UK.
"Girl Crush" caused a storm of controversy the members of Little Big Town did not expect when it was first released. Some country music fans believed it was literally about sapphic love, and demanded radio stations not play it. The song is actually about a woman so jealous of her ex's new girlfriend, that she wants to actually BE her. Fans who loved the song overwhelmed those that did not, and the song became a big hit on both the radio and sales charts.
Inviting artists who would circle back to the controversy, puts an interesting twist on the song. Adam singing the lyrics "I have a girl crush…" transforms the meaning into what some mistakenly believed it to be initially! It's either Adam in love with a man, or the girl in question in a relationship with another woman. The larger point is: Even if those initial impressions were correct–it doesn't matter. Love is love.
Let's not forget Leona. Her vocals were soulful and gorgeous. She and Adam performed beautifully together. They each brought something special to the performance. Adam was in rare vocal form, singing with tenderness and subtlety while  hitting a few of those trademark high notes in just the right spots.
The audience, full of Nashville country music artists, seemed to love it! The performance was a tribute to Little Big Town, one of the recipients that night of Artist of the Year, along with Luke Bryan, Blake Shelton, Florida Georgia Line and more.
Watch Adam Lambert and Leona Lewis perform "Girl Crush" to honor Little Big Town at on the 2015 CMT Artist of the Year Special.
It's an unexpected performance that you do not want to miss.