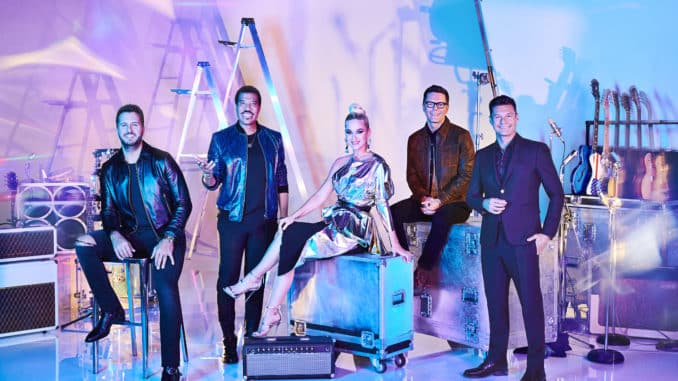 Disney Execs on How American Idol Will Continue With At Home Episodes
Rob Mills, head of alternative specials and late night describes in detail how American Idol will finish out it' season remotely, on Variety's Strictly Business podcast.
Mills describes what happened during March when coronavirus concerns eventually shut down filming in Hollywood, and the thinking that lead to the network deciding to continue with the competition using remote technology.
After the shutdown, when ABC ran out of pre-taped episodes, they edited together a couple of clip shows to air while they figured out how to proceed. But beginning on April 26, the judges Lionel Richie, Luke Bryan and Katy Perry, host Ryan Seacrest, and mentor Bobby Bones will all be doing their thing from the comfort of their homes. Ditto the remaining Top 2o contestants.
Jimmy Kimmel Was the First, Techs Set up Cameras at His House
Jimmy Kimmel Live was the first show to go remote. "It really is everybody from home," Mill said technicians went to Jimmy's house and set up sanitized cameras, as safely as possible. Editors work post production, also remotely. "That's how Idol's going to work," said Mills. I wonder if techs will travel to the contestants' homes to help set up cameras? If fans are to judge the singers, the singers' need to be operating from a level playing field.
American Idol Upended, Producers Were Uncertain about How to Proceed
Mills laments on what could have been, "It's so funny because everything really was trending in Idols direction. We started, we were pacing ahead of last year. I think that the judges now are better than ever." Mills continued, "Their chemistry and they're judging they've really really gotten it. I think they're arguably some of the best we've seen in those chairs. The talent was great. It really felt like this this was a great season. Katy announced she's pregnant. We were so excited and then all of this happened."
Uncertainty loomed over the whole process, and still does. Mills describes the weeks after the initial shutdown. At first, they thought it would be a very brief hiatus, "Okay, we're going to down for two weeks. It's not really going to affect us." But then the goal kept moving. "And then finally, a couple weeks ago, we had to really say, okay we need to think about what is this show."
"Remember six months ago these people that you really really liked?" Producers Wanted to Keep American Idol Going
First, production thought they could do it on a soundstage without an audience. But when they realized the shutdown might go on longer than expected, they had to make some decisions.
"So how do we make this show?," Mills wondered, "There were all kinds of things we talked about. Do we just stop now, and start back up again when this is over? But who knows how long that's going to be. You want to keep it going," Mills said. "The audience is invested in these people now and you don't want to have to then say, 'remember six months ago these people that you really really liked. Well they're back and they're going to compete for American Idol.' That was when we said, okay, how do we do the best version of the show at home."
He understands that they are charting new territory, noting that Idol producers will the first ones (in America at least) to shoot a singing competition remotely. "And they have just worked night and day to do something that's going to feel both relevant to our times. But also hopefully at the end of the day…entertain and get you invested, make you want to vote for somebody and crown an American Idol."
I think ABC made the correct decision here. But four new episodes of competition were cut from the schedule because the network couldn't decide what to do.
Right now the set is loaded on CBS studios. "If [coronavirus] was gone tomorrow, we could go right into CBS and go and do big live shows," says Mills. We've got the stage ready to go."
American Idol has "Strengthened Everything" ABC Still Treats Like an Important Asset
ABC/Disney has been airing American Idol for 3 seasons. Although it's not official, it looks like it will be renewed for a season four. Mills stressed that the show has been a good thing for Disney:
Year one was unlike anything. I'd ever experienced professionally because literally every corner of the Walt Disney Company got behind it. It's been one of those things that's been a great brand enhancement. It's not what it was 15 years ago, but I don't know that anything is.

But what we have seen is that this is an audience that has incredibly loyal following. This is a show that people watch together. This show fits like a glove on our Sunday night schedule. We look at what we had before, and what we have now with Idol and it's just great. We consider ourselves really lucky to have it, It's one of those things that's helped strengthen everything. To everyone's credit here, they've not taken their foot off the gas. They still treat it like an important asset.
Listen to the full podcast below. Mills also chats about Bachelorette production, which hasn't begun yet.
Lionel Richie And Ryan Seacrest Hype the Heck out of Remote Idol
Ha. While Blake Shelton bluntly called the idea of The Voice filming the live shows from everybody's homes NUTS, Lionel Richie and Ryan Seacrest hype the heck out of remote shows. Y'all it's going to be even MORE EXCITING than a traditional live show!
"We are now ramping this thing up to where it's actually going to be more exciting to dit it from home!" Ryan replies, "I think so too." *INSERT SURE JAN GIF HERE* Ryan confirms that the voting will be instant, with results announced at the end of the show.
"I think a lot of them have never had the total experience of years of crowds screaming except we just fished Hawaii … [and] I saw their eyes pop when they walked onstage for the first time and said 'Oh my God, the crowds screaming at me!'" he shared. "So this is going to be pretty much a test: Can they pull themselves together when their family and friends are in the room only?"