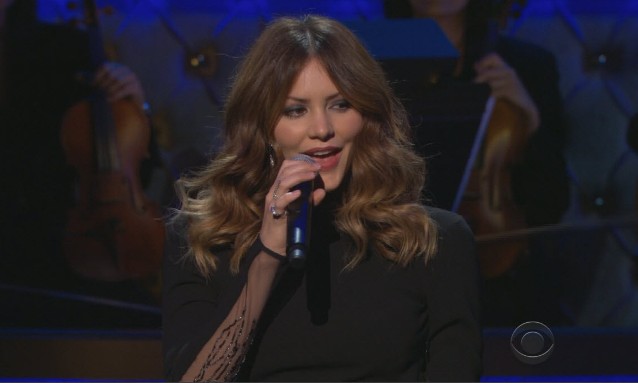 A slew of popular artists gathered in Las Vegas last week to perform the great songs of Frank Sinatra, in honor of the crooner's 100th birthday. The concert was aired Sunday night (Dec 6) as the Sinatra 100: An All Star Grammy Concert.
The performances were reverent, in some cases maybe TOO reverent. But, if you were worried the modern singers wouldn't treat Frank with the respect that he deserves–no worries there.
Check out some of out favorites here, performing the classic songs, including, Adam Levine (The Voice coach), Harry Connick Jr. (American Idol judge), Katharine McPhee (American Idol s5 alum) and Usher (The Voice coach)
Check out performances from American Idol season 4 winner, Carrie Underwood, HERE.
"This show is an amazing journey through Frank Sinatra's music, cast with some of today's greatest artists," said three-time GRAMMY winner Don Was, music director for the concert. "In paying homage to Mr. Sinatra's music and treating his legacy with the utmost respect, most of the artists will sing arrangements as originally crafted for Mr. Sinatra by giants Don Costa, Gordon Jenkins, Quincy Jones, and Nelson Riddle. It's going to be an incredible show!"
Medley: "Saturday Night (Is The Loneliest Night Of The Week)," "I Get A Kick Out Of You," "You Make Me Feel So Young," "My Kind Of Town," "You And Me (We Wanted It All)" – Harry Connick, Jr., John Legend, Adam Levine, Katharine McPhee
The number that opened the show featured songs from four decades!
Harry Connick Jr. – Luck Be a Lady Tonight
Harry's introduction discussed the way Sinatra's life and career intersected with the growth of Las Vegas. After, the jazz singer performed "Luck be a Lady Tonight."
Adam Levine – "The Best is Yet to Come"
Adam had the honor of singing the very last song the Chairman of the Board sang in public.
Usher – That's Life
Usher performed a soulful version of Frank's 60′ hit, "That's Life."