The 2016 American Music Awards took place Sunday night (Nov 20) at the Microsoft Theater in Los Angeles. Click for a recap and FULL winners list.
The event featured performances from Bruno Mars, Niall Horan, Fifth Harmony, Shawn Mendes, Green Day, Sting, Justin Bieber, Lady Gaga, Maroon 5 with Kendrick Lamar and more! Check out the performances below.
Click on Photos to Open Video Window
The hosts begin way up in the nosebleeds, where they introduce the first act, Bruno Mars. He performs the new single, "24K Magic."  Simple production. Just Bruno and his peeps. Next…a dance breakdown! IT'S THE 70's ya'll. The end.
One Direction singer, Niall Horan performs his new single "This Town."  It's just Niall and an acoustic band. The sparkle has not arrived yet. Good job, Niall!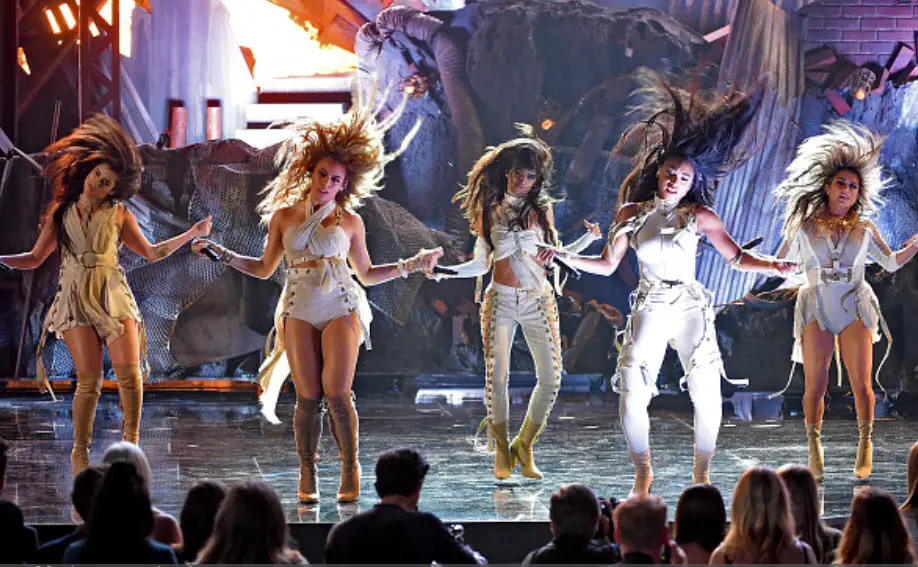 X Factor alums, Fifth Harmony are next. They descend from the ceiling on a platform onto a dystopian set, recreating their music video for "That's My Girl." Fierce!
Chainsmokers with Halsey and Travis Barker perform their massive hit "Closer."
Shawn Mendes. He's a little hoarse. He's singing his single "Treat You Better." After, he sits at the keys to perform "Mercy."
Ariana Grande and Nicki Minaj perform "Side to Side." Oh look. Almost half way through and the dancers arrive. Nicki Minaj spreads her legs and grabs her vagina! OK then.
Twenty One Pilots perform "Heathens." The entire band wears black stocking caps over their heads.
Justin Bieber performs LIVE from Europe. Teens in the audience crying! I wonder if he'll stop and lecture tonight? He sings "Let Me Love You."   With his new haircut Justin is a dead ringer for Ellen DeGeneres. AM I WRONG?
Lady Gaga performs "Million Reasons." Gaga strums an electric guitar as she sings. Bare feet and leather fringe!
Green Day perform their latest song "Bang Bang." They scream "NO TRUMP NO KKK NO FASCISTS USA." I smell another tweet storm coming later on tonight! Go Green Day.
Robert Downey Jr takes the stage to introduce Sting, who is being honored with "The American Music Award of Merit" award. First, Sting performs a medley of his beloved hits including "Message in a Bottle" and "Don't Stand so Close to Me." As he accepts his award he thanks the American musicians that brought us rock and roll. "My musical soul is all American," he says.
Maroon 5 and Kendrick Lamar wind things up with a performance of their big hit "Don't Wanna Know."