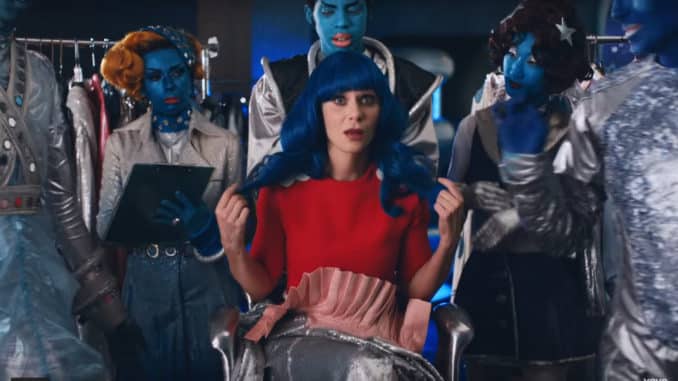 The music video for Katy Perry's latest single is out, and it stars actress Zooey Deschanel. The New Girl plays a doppelganger for the American Idol judge (I guess they sorta look alike?) and a spaceship full of aliens. Shortly after the aliens abduct her, Zooey goes on a mission to save the world. Hijinks totally ensue.
"Not the End of the World" is the third official single off Katy's latest album, Smile, following "Daisies" and the title track. The song also features on the singer's new Cosmic Energy EP alongside past hits such as "E.T." and "Wide Awake."
According to Billboard, Smile bowed at No. 5 on the Billboard 200 upon its release in August, becoming the star's fifth consecutive album to land within the top 10 — following 2010's Teenage Dream, 2013's Prism and 2017's Witness, all of which peaked at No. 1, and 2009's One of the Boys, which reached No. 9.
On Monday, Katy and Zooey held a chat on Instagram Live, afterwhich Katy led a group meditation for the Great Conjunction. Sounds cosmic, and a thing her evangelical parents would totally hate.
Watch Katy Perry and Zooey Deschanel in Not the End of the World music video