The madness starts right here!
Dreary WGWG auditions. Simon loses it and smashes a guitar.
The Original X Factor returns for the 11th season tonight.
The judging panel went through a major shake up once again: Gary Barlow, Sharon Osbourne and Nicole Scherzinger were replaced by Simon Cowell, Cheryl Cole Fernandez-Versini and Mel B. The unsinkable Louis Walsh meanwhile postponed his retirement plans indefinitely and is returning for his 11th season on the panel.
Simon, Cheryl and Louis are 3/4 of what is considered X Factor's best judging panel ever (S5-S7). Dannii Minogue was the 4th judge on that panel. Since her departure from X Factor UK, she appeared as a judge on Australia's Got Talent and X Factor Australia. She refused to return to X Factor UK, so TPTB needed to find another judge. Mel B. Scary Spice turned into professional talent show judge in recent years – She judged X Factor Australia seasons 3 & 4 and The Voice Kids Australia Season 1 and is now judging America's Got Talent (seasons 8 & 9). She previously appeared as a guest judge on X Factor UK Season 9.
Tonight's episode starts at 8pm BST, 9pm CEST, 3pm EDT, 12pm PDT.
---
XF UK S11E01 Previews:
Reece Bibby sings Disclosure's Latch

Chloe Jasmine sings Black Coffee

Blonde Electric sing Jessie J's Do It Like A Dude

TELLYMIX: PICTURES OF TONIGHT'S HOPEFULS
TELLYMIX: SONG LIST FOR TONIGHT
TELLYMIX: SPOILERS FOR TONIGHT
TELLYMIX: Simon Cowell smashes a guitar
DigitalSpy: The X Factor: 10 teasers about this weekend's episodes
---
HOW TO WATCH: LIVE, ONLINE, FROM ABROAD
You can watch X Factor live, online. ITV streams the show through ITV Player. However, ITV blocks viewers from outside of the UK. To get around that, you need to use VPN connection. If Google Chrome is your preferred browser, install ZenMate or Hola extensions and set them to UK server. There are also many free UK VPN services that allow you to make a connection on your own (Pick one and follow the instructions: 1, 2, 3, 4, 5, 6, 7, 8, 9, 10. For more Google "free UK VPN".). ITV might ask you to enter your UK zip code. Find valid UK zip code HERE. Don't let the browser send any information.
You can also try to find a working ITV stream on MyiPlayer.com, TVPC.com, VIPLeague.me, Stream2Watch.me or FilmON.com.
If you know any other working links, please post them in the comments below.
---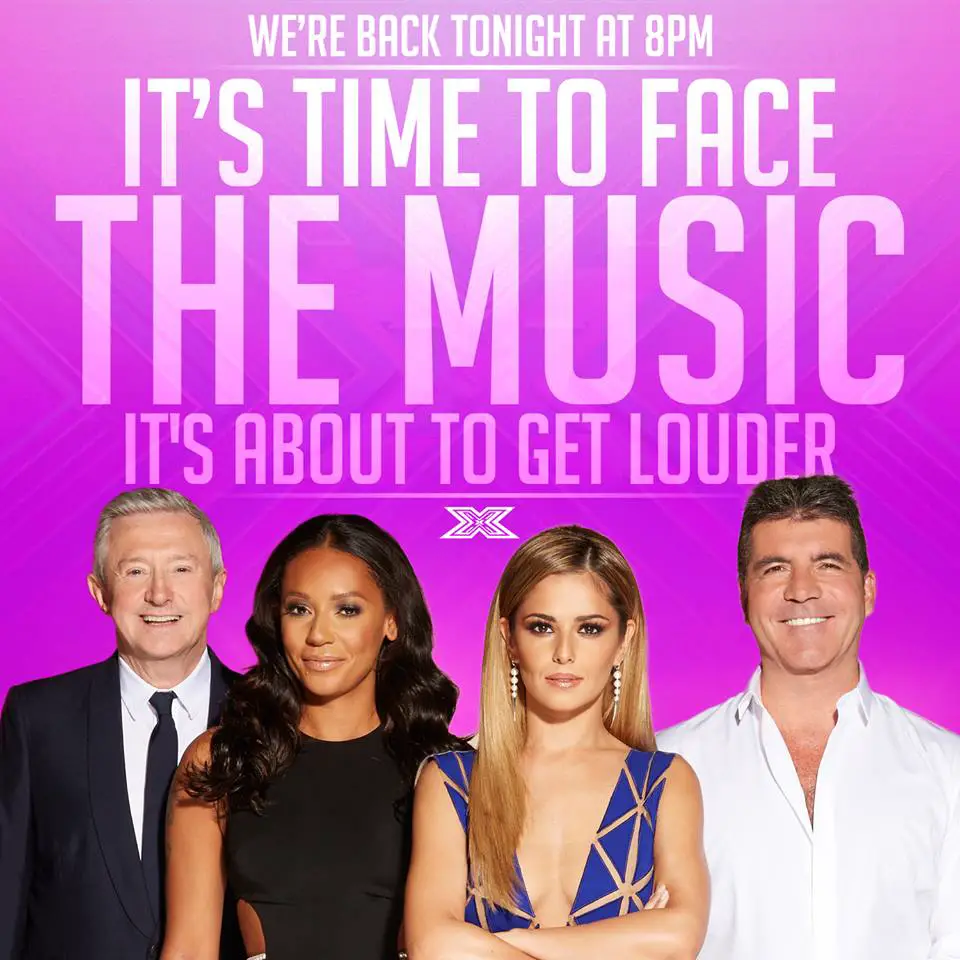 The Intro: It was the intro of all intros: Simon in a helicopter, Cheryl on a motorbike, Louis in a flashy car, Mel B on a private jet. I can't even describe this. It's like something out of a James Bond slash Batman movie. Britain produced the biggest legends in music: The Beatles, Rolling Stones, Adele, Coldplay, One Direction, Spice Girls and more.
Simon: "And so, to our mission, a job so important I had to come home."
Cheryl: "I had to come back."
Mel: "I had to join."
Louis: "And why I will never leave."
Room auditions are back and Simon is nervous.
BLONDE ELECTRIC – Do It Like A Dude (Jessie J)

Insufferable. Sisters (22, 24), single pringles
They are singing to a full backing track. Their singing is just as annoying as their personalities. I expect them to get through. Simon hated them. "It's like you've been invented by Louis Walsh on a computer to make the most irritating girl group." Haha. Louis and Mel B see some potential. Cheryl can barely speak. She didn't like them.
Louis: YES
Mel B: YES
Cheryl: NO
Simon: YES
The boys category came with a secret weapon. Guitars. Simon: I could merge 50 of these people, they all sound identical. He would blow up 50 guitars. Simon smashes a guitar after another guitar-assisted audition. Simon the guitar slayer! Someone make a GIF! And the next candidate is a 15-year old WGWG.
Reece Bibby – Latch (Disclosure)

15, his father is also very young. Cute boy. Acoustic cover.
Mel B absolutely loved it. Cheryl too. Louis ditto. Simon asks if he always performs with a guitar, Reece assures him that he practices singing without his guitar in his bedroom. 4 YESes.
Charlie Jones – Little Things (One Direction)

14, good looking boy. Through.
Chloe O'Gorman – Right to be Wrong (Joss Stone)

4 YESes
Lauren Nicole Platt – I Know Where I Have Been (Queen Latifah)

4 YESes
Only 16!
Ben Quinlan – That's My Goal (Shayne Ward)

Huge Cheryl Cole fan. Sings Shayne Ward's winner's single. Dedicated to Cheryl, obviously. 4 YESes.
Cheryl love-fest continues. Mel B is getting annoyed. "What am I? Chopped liver?"
Jale Antor – Fight For This Love (Cheryl Cole)

Dresses in red uniform. Reads lyrics from the paper, her singing sucks. Simon has a great time.
Amy Connolly – With You (Ghost The Musical)

25 years old. Previously auditioned in 2008, made it to judges' houses where she was sent home by Cheryl. Cheryl recognizes her and gets emotional during the audition. 4 YEses
Shayden Willis – My Way (Frank Sinatra)

37, brings a synthesizer. Sings a crappy original song. Can't play the instrument, either. Cheryl, Mel B and Louis walk out of the room. Simon stays. Then says NO. 20 minutes later, Shayden sings "My Way".
Angelina Robinson – All I Have To Do Is Dream (The Everly Brothers)

Sings terrible. During her audition her mother brings a lot of food, including cake and Chinese takeaway. The judges eat like pigs, but Angelina still gets a NO.
Carol Trefarthen – Simply The Best (Tina Turner)

Terrible. Strips.
Steve Callegari – Clocks (Coldplay)

I don't know what that was. Totally bizzare, 4 NOs.
Chloe Jasmine – Black Coffee (Ella Fitzgerald)

23, posh and quirky. 4 YESes. Positioned to be this year's Katie Waissel?
Naomi Goldblatt – Don't You Worry Child (Swedish House Mafia)
NO
Mila Falls – Lose Yourself To Dance (Daft Punk)
"You were like somebody a bit drunk at a nightclub just singing along to the record."
Jordan Pass – Adorn (Miguel)
NO
Jay James – Say Something (A Great Big World & Christina Aguilera)

Former navy man, emotional backstory, 4 YESes.
The End
---
'You're so annoying that you're actually good': Wacky duo Blonde Electric leave X Factor judges speechless with eccentric audition… but still make it through
They have already been dubbed as The Cheeky Girls meets Jedward by fans on social media.
And singing duo, Blonde Electric, certainly lived up to the name as they were introduced to viewers on The X Factor on Saturday night.
The popular reality singing contest was back with a bang as returning judges Simon Cowell and Cheryl Fernandez-Versini got to work picking out talent with Spice Girl Mel B and Louis Walsh.
Read more: Daily Mail
'Sometimes I feel like I work for Cheryl': Mrs Fernandez-Versini upstages Simon Cowell's X Factor return as hopefuls flock to meet her… including an 'uncanny' lookalike
She made her X Factor return in a black catsuit.
And everything about Cheryl Fernandez-Versini's TV comeback was fierce on Saturday night, as she overshadowed show boss Simon Cowell with contestants flocking to the audition room just to see her.
Despite Simon choosing this year to make his mark on the X Factor after a three year hiatus and former Spice Girl Mel B being specially selected to join this year's judging panel, on the show opener, the name on everyone's lips was 'Cheryl'.
Read more: Daily Mail
Here come the waterworks! Cheryl Fernandez-Versini is back (and so are her tears) as she and Mel B well up during auditions on The X Factor
It didn't take much to make her cry during her original stint as an X Factor judge.
And it seems little has changed as the first episode of the tenth series sees Cheryl Fernandez-Versini in tears once again.
The new series kicks off with a 'flashback' for the pop star when one of her old acts returns in a bid to re-start her career.
Read more: Daily Mail
Not so scary spice! Mel B fails to live up to her famously harsh judging style as she is brought to tears by Jay James' audition on The X Factor
She made an impact thanks to her no-nonsense critics as a guest judge on The X Factor.
But Mel B failed to live up to her Scary Spice persona as the first episode of the new series aired on Saturday night.
The singer was instead moved to tears as the premiere episode drew to an end following a heartfelt performance by the talented Jay James.
Read more: Daily Mail
X Factor's poshest contestant? No, says Chloe-Jasmine, I had elocution lessons for my dreadful lisp
The singer dubbed the poshest contestant in the history of The X Factor last night insisted she is not 'royalty', and pleaded with fans not to judge her on her accent.
Chloe-Jasmine Whichello said her well-spoken tone was down to elocution lessons she received at the age of 11 to cure a lisp and was nothing to do with a privileged background.
The 23-year-old, whose version of Ella Fitzgerald's Black Coffee got the thumbs-up from all four judges on last night's show, said: 'I had elocution lessons in order to speak properly.
Read more: Daily Mail
Can Mel B iron her hair straighter than Cheryl's?: LIZ JONES asks the biggest question on X Factor opening night
The TV advert in the style of Game Of Thrones promised much. As did the return of Simon Cowell ('A job so important I had to come home'), replacing the dullard that was Gary Barlow.
But I wasn't sure about teaming up Cheryl Fernandez-Versini (nee Tweedy, formerly Cole) – the woman who is glad she has dimples because she thinks they mean she weighs less – and another gobby Northern bird, Melanie Brown.
In the first instalment last night I missed the glossy, etiolated limbs and sunny optimism of former judge Nicole Scherzinger. However, The X Factor is still a beacon on dark Saturday nights, seeing us through to Christmas.
Read more: Daily Mail
Let the exploitation and baloney begin. The X Factor 2014 was up and running and as big a circus as ever, by JIM SHELLEY
The X Factor was back with all the elements that have created such a big impact on viewers – both those who love or hate the show.
Exaggerating/exploiting averagely talented 14 year olds; mocking contestants who had personal or psychiatric problems; claims that we had seen several stars of the future; and a few hundred adverts.
Apparently, it also featured the return of Cheryl Cole. I don't know if you caught a mention of it.
Read more: Daily Mail