One Direction score #1 album and single in the UK! Tulisa on the brink of being sacked from XF UK?
'Definitely weren't you, I'm far too skinny': Rylan Clark leaves judges and the audience flabbergasted by poking fun at Gary Barlow's Take That weight on the X Factor
They have been at loggerheads throughout the whole competition but on Saturday night Rylan Clark left Gary Barlow speechless after poking fun at his weight during his Take That years.
The X Factor hopeful was seen laughing at the judge's fuller frame during his boy band after his performance on the show.
During the VT Rylan was seen performing a Take That track and Gary asked him which member of the band he was pretending to be.
Read more: The Daily Mail
'Don't call me a WAG!': Louis Walsh calls Tulisa out on her relationship with Danny Simpson on X Factor … but she claims she was already famous
She's been flaunting her new love with football star Danny Simpson all week, so it's no wonder Louis Walsh called Tulisa Contostavlos a WAG on Saturday's X Factor.
Giving the mentor a compliment on her song choice for her only remaining act Ella Henderson, Louis also called the N Dubz singer out on her new status as a WAG.
Read more: The Daily Mail
'I probably shouldn't say this, I want you to win it': Gary Barlow backs James Arthur on X Factor… even though he still has Christopher Maloney in the competition
It's rare for an X Factor judge to tip an act to win the show when they aren't in their category.
But on Saturday night's show Gary Barlow told James Arthur that he wanted the young hopeful to come first in the competition.
The Take That singer, 41, backed the brooding talent, despite having his own act Christopher Maloney left in the competition.
Read more: The Daily Mail
Like yin and yang: X Factor's Nicole Scherzinger wears white origami style dress as Tulisa opts for dramatic black gown
Nicole Scherzinger and Tulisa Contostavlos's sartorial choices have been a hot topic of conversation amongst X Factor fans.
And it seems the style battle between the two mentors is still in full swing as they stepped out in completely different looks on Saturday's show.
While Nicole sported an angelic look and showed off her incredible Pussycat Doll figure in a white mini-dress, Tulisa opted for a dramatic black lace floor length gown.
Read more: The Daily Mail
Tu little…Tu late
'Lazy' judge doesn't focus on show
TULISA is on the brink of being sacked from the X Factor over her chaotic love life and for being too lazy.
Bosses are furious with her for failing to turn up to a filming session.
They are fed up with her being "generally late" for appointments and concentrating more on her own career.
And they fear her fling with Premier League bad boy Danny Simpson, 25, could seriously damage the ITV1 show's family reputation.
An insider said: "She needs to buck up her ideas and give her performance on the show more attention."
Last night Simpson left Newcastle after his team's game against Swansea for London to watch the show from Tulisa's dressing room. And tonight he is due to be in the audience.
Read more: The Sun
'Every boyband needs a gay one and I am Union J's': X Factor's Jaymi Hensley reveals Louis Walsh encouraged him to come out
Union J's Jaymi Hensley has revealed he is gay – and said mentor Louis Walsh inspired him to come out.
The X factor finalist has been in a relationship with his boyfriend, a hairdresser, for three years and said they plan to marry and have children.
Jaymi, 22, said: 'Every boyband has got to have a gay one! And Louis just said: "Do it!"'
Read more: The Daily Mail
X Factor Ella: The tweet from Adele that helped me to accept my body
She's the 16-year-old X Factor star who has won legions of fans for her refusal to live up to music industry stereotypes.
But singing sensation Ella Henderson, whose stunning voice has been compared to that of Adele's, has revealed how she faced a personal battle to accept her figure.
The teenager, from Tipton, near Grimsby, Lincolnshire, lost two-and-a-half stone last year because she felt under pressure to achieve the perfect pop star image.
Read more: The Daily Mail
Make up your mind! Ella Henderson leaves George Shelley 'heartbroken' after 'cosying up' to Union J bandmate Josh Cuthbert
Rumours about Ella Henderson's relationship with fellow contestant George Shelley have been circulating for weeks.
And it seemed like the relationship was confirmed after the X Factor hopefuls were spotted holding hands last week.
But according to reports, the 16-year old songbird has allegedly switched her affections to George's bandmate Josh Cuthbert.
Read more: The Daily Mail
'They want me out': People's champion Christopher Maloney accuses X Factor bosses of using 'underhand tactics' to kill his dream
Christopher Maloney has branded X Factor producers underhand, accusing bosses of trying to scupper his chances at winning by painting him as 'a diva'.
The Liverpudlian, who is believed to regularly top the viewers vote, believes Simon Cowell wants him out because he fears he won't make him enough money, and said bosses have already tipped Union J or James Arthur to win.
Former supermarket worker Chris is regularly booed and has been branded a diva on live TV by mentor Louis Walsh.
Read more: The Daily Mail
Louis: We MUST stop Christopher winning
X FACTOR judge Louis Walsh has slated wannabe Christopher Maloney — admitting bosses are doing everything in their power to stop him winning.
The cheesy Scouse singer has been the surprise of the contest, with insiders saying he could go on to win.
But Simon Cowell is livid – as bosses think he won't go on to sell any records.
Maloney has also fallen out with his fellow contestants, who have branded him "fake" for saying he has a problem with his nerves.
Louis said somehow a way had to be found of stopping him winning, adding: "The other contestants call him shake and fake. He keeps getting really big votes, though.
Read more: The Sun
One Direction mania in New York as thousands of fans camp out for FIVE days to catch a glimpse of band ahead of Today show appearance
One Direction fans are amongst the most terrifyingly loyal in the world.
And to show just how committed they are thousands of them have swarmed Manhattan to camp outside Rockefeller Plaza where the boys will be appearing on Tuesday's Today Show.
The 'One Directioners' aren't even guaranteed a glimpse of their heroes – but that hasn't deterred them for a second.
Read more: The Daily Mail
A Brit of history: One Direction draw record breaking 15,000 crowd to Today show appearance in New York… and announce 3-D movie
It was One Direction mania on Tuesday as the quintet celebrated the release of their album Take Me Home with an unforgettable performance on the Today show in New York.
Over 15,000 screaming fans greeted the X Factor's most successful product in Rockefeller Plaza; many of the dedicated fans had camped out for as long as five days in the freezing cold and rain.
Read more: The Daily Mail
One Direction 3D Film Gets 'Super' Director
'Super Size Me' Star Morgan Spurlock to Helm Sony Project, Set for Labor Day Weekend 2013
Prepare to have Harry Styles lurch at you at your local cineplex. Sony Pictures announced on Tuesday it's making a 3D film, directed by "Super Size Me" star Morgan Spurlock, that will give fans of One Direction a behind-the-scenes look at the group.
"This is an incredible opportunity and an amazing moment in time for the band," said Spurlock. "To capture this journey and share it with audiences around the world will be an epic undertaking that I am proud to be a part of."
The as-yet-titled 3D film will be released by TriStar Pictures on Aug. 30, 2013 (Labor Day Weekend). Spurlock, Ben Winston, Adam Milano and Simon Cowell, who discovered the group on the U.K. version of "The X Factor" in 2010, will produce the film.
Read more: Billboard
One Direction act like kids at Toys R Us, just as McFly call them "rock 'n' roll"
One Direction hit the massive Toys R Us store in New York, where they bought a bunch of nerf guns
If we were a member of One Direction, there are plenty things we'd crack on with if we had a spare hour or two – buy some designer gear, wander out of the hotel and grab a fit fan, tweet an aggressive haiku about The Wanted, have a posh massage, get a tattoo…
They've done that tattoo thing over and over again, so what did Liam Payne and Louis Tomlinson get up to when presented with some spare time in New York yesterday?
They went shopping… at Toys 'R' Us.
Read more: The Mirror
Something you want to tell us? Louis Tomlinson cuddles up to a baby as One Direction arrive back in London
It was quite the welcoming committee as One Direction touched down in London on Wednesday, but there was one special person waiting for Louis Tomlinson.
The heartthrob was spotted holding a baby girl in his arms as he waited around at the airport before heading back home, returning from a gruelling promotion tour across the pond.
And the cute toddler seemed unaware of all the attention, as she enjoyed a much envied position in the arms of the boy band star.
Read more: The Daily Mail
One Direction perform 'Live While We're Young' – Children in Need 2012 – BBC One

One Direction on Children in Need 2012- Little Things

Little Mix Perform 'Change Your Life' Live – Children In Need 2012
http://youtu.be/CTYETMklqco
Leona Lewis – Fireflies on BBC Children in Need

It's really them! One Direction prank four delighted fans by pretending to be wax work models for Surprise Surprise

Most teenage girls dream of meeting One Direction in the flesh.
And for four lucky fans that was a reality when they were treated to the ultimate surprise on a visit to the famous wax work museum Madame Tussauds in London.
The famous boy band pretended to be wax statues, only to come to life when approached by the chosen fans for the TV show Surprise Surprise.
Read more: The Daily Mail
Copping a feel! One Direction cutie Harry Styles flashes new tattoo… and gets felt up by female fan on Ellen DeGeneres Show
Harry Styles showed some skin and the girls went wild.
The singer, who up until now was adored for his wild locks, can now add flasher to the list.
The British boy band One Direction had the fortune of performing in front of 5,000 screaming fans during a recent outdoor concert on The Ellen DeGeneres Show.
Read more: The Daily Mail
It must be getting serious! Taylor Swift introduced Harry Styles to her mum as they were spotted holding hands backstage at U.S. X Factor
Move over Justin Bieber and Selena Gomez, there might be a new pop star couple in town.
Taylor Swift and Harry Styles are getting closer every minute, as insiders saw them canoodling backstage at the US X Factor.
And according to several eyewitnesses, Harry even joined Taylor's mother as he sat in the audience to watch her do her soundcheck before running onstage, throwing her over his shoulder and whisking her off backstage.
Read more: The Daily Mail
What a doll!
One Direction star Niall Horan tops band's figurine sales, eclipsing heart-throb Harry Styles
POPSTAR Harry Styles is no longer regarded as the heart-throb of One Direction if sales of the group's dolls are anything to go by.
Although the curly-haired 18-year-old had hearts racing last year it seems it's his Irish bandmate Niall Horan, 19, who is making the girls swoon.
According to One Direction doll sales, Harry has now been relegated third place in the popularity stakes.
A report, from Amazon.co.uk, revealed sales of his figurine have dropped by 15 per cent whereas Niall's has enjoyed a seven per cent boost.
Read more: The Sun
One Direction's 1D World Store Sneak Preview in New York

"I stood guard at night to stop girls getting into their rooms": One Direction's bodyguard tells all
Man named "Baldy" lifts the lid on the crazy fans, their nutty parents and a special request from Michelle Obama
They're the biggest band in the world… and today their former bodyguard lifts the lid on life on the road with One Direction.
Andy Davies, who barely left their side for nine months, reveals how they even got an amazing invitation to perform for no less than Barack Obama.
He also tells how an American woman offered them ONE MILLION DOLLARS if they would spend the day with her 1D-obsessed daughter.
And, witnessing at first hand the ­hysteria that follows their every move, he talks of how the boys joke they're now even bigger than The Beatles.
But he also reveals that despite their phenomenal success, Harry, 18, Niall, Liam and Zayn, all 19, and Louis, 20, are really lovely guys… so "polite and kind-hearted".
Read more: The Mirror
Bleeding love! Leona Lewis 'shares dressing room' with One Direction's Liam Payne for one hour after Children In Need performance
They're yet to speak out about their rumoured new romance.
But things between pop stars Leona Lewis and One Direction's Liam Payne could be heating up after an alleged dressing-room tryst following Friday night's Children In Need.
According to Daily Star Sunday, the former X Factor contestants took the opportunity to spend an undisturbed one hour session together after the live charity show.
Read more: The Daily Mail
One Direction on Children In Need: Boys show off dramatic new look on live TV
Zayn Malik couldn't live without his little blonde streak, dying it back into his hair for the boys' Children In Need appearance
One Direction didn't make us wait long before appearing on tonight's Children In Need – rocking up after about 45 seconds into the show to perform Live While We're Young.
Three main things struck us about their performance…
1. Louis, Zayn, Harry, Liam and Niall were doing a beautiful job of singing live.
2. Their trainers were so white that it made us wonder whether they're contractually obliged to wear a new pair for each performance OR they hire people to give them piggybacks everywhere.
3. Zayn had his little skunk do back!
Read more: The Mirror
Little Mix: DNA – review
(Syco)
Groups don't win The X Factor. At least they didn't until the likable Little Mix came along in 2011, ambled through the early weeks, then did an En Vogue cover that set them on the path to victory. Their debut album arrives a year after the fact, and establishes their identity nicely, which is to say that they're being positioned as a sort of updated Girls Aloud with enormous drums and plenty of very "now" early-90s R&B references. The lesson here is that bigger is better. When off-kilter beats collide with impeccable harmonies and pleasingly daft lyrics (literally, in the case of Madhouse, with its "Men in white coats, don't take me back there" line), it sounds like pop as it should be, and their gamble in borrowing De La Soul's Ring Ring Ring refrain for How Ya Doin comes good. The ballads, however, plod along with heavy-handed emotion, and are comparatively Identikit. An exception is Going Nowhere, which somehow pulls off that rare blend of Spanish guitars and rap.
Read more: The Guardian
Plastic fantastic! Little Mix launch doll versions of themselves just in time for Christmas
They already won X Factor and got a number one hit single, but now Little Mix prove they've really made it in showbiz world by launching a range of dolls.
Perrie Edwards, Jesy Nelson, Leigh-Anne Pinnock and Jade Thirlwall revealed their plastic mini-me's to the world on Wednesday, joining the likes of pop bands including One Direction who also have their own doll collection.
The doll versions of the popular British girlband are set to hit the stores later this month.
Read more: The Daily Mail
---
_ _ _
Irish Charts
Singles
1 Labrinth – Beneath Your Beautiful (feat. Emeli Sande)
.
2 One Direction – Little Things
8 Little Mix – DNA
23 One Direction – Live While We're Young
42 Owl City & Carly Rae Jepsen – Good Time
45 One Direction – What Makes You Beautiful
59 Little Mix – Wings
75 JLS – Hottest Girl In The World
76 Carly Rae Jepsen – Call Me Maybe
77 Rebecca Ferguson – Backtrack
94 Carly Rae Jepsen – This Kiss
97 Misha B – Do You Think of Me?
98 One Direction – Kiss You
Albums
1 One Direction- Take Me Home
.
12 One Direction – Up All Night
30 JLS – Evolution
41 Olly Murs – In Case You Didn't Know
65 Jedward – Young Love
74 Leona Lewis – Glassheart
75 Rebecca Ferguson – Heaven
95 Jonathan & Charlotte – Together
96 Matt Cardle – The Fire
99 Carly Rae Jepsen – Kiss
_ _ _
One Direction score Number 1 single AND album!
It's a double celebration for Harry Styles, Zayn Malik, Liam Payne, Niall Horan and Louis Tomlinson this evening as One Direction's new album, Take Me Home, and new single, Little Things, have both debuted at Number 1 on the Official Charts!
Little Things entered at Number 3 in Wednesday's Official Singles Chart Update, however 1D managed to surge ahead of Bruno Mars' Locked Out Of Heaven (Number 2) and Little Mix's DNA (Number 3) to finish the week in pole position. The track, which was written by Ed Sheeran, is only One Direction's second single to top the Official Singles Chart (the other being their debut release, What Makes You Beautiful, which reached Number 1 in September last year).
The Anglo Irish boyband's first album, Up All Night, was famously kept off Number 1 last December by Rihanna's Talk That Talk. Nearly twelve months on, and Take Me Home has not only taken the Official Albums Chart top spot, with a sales tally of 155,000, it has also become the second fastest selling album of 2012 so far behind Mumford & Sons' Babel, which sold 158,000 during its first week on sale.
Read more: The Official Charts Company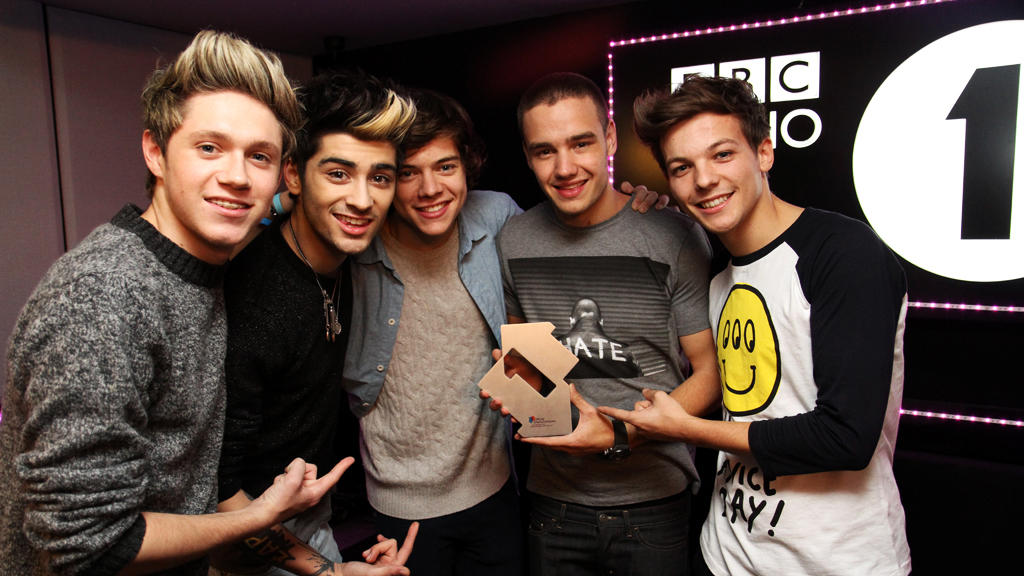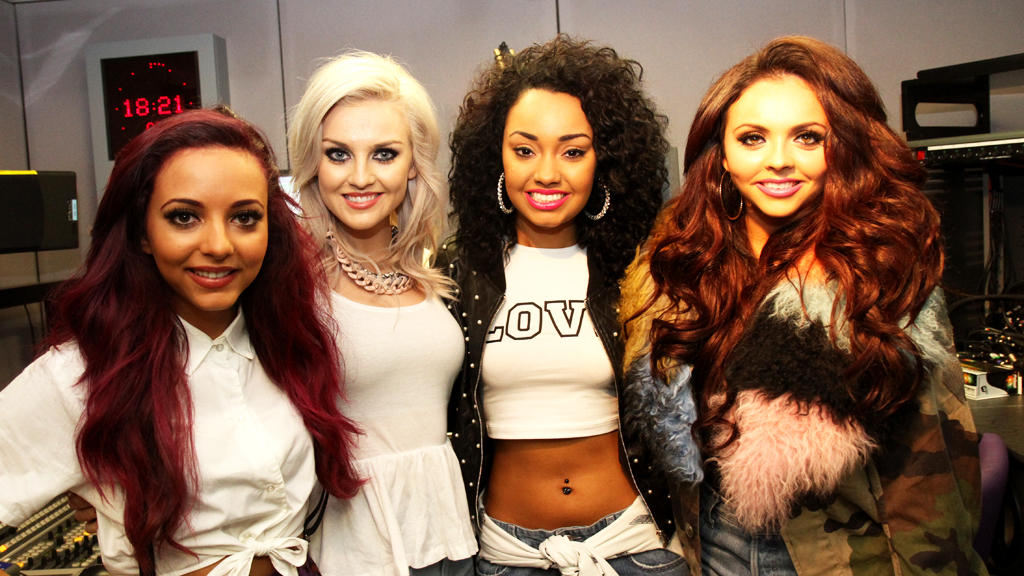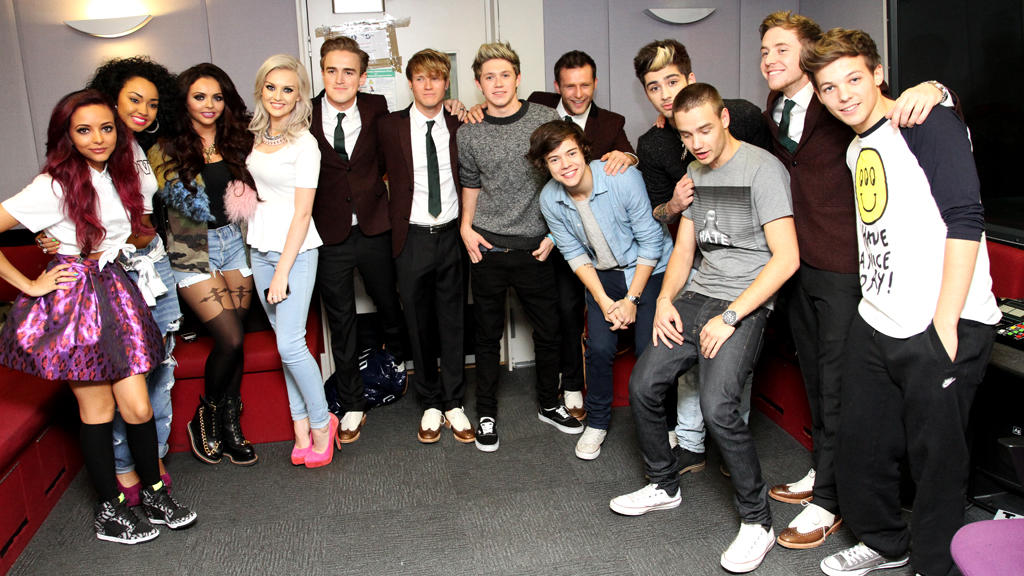 The Official Charts
Singles
1 One Direction – Little Things
.
3 Little Mix – DNA
23 Misha B – Do You Think Of Me?
26 One Direction – Live While We're Young
39 Little Mix – Wings
45 One Direction – What Makes You Beautiful
47 JLS – Hottest Girl In The World
51 Owl City & Carly Rae Jepsen – Good Time
54 Carly Rae Jepsen – Call Me Maybe
Albums
1 One Direction – Take Me Home (155K)
.
16 JLS – Evolution
23 Jonathan & Charlotte – Together
25 One Direction – Up All Night
50 Rebecca Ferguson – Heaven
52 Matt Cardle – The Fire
55 Leona Lewis – Glassheart
57 Olly Murs – In Case You Didn't Know
One Direction's new album "Take Me Home" also debuted at #1 in Australia. It's already certified PLATINUM. Their debut album "Up All Night" is 4x PLATINUM in Australia.