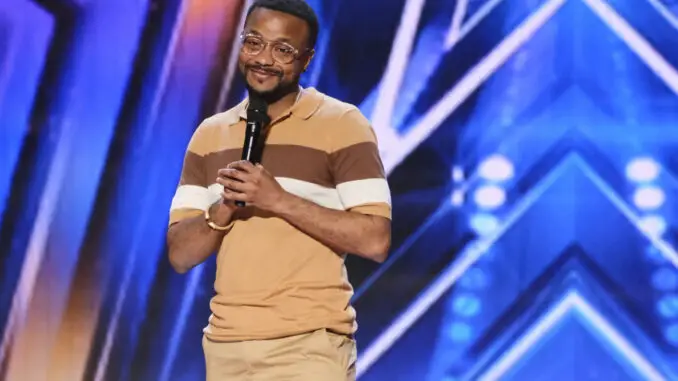 America's Got Talent continued audition episodes on Tuesday (July 12) following a 4th of July week clip show. (Read our Recap) The night was filled with fun and emotions. Judge Howie Mandel missed the days the show taped due to sickness. Wyn Starks, the closer of the night was one of the strongest singing auditions we've seen to date this season.
Minneapolis-born and Nashville-based Wyn is excited and nervous as he enters the stage. He explains music is something he's done his whole life, and that singing became a full-time thing after he was laid off at his hotel job due to Covid.
AGT paints Wyn as an out of work hospitality worker. But not so fast…
Note, Wyn is more established than the show lets on. After moving to Nashville, he signed with Curb Records within 6 months. His song "Circles" has over 2.6 million streams on Spotify. In fact, Spotify is currently playlisting "Circles"  on their "Fresh Gospel" and "Retro Pop" playlists, and he is still listed on the Curb Records site. Many American Idol and The Voice alums struggle to get playlisted like this. (Read more about him signing to the label, his style, and his debut in 2019 on his website. 
Wyn tells the panel he is going to sing a song titled, "Who I Am" about his journey. He then reveals that the song was one of his twin brother's favorite songs as he explains that he recently passed away. His brother was one of Wyn's biggest supporters–Wyn is auditioning for him.
It is no surprise that Wyn is an established recording artist. The song starts a bit slow melody-wise, but his voice is stunning with a very strong falsetto as well as a strong chest voice. His tone has dollar signs written all over it, and as the song develops, the crowd reaction grows stronger. The song's chorus sounds like a hit record and the climatic big notes are insane. As it goes on, there's something addicting about the melody that makes me want to put the song on replay which is a sign of a good pop song.
"This could be a life changing moment" says Simon
Wyn had tears in his eyes as the crowd and judges give him a standing ovation. Simon Cowell says "Wow" multiple times. Sofia Vergara says, "that was amazing" and tells him that she relates after losing a brother too. But, she says, losing a twin must be much harder. She also loves the feeling he gave to the song. Heidi Klum loves his tone and asks Simon, "how can we make this a hit?". Simon calls him "brilliant" and calls it the "perfect tribute" to his brother. The crowd once again stands as Simon says, "this could be a life-changing moment".
The panel votes and gives Wyn 3 yeses. How will the crowded singing lineup fars in the lives? Some talented singers may not even make the quarterfinals. I'm sure we will see Wyn there though.
The official music video for "Who Am I" came out July 11
Wyn released "Who I Am" as the title track of his EP in 2020. The singer released the set via Sidewalk Records, an affiliate label of Curb Records. Wyn performing it on AGT, makes it more than likely that he is still signed. The official video for it came out yesterday. 
Tonight's top acts besides Wyn were romantic acrobatic ring act Duo Rings (Watch here) and Hand Balancing duo Balla Brothers. Honorable mentions go to singer Ben Waites (Watch here), kids acapella group Acapop Kids, illusionists Henry and Klauss, and dancing duo Stefanny Moreno and Yeeremy Lugo. That's a lot of acts. This was definitely one of the stronger audition nights to date.