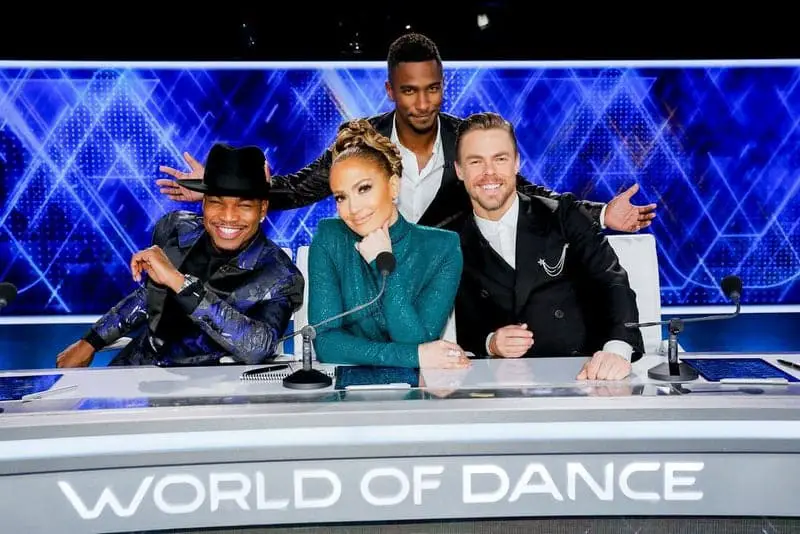 The junior duels conclude tonight on World Of Dance. Remember, guest judge Twitch will be deciding on who gets to dance again for redemption. He has to choose between the losing acts from last week and tonight. As usual, Jennifer Lopez, Ne-Yo, and Derek Hough will decide who wins the duels.
James & Harris Vs. Bailey & Kida – One is a hip-hop duo who are professionals and sought after in the industry. The other is a contemporary duo who have great chemistry. The judges note that they wanted Bailey & Kida to have more chemistry on the floor. For James & Harris, the judges felt they had some nerves. They do not want nerves to get to them this go around. Both acts are confident tonight though and want to bring it and make it to the net round.
Bailey & Kida – So clever. Some of the best choreography we have seen with this type of hip-hop dancing. The music and lyrics were the perfect backdrop for what they did. I just love in control of their bodies they are and you can tell, they practiced that connection from the qualifying performance. This whole piece seemed much more in the line of two people who perform together on a regular basis and this is a routine from one of their shows. I dug it a lot. Very creative and very entertaining.
Derek called it sick and the execution was perfect. He calls it so satisfying to watch. Ne-Yo said each part of their bodies have their own brains. He has no criticisms to give. Jennifer called it a killer routine and she got GOOSIES. She calls it a step up from the previous piece. Twitch talks about the nuances- he could see what the music looked like. He cautions them that they need to keep that up because it was so good that they need to always work harder.
James & Harris – That was interesting. I was expecting some kind of emotional contemporary piece and they went with more of a gritty contemporary piece. I'm not sure if that was wise. Because it can almost fall into a hip-hop vibe and we already saw Bailey & Kida kind of own that type of style (even though it is quite different), so it is hard not to compare. They had some wonderful athletic moves in there and some really nice choreography that told a story but I don't know if they did enough to get the win here. I actually think their qualifying performances was more of an overall standout.
Jennifer thinks they compliment one another. She calls it a match made in heaven. Ne-Yo calls them strong dancers. His problem is they aren't dancing as strong as he thinks they are. Derek disagrees. He feels it was fresh and cool He does mention that they go a fraction out of sync at times and those moments count. Jennifer labels it strong but she does somewhat agree with Ne-Yo. Twitch tells them to give everything- don't worry about being too perfect.
Ne-Yo picks Bailey & Kida.
Jennifer picks James & Harris.
Derek (the deciding vote) picks Bailey & Kida
SHOCK. No, I'm kidding of course. Twitch tells them he has his eye on James & Harris for redemption. And I really hope Twitch picks them. I want to see them do something different. That wasn't their very best and I think they deserve a second shot at it. But yeah, I can't argue with who won to be honest based on that duel alone..
And now time to hear about all of the judges previous work experience before hitting it big. Because you know…this is very important to the show. LOL.
Moving on and back to the task at hand. The final junior duel tonight is Keagan Capps Vs. Maddy Penney. Derek calls them two incredible dancers. Keagan infuses contortion into her dancing. Jennifer wants to see something more from her. So she is portraying more emotions tonight. Maddy is classical ballet and she blends it with contemporary. Ne-Yo didn't get the emotion from her and she says tonight's dance is more fierce. Jennifer wants to be moved.
Maddy Penney — Okay. Cute. Umm, she spoke about bringing fire but I'm not sure I saw much of that. It was quite a subdued, almost sleepy performance. I take nothing away from her incredible talent and ability but this is the duels. You have to come out and do something that will wow, shock, surprise, and entertain. I don't think those boxers were checked off. She showed what she can do, but we know what she can do. So…underwhelmed for me.
Jennifer says she took them to Paris. She calls it a good routine. She feels this routine fell short of the qualifying one though. Twitch didn't feel totally compelled by it. He wants to be invited in to her world. Derek loved the technique and calls it pleasant but he saw some bobbles. Ne-Yo saw some of her personality which he is happy about. He saw improvement.
Keagan Capps – GORGEOUS. That's what Maddy needed to do. It had Keagan's talent on display but added so much emotion and character. The song choice was aces. She just showed up and owned that. It was mesmerizing to watch in its intensity. But it was controlled intensity, which makes it even more haunting and breathtaking to watch. A superb routine.
Jennifer loved how emotional it was. Derek found the intensity was great. He loves her awareness of her body. Twitch tells her to take the compliments to heart since they are coming from experts. Ne-Yo says she has a level of maturity to be able to milk a moment. Derek wants her to be aware that she needs to dance more in between the moves.
Derek picks Keagan Capps.
Jennifer picks Keagan Capps.
No need for Ne-Yo's vote but he does say he would also vote for Keagan.
Welp, that's it for the junior duels. Now, the decision goes to Twitch. He had to pick from all the losing acts tonight (only two) and from last week. He has five acts to choose from. I would go with Chiby Unity from last week and James & Harris from tonight but who knows how Twitch is going to vote. All the acts are excited and really want a second shot.
Twitch informs the dancers on his decision. It is going to be James & Harris Vs. The Young Cast. Okay, decent choice. The judges hope Twich picked the two they wanted. Both acts are ready to give it all hey have. This is the final shot.
The Young Cast – That was super entertaining and stellar. So damn coordinated. They were the first time as well. A cool groovy routine with elements just about everything these kids do so well. That was a hell of a memorable routine from start to finish and really easy on the eyes. Makes one want to get up and dance too.
Jennifer loved that they have a bag of tricks. Derek feels they have a slight advantage because they have more people. Ne-Yo wants to wait and see. We don't get a huge judge critique here because we are strapped for time and we need to of course get in yet another commercial break.
James & Harris – Much better than what they did for the first duel showdown. It is weird but I wonder if anything physically or emotionally is on one or both of their minds because I feel like neither routine tonight lived up to their initial qualifying routine. That being said, I personally think they have more overall to offer to the semi-finals than The Young Cast does. I think they did enough previously and show enough promise to where a semi-final without them wouldn't be the same.
Ne-Yo and Jennifer agree they are all fantastic dancers. Derek saw some off-balance stuff but overall, great. Twitch tells the judges it is on them.
Jennifer picks The Young Cast.
Derek picks The Young Cast.
Ne-Yo does as well.
Damn. While it is hard for me to argue with that choice based on performances alone, I really hate that we lose James & Harris. They were personal favorites of mine. Derek cautions everyone that they are now going to the main stage so be prepared- NO WEAK MOMENTS.
Next week- the SEMI-FINALS begin. The big stage is back. It is going to be all out, balls to the wall epicness. LOL. There…I have satisfied the requirement to make it sound as dramatic as possible. Thanks for joining me tonight and I'll see ya'll in a week.