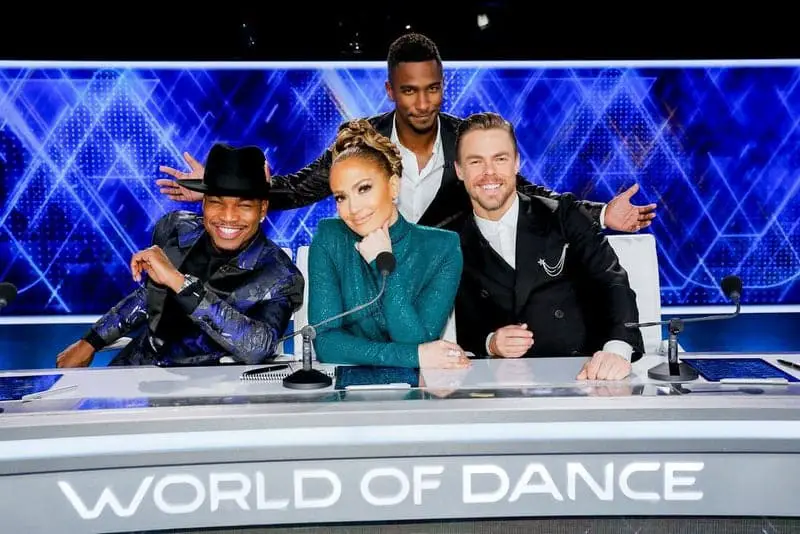 It is time for the junior division to take center stage. Good Tuesday everyone! Tonight, the duels continue as more acts try to earn a spot in the semi-finals. With six upper division acts set, judges Jennifer Lopez, Derek Hough, and Ne-Yo are looking for the best of the best among the young crop of this season's dancers.
The setup is the same. No one will know who they are battling against until the moment it begins and if you lose, you might earn a shot at redemption when everyone finishes competing. There are quite a few soloists and groups that made strong impressions at the qualifiers, so tonight should be entertaining and competitive.
Twitch is back once again to determine the redemption acts. So, let's get it started.
The Young Cast Vs. GRVMNT – Jennifer notes they have so much in common and both needed a callback to make it this far. The Young Cast know they have to fight. Jennifer wants GRVMNT's girls to hit as hard as the boys. Both teams are ready to fight and they are not here to play.
GRVMNT – Dang. Some of the upper division teams can take a few notes with this group. So damn in-sync and clean. Dancing as one with pristine movement incorporating hip-hop steps with some down and dirty grooving. So fun to watch everyone nailing it at the exact same time. They are definitely in battle mode and know they need to impress. And that was might impressive.
Derek says they came ready ti play. He loved the musicality. Jennifer says it may hold the record for most moves in a minute and a half. Derek feels it lacked some stamina at the end. Jennifer says it is inevitable that after all that, you lose some energy at the end. Ne-Yo notes dancers make it look easy. He agrees that at the end, you could see some effort. Twitch wants them to make it look like its nothing.
The Young Cast – Wow. That was so hard hitting. There was so much fire and intensity in that. And it gelled well within the theme of "dueling" because they looked like battling ninjas out there. I really loved some of those quirky tricks thrown in because it makes them stand out. And just like the other group, we can't not mention the cleanliness of the dancing. So good. I think The Young Cast just edged out GRVMNT.
Jennifer is so impressed. She didn't know they had it in them. Derek says they were shot out of a canon at the beginning. He felt the tricks were the weakest moments though. Twitch says it is like hip-hop taken to the next level. Ne-Yo is torn. His issue with this group is the tricks because he feels they didn't totally land.
https://www.youtube.com/watch?v=jnpZ6crWvW8
Derek picks The Young Cast.
Jennifer picks GRVMNT.
Ne-Yo as the deciding vote, picks GRVMNT.
Interesting. I can't really say it was a bad decision but I hope The Young Cast is part of redemption because they were excellent in that.
Next up tonight is Savannah Manzel Vs. 305. Ne-Yo loves the raw Latin energy and Savannah's powerful solos, so he says the judges feel she could up against them. The judges want Savannah to tap into the emotion Meanwhile, 305 needs to work on consistency. Derek wants 305 to have more exciting choreography.
305 – I think Savannah actually got lucky here. They are playing it up as if a soloist cannot beat a group but listen… 305 has been pretty lackluster as a Latin group, though this was their best overall piece. On top of that, it is easier to have mistakes when watching a big group because one mishap and everything looks off. If Savannah simply nails an emotional routine, she takes it. I like 305 and loved the fusion of different Latin dances in this but for me, it wasn't on the level one would expect.
Derek says "well done." He sees them standing up with the paso doble battle. Jennifer feels it was good and enjoyed the presentation. She notes it could have been better. Twitch agrees- they have work to do. Ne-Yo sees potential. He wants to see what Savannah does.
https://www.youtube.com/watch?v=PWvOS2u1T3M
Savannah Manzel – OOPS. Her mic pack drops mid-dance! COMMERCIAL. The drama. LOL. She starts from the beginning. She's such a little beast- so much athleticism and power. Here's my issue with her though. This show has been on for four seasons. And we have seen many female soloists just like her doing the exact same thing. So are we applauding her because she can do it when so young? Or we applauding her because she does it better than the rest? I tend to think the former and that's a tad unfortunate. Both of these underwhelmed me to be honest.
Jennifer says "wow." She feels she has the emotional power that she feared she didn't. Ne-Yo feels she showed she is a true entertainer. Ne-Yo tells her to watch the tricks and kick up some of the dancing. Jennifer agrees. Derek commends her and loves her capacity. Twitch says this is David versus Goliath.
Jennifer picks Savannah.
Ne-Yo picks Savannah.
I knew that was coming. I don't think 305 will earn a redemption spot but you never know.
The final duel of the night is MDC 3 Vs. Chibi Unity. Ne-Yo feel they are choreographically sound. MDC 3 plans on continuing their story of heartbreak and betrayal. But they know they need to make it different. Chibi knows they need to show energy right from the start. They are also going to include some burns to their competition.
Chibi Unity – Solid routine from start to finish. Engaging, hard hitting, some nice formations, and a little groove in there as well. Appreciate the attention to detail too. BUT, it didn't blow me away. I found myself thinking back to GRVMNT and The Young Cast during that and thought those teams did this type of dancing a bit better. Don't get me wrong- solid for sure. Just…wasn't jumping out of my seat.
Jennifer says they stepped it up. Derek thought it was clean and so well put together. Ne-Yo was surprised by the straight up hip-hop and Twitch is up dancing. Ne-Yo says this piece shows you can't judge a book by its cover. Twitch asks which style they feel good with. They answer contemporary so Twitch tells them to be careful and choose what they do best. Jennifer is blown away.
MDC 3 – STUNNING. STUNN-INGGGG. They actually continued the story from their first dance, which is something I have never seen before. The way a threesome is able to paint new and exciting pictures in a contemporary dance just takes my breath away. These three are talent. Just pure talent. So much emotion. So much power. Love them. My favorite dance of tonight maybe, of the duels on a whole so far.
Derek loved the continuation of the last routine. He felt it was so clever. Jennifer agrees. Derek loves the male's partner work. He feels he is such a strong support for the ladies. Ne-Yo loves the storytelling. Twitch wants some more work internalizing the emotions so they bleed out. I haven't a clue what that means but okay Twitch.
Ne-Yo picks Chibi Unity.
Jennifer picks MDC 3.
Derek, as the deciding vote, picks MDC 3.
Good choice there. I have next to no doubt Chiby will be picked for redemption, especially after the judges raves.
The junior duels continue (and conclude) next week as well as the redemption picks. Thanks for watching with me tonight and I'll see y'all in a week's time. Stay safe everyone. :D