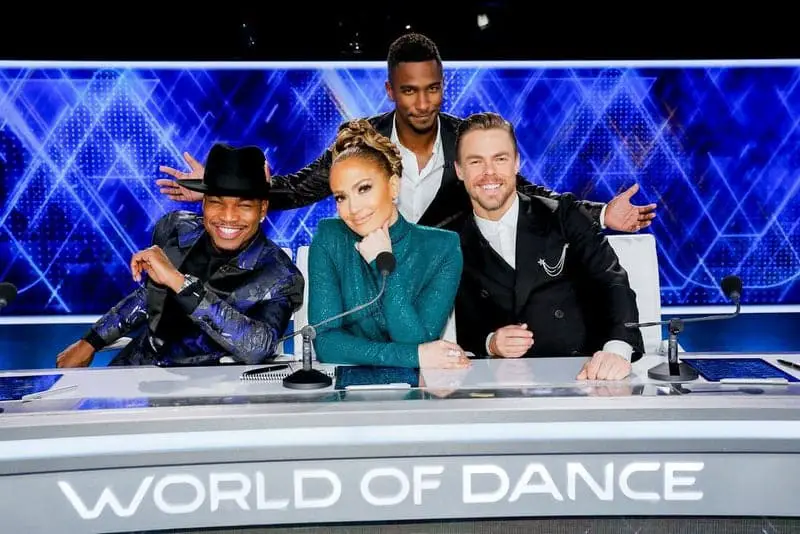 Hey All :)
This. Is. It. We have arrived at the world final for season four of World Of Dance. Only four acts remain and one of them is about to become our champion and earn the million dollar cash prize! After two weeks of intense semi-final performances, the final four is set. It will be Jefferson & Adrianita Vs. Geometrie Variable Vs. MDC 3 Vs. Oxygen.
For the last time this season, judges Jennifer Lopez, Derek Hough, and Ne-Yo will score the acts and will determine who takes it all home. Will hip-hop continue to reign supreme, taking home a fourth consecutive win on this show? Will the storytelling of contemporary powerhouses be crowned instead? Or will an electrifying Latin duo be called best in the world?
With all that being said, let's get this finale started!
Each of the final acts get a little mini-introduction to show off a bit. That was cute. All the finalists are very excited and filled with energy. Here comes our host, Scott Evans. The finalists will each perform just one more time. Remember in the past when they got to perform twice in the finale and before that, we had divisional finals? Yeah, I miss the old structure.
Oxygen – They talk about how the strategy was to surprise the judges each time. We see how they went into redemption and that woke them up. No one from the Netherlands have ever done something like this abroad, so they are excited about the opportunity. The judges arrive to mentor. Ne-Yo says they have an advantage because they have a show mentality. Jennifer wants something more exciting. Derek advises to change the ending a bit.
They are so cool. Love the futuristic vibe of this. Great arm movements (as usual for this group). And incredibly synchronicity throughout. If I am being honest, last night's routine was a bit more exciting. This was good. It was very good- but it didn't have that amazing factor of last night when the girls were behind the table being played like an orchestra. That felt more epic. But solid job.
Ne-Yo says "dope." He loved the clean lines and everything he expects from them. Jennifer enjoyed the beginning. Derek saw the details and he appreciates it. Jennifer feels they gave the best even if the ending fell a little flat. Ne-Yo thought the beginning prop (the pod) left something to be desired.
Scores- Ne-Yo- 94, Jennifer- 91, Derek- 94 = 93
MDC 3 – They are the last junior act standing. And they have the highest score of the semi-finals. They are thrilled they got to dedicate last night's piece. The judges arrive to mentor. The routine represents their journey, with a lot of push and pull. Jennifer wants to be drawn in right from the opening. They agree with what Jennifer has told them,
MMM. So good. So intricate. I don't know how they do it. Those intertwining arms and legs and it comes off looking absolutely perfect. Love the song choice. Enjoyed how it built up in magnitude throughout. Diego is a great partner for these two girls. Outstanding routine.
Jennifer says the quality of their dance gave her goosies. She calls it beautifully done. She does note though that without an audience (due to the pandemic), they had to change the beginning and that's her only thing. Derek points out the floor section and how in-sync and graceful it was. Ne-Yo calls it flawless. Jennifer calls them consistent.
Score- Ne-Yo- 95, Jennifer- 95, Derek- 97 = 95.7
MDC 3 is currently in first and Oxygen has been eliminated.
Jefferson And Adrianita – They are the first salsa couple to make it to the finale. They do everything for their baby son, Derek. The judges arrive to mentor. Jennifer wants them to give the performance of their lives. They want Jefferson to be more precise. Ne-Yo notes that when they separate, that's when the energy start to fall and they need to be careful of that.
Outstanding Latin routine. So fast. So furious. Maybe it is just me and my eyes are not seeing everything, but I could have sworn I saw a few moments when they weren't exactly in-sync. Especially when they first went up the stairs to the podium. It just seemed off by a nano second. And in that second, the energy seemed to dip. But they course corrected and picked right back up and finished very strong.
Derek says the audience wasn't needed for that. Ne-Yo says they made it feel like a thousand people were there. He says the first lift was a little clunky. Jennifer loved the performance. She thinks the stairs hurt them. She feels the stairs weren't choreographed well enough. She calls them the strongest couple they have had this season.
Score- Ne-Yo- 94, Jennifer- 96, Derek- 96 = 95.3
With that score, MDC 3 barely hangs onto first and Jefferson And Adrianita are eliminated.
Geometrie Variable – They are so excited to be in the finale. They feel the took a risk and it worked out. They talk about their past careers and how the struggle was for this. The judges arrive to mentor. Jennifer wants the temp sped up even faster for one part. She wants them pushed out of their comfort zone.
UGH COMMERCIAL. LOL. I need to go back and check but I wonder if any act that has performed LAST on the finale did not win. I distinctly remember two cases where the last act won but I am spacing out on the other. The current high score to beat is very beatable in terms of all this group needs is a 96 average or so and they have it.
Amazing. I am just floored by how cool and different these guys are. You know, we see a lot of hip-hop on this show. We see a lot of contemporary. Heck, we see a lot of Latin. You can't say we have ever had this. For that, they deserve a lot of credit. Sure, this type of performing is truly subjective to those watching because I can see a case being made that to some, it is just the best thing ever while to others, boring. No one is wrong. That's the beauty of dance. They are artists at what they do. And I commend them for their hard work.
Jennifer never thought a group like this would make it to the finale. It is a specialized style. Derek thinks the prop was used correctly. She feels they elevated it so well. Ne-Yo agrees with Jennifer. He is super proud. Derek thanks them for taking the note on speeding up one part. Ne-Yo tells them to continue doing what they do.
After bringing out MDC 3 and some final words from the judges… we can now present the final scores of the season.
Score- Ne-Yo- 94, Jennifer- 92, Derek- 94 = 93.3
That means, MDC 3 has just won WORLD OF DANCE. Congratulations to then, Truly a special group that brings something brand new to contemporary dancing- three bodies working as one. Brilliant storytellers. Impeccable dancers.
1st place- MDC 3
2nd place- Jefferson And Adrianita
3rd place- Geometrie Varaible
4th place- Oxygen
Thank you so much for watching this season with me. I had a blast once again. My thanks to our leader MJ and to all our readers and posters. I hope everyone has a great ending to summer. Stay safe. Stay healthy. And stay kind to one another. My love to you all. <3