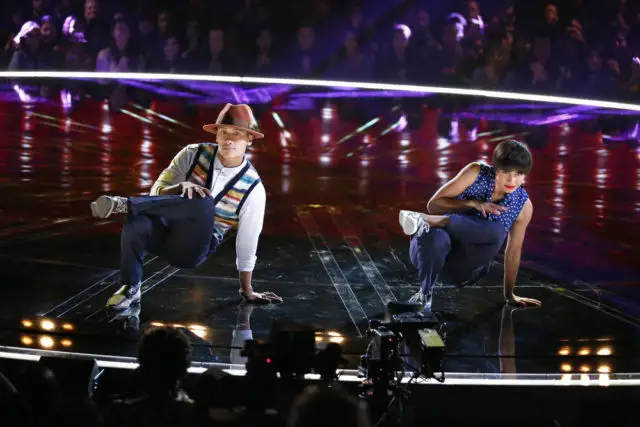 The new dance competition, World of Dance premieres tonight. Jennifer Lopez, Derek Hough and NE-YO make up the judges panel, while Jenna Dewan Tatum serves as host.
In the end, there's only one million dollar winner. That's right–the last act standing wins $1 million dollars.
Handpicked from qualifying events around the nation and thousands of online submissions, competitors are divided into three divisions: Junior (any size act under 16 years old), Upper (groups of 1- 4, over 16 years) and Team (groups of 5+, over 16 years). After an initial audition round (Qualifiers), the dancers will move on to "The Duals," followed by "The Cut" and then the "Divisional Final." In the "World Final" the three division winners will go head to head for $1 million and the title "Best in the World." A panel of experts score the acts using a precise point system developed by World of Dance, using the following criteria: Performance, Technique, Choreography, Creativity, and Presentation. The judges award up to 5 points in each category. The act must score at least 80 points to move on to the next level.
Here come the acts!
Super Cr3w – Breakdance – Las Vegas, NV – Team Division – A group of over-30 dancers, they've been together for awhile and want to prove they've still "got it." FYI: They won season 2 of MTV's America's Best Dance Crew in 2008. They dance to Coldplay's "Viva La Vida." They've got some pretty cool tricks. "What am I watching!" exclaims Jlo. We're going to get a ton of Jlo reaction shots, just like on Idol. I can feel it. She calls the act "exciting." Ne-Yo says "You guys are like water." The group members hail from all over the world.
Score: 88 out of 20 – Through to the next round.
https://www.youtube.com/watch?v=I3xeU0nuFVc
D'Angelo & Amanda – Ballroom – Miami, FL – Junior Division – D'Angelo's dad is their coach. These two won Paula Abdul's short-lived competition show Live to Dance. The duo are both precise and edgy. Jlo can't believe they are juniors. Derek gives them a standing ovation. He's impressed with their extension. Derek demonstrates a move D'Angelo could improve. "Very tight clean performance," says Jlo. Ne-Yo says they set the standard for all 5 criteria
Score: 88.3 out of 100 – Through to the next round
https://www.youtube.com/watch?v=3_KQHcaV2hY
Les Twins – Hip Hop – Paris, France – Upper Division – They were raised by a single mother. Beyonce discovered them on Youtube and the duo danced with her for several years. They obviously come from the same womb. Ne-Yo calls them clean and precise. He wonders why they are so emotional. One of them just broke up with a girlfriend. "The best dancers in the world are here tonight." As a mother of twins, Jlo finds their connection special.
Score: 96 out of 100 – Through to the next round
https://www.youtube.com/watch?v=rBvDi3AnRXM
NXT LVL – Clogging – Myrtle Beach, SC – Team Division – Pretty sure these guys competed on America's Got Talent, but didn't get very far. They're bro-cloggers, dancing to country style party music. Dudes clogging! It's their shtick. Ne-Yo wasn't impressed. But Jlo felt they created a dynamic routine. But she warns it could become repetitive. Derek wants to have a beer with them. But alas, not much else. The group doesn't advance. The judges agree that the routine wasn't "competitive."
Score: 78 out of 100 – Eliminated.
Keone & Mari – Urban Dance – San Diego, CA – Upper Division – The duo have choreographed routines for Justin Bieber. They remind me a little of Nappy Tabs from SYTYCD. Like them, they are also a married couple. Crisp and fun! Derek calls them "loveable" and notes their musicality. Jlo loved the story they told. "All passion, all energy," says Ne-Yo. Aw. They want to start a family. The million dollars would help.
Score: 85 out of 100 – Through to the next round
https://www.youtube.com/watch?v=AAn6vHeb3uA
Kinjaz – Urban Dance – Los Angeles, CA – Team Division – Their parents are mostly immigrants. The dancers want to make them proud. Their act is influenced by Ninja culture, including anime, comics etc. Derek compared the opening to a movie. "So good," he says. Ne-Yo thinks they have the WOW factor. Jlo pulls that judges trick. "It wasn't enough….I WANT MORE." Well. We've seen that promo too many times. No big tricks for this crew. Perfect synchronicity is what makes them compelling.
Score: 91 out of 100 – Through to the next round.
https://www.youtube.com/watch?v=4CjojOl8-10
Diana Pombo – Contemporary – Miami, FL – Junior Division – She's part contemporary dancer, part contortionist. She can do crazy things with her body, including wiping her brow with her foot. It's a little gimmicky I think? But the judges are impressed. Especially by that foot thing. And her "passion." Derek thinks she checks every box. "You are all passion," says Ne-Yo. "Quality work." The young dancer tells "Miss Jlo" that she inspires her work. The judge runs up on stage to give a hug. TEARS.
Score: 89.7 out of 100 – Through to the next round
https://www.youtube.com/watch?v=JYKVOfrIxcM