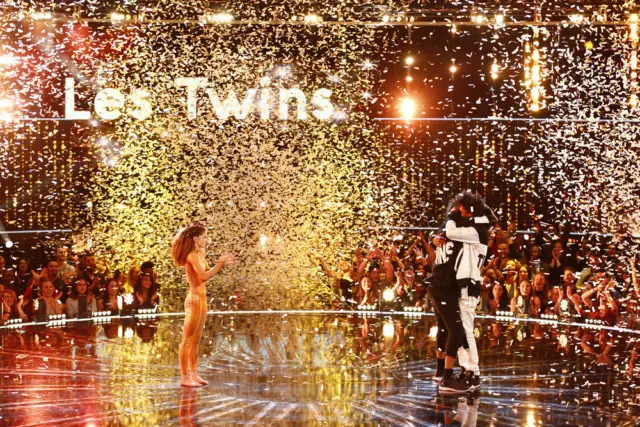 The World of Dance FINALE airs tonight on NBC. Jennifer Lopez, Derek Hough and NE-YO make up the judges panel, while Jenna Dewan Tatum serves as host. The Top 3  face off against each other for the $1 million dollar prize!
Remaining acts Les Twins from Upper Division, Eva Igo of the Junior Division and Swing Latino from Team Division. Each act will perform TWICE. Their scores will be averaged into one number.
Les Twins – One of the twins was injured in rehearsal last week and is still recovering. Jlo is basically "GET OVER IT." She's sick too. She reminds them that the show must always go on. You guys deserve to be here, says Derek. "I didn't even notice the injury." Ne-Yo calls it "pure emotion," Jlo picked the song "Stole the Show" because that's what they've been doing! That was not a favorite performance. I think they've danced better. – Scores – 93.
https://www.youtube.com/watch?v=Jgz9j52V4RA
The winner is on Fallon tonight with Derek. I know the entire series is taped, and there are probably spoilers galore out there…but you'd have to look for them. If the segment was taped at the usual time this evening in front of a studio audience–how would NBC keep it a secret?.
Swing Latino – The entire video package is spoken in Spanish with subtitles. Derek is mentoring this week. Can he speak the espanol? No, but it doesn't seem to matter. Derek chooses Gloria Estefan's "Conga" for their routine. One of the dancers is out with a broken ankle. Tonight's outfits are even flashier than usual. They do their usual thing, Tricks and tosses galore. They really are the underdogs here. Oh no. They have a little oopsie. Ne-Yo calls them "risk takers." Derek is always at the edge of his seat during their performances, but it could have been cleaner, he says. He loves their energy. Scores: 91.7 They are in second place behind Les Twins.
https://www.youtube.com/watch?v=YNMita-qQBE
Eva Igo – Ne-Yo has selected "In The Air Tonight." He says Eva has a beast inside of her that Les Twins should be afraid of. Hm. That routine has many similarities to last week, but not as impressive. Are the acts saving up their best stuff for the second half? She says the dance reflected the way she learned to drop her defenses and allowed her confidence to grow throughout the competition. Scores 91. She's in third place. Jlo notes that the choreography was weak. I agree. 
https://www.youtube.com/watch?v=HNnoSwTGIyQ
Second round. The acts perform in place order.
Eva Igo – Yeah. She's swinging from ropes and performing fierce acrobatics to Sia's "I'm Alive." She was saving the best for last. She's channeling Maddie Ziegler a bit, but is definitely giving it her own flavor. Her athleticism is impressive. "That is more like it now," says Jlo, "The choreography was amazing!" Derek says, "Way to come back…you are a star." Ne-Yo says, "You turn into a beautiful monster up there." If she won the million dollars, she'd pay for her own dance lessons. Her family has been having a hard time. Her father deserted the family…I think that's her backstory. Scores – 96.3 Total – 93.7.
https://www.youtube.com/watch?v=pyzhLaiaNuo
Swing Latino – Eh. This is actually less appealing than their first performance. Really, the group is cannon fodder. They'll be eliminated with a lower score. Ne-Yo calls them loud and entertaining. Jlo felt the second performance was cleaner. Derek agrees. I see his point. There were less tricks this time, but it had more precision. – Scores – 94.7 – Total – 93.2. – ELIMINATED. as expected.
https://www.youtube.com/watch?v=EZtC2Bk1e3A
The real competition will be between Les Twins and Eva. And it will be close.
Les Twins – They talk with their French mom on their smart phone. If they win the money, they'll help her. They dance to Michael Jackson. Just like Eva, before them, Les Twins top themselves with a clean, tight routine. Derek says when they hit things, "It's so strong…you create a visible energy that we can somehow see." Jlo calls it "powerful." Scores: 94.7 – Total – 93.8 WINNERS
https://www.youtube.com/watch?v=jKMES2-HDCQ
Les Twins win The World of Dance!
https://www.youtube.com/watch?v=pdjLfxuO4XI
Leaderboard:
Les Twins – Upper Division – 93.8 – WINNER
Eva Igo – Junior Division – 93.7 – 2nd place
Swing Latino – Team Division – 93.2 – 3rd place