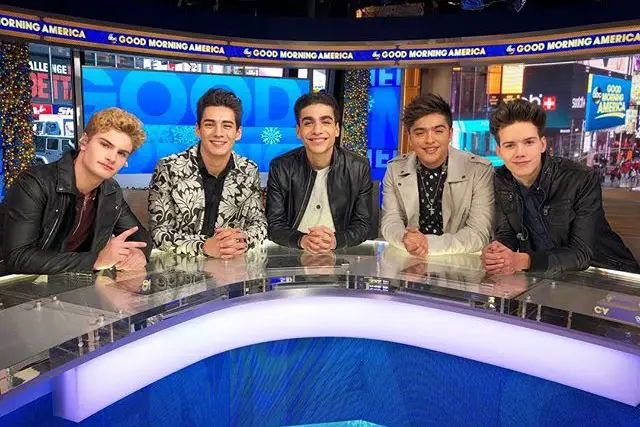 Remember the ABC summer singing show Boy Band? It wasn't a ratings hit for the network, and probably won't be coming back. Regardless, five young singers remained standing in the end. Brady Tutton, Chance Perez, Drew Ramos, Sergio Calderon, and Michael Conor, to make up a singing group called In Real Life.
On Wednesday (Dec 27) the quintet stopped by Good Morning America to perform their winners single "Eyes Closed" and debut their next single "Tattoo." The song will be released as a single early next year.
The boys talked to ABC News Radio before hitting the GMA stage.
"It's crazy to me 'cause like, I was singing underground and now I'm above ground," In Real Life member Drew Ramos told ABC Radio before their performance. Before he became famous, Drew, a New York City native, used to sing in subway stations, including the one near Good Morning America's studios in Times Square.

"It's true, though, I was literally singing under the ground, in the subway," Drew laughed. "Now I'm in the GMA [studios] singing on national television…It's crazy, honestly."

"I was watching videos of like Shawn Mendes and other artists perform[ing] here," added group member Sergio Calderone. "It's like, now we're doing this? It's like very surreal to me."
Check out In Real Life performing "Eyes Closed" and "Tattoo" below.
What an AMAZING performance of "Eyes Closed" by @InRealLife!!! pic.twitter.com/N5hrrsY56J

— Good Morning America (@GMA) December 27, 2017