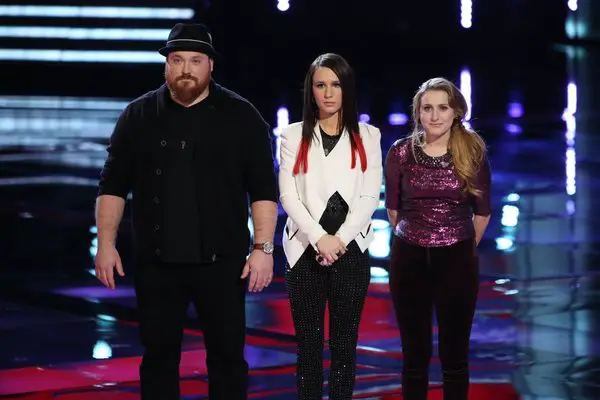 Which two contestants will leave the competition? Who will be saved by YOUR TWEETS? I'll be live blogging the results right here.
Dang. Caroline Pennell hit bottom! I knew that song choice, "Leaving on a Jet Plane," was a dud. Although it did sell a decent amount of iTunes, it wasn't enough to save her. See, I thought Caroline was safe, because she had a stable fan base. Guess not.
Thing is, she's a young singer and needs guidance. Cee Lo is not giving that to her. He's the worst mentor ever. Always has been. It's no shock that he's left, at the Top 8, with only 1 team member.
Caroline is floundering right now. Her talent is very specific. She needs exactly the right songs, and vocal coaching to help that soft, subtle voice of hers pop on television. She'd be fairing better with anyone but Cee Lo as a coach. Unless she has a huge comeback, she could be leaving next week.
Kat Robichaud just never made a connection to viewers. I found her oddly compelling at times. This week's performance was one of her best. But America just ain't into scary dames staring them down through the lens. Bye Kat. Good luck with that career.
I'm convinced that Blake threw Austin Jenckes under the bus. A sacrifice to keep the rest of his Americana-filled team safe.  There had to be some vote splitting going on there. Personally, I think he's got his eye on Cole, whom I don't believe for a HOT MINUTE was 4th from the bottom. So, watch your back Ray! You're next. Austin needed to sing songs that he could connect to emotionally. The mid-tempo stuff Blake was assigning kept him at arms length from the audience.
The takeaway from tonight's Voice, which we should have learned already, is that iTunes rankings aren't the be all and end all to predicting elimination. It can be an indication of who America generally likes. But if contestants are just a few spots ahead or behind each other, how much difference is that going to make? Especially if the chart position is out of the Top 10 and 20.  Austin's song ranked in the 100's on iTunes, which isn't good. But he also performed first, which undoubtedly hurt him. Kat hit bottom last week. No surprise she hit it again.
It's possible Caroline's fans got lazy and didn't vote for her. In which case, her possible demise kicked them into overdrive to save her. Or America remembered earlier performances and figured the girl deserved another chance. The twitter save actually eliminates surprise boots, without putting the power in the hands of the coaches. Just think for a minute if this set up was in existence in past bottom 3 situations on that other singing show. Hm.
I have to wonder though, if this twitter save thing rewards contestants with younger fan bases who are overall more socially connected? Although, if a contestant amasses a passionate fan base, they'll FIND their way to twitter, no matter the age of the fan.
But in a more causal scenario, how socially connected a fan base is could make or break a contestant. And if the majority of a contestant's fans live on the west coast, and they are vulnerable at all? Well they're screwed, aren't they.
***
Ha ha. Blake kissing Cole on the cheek during the recap "I'm not finished yet!" Cole looking really embarrassed.
Carson announces that 4 of the artists landed on the Top 10 on the rock chart. That is not a big deal, Carson.
Christina Augilera takes the stage with her team to sing some Michael Jackson songs. Jacquie and Matthew are both super good.
Carson confirms that Adam is People magazine's "Sexiest Man Alive." He whips out the magazine. Adam is mortified. LET THE SNARKING BEGIN. Blake plans to drink more since it isn't him.
Mr. Sexy feels his team still has his best to show. Nevertheless, he loves them so much. Cee Lo believes he has two of the BEST contestants. He's allowed them to take chances. Dude. Your girl Kat is going home tonight.
Carson thinks that the Team Christina performance was the best ever. It was so much fun for her to be on stage with her team. She loves their eagerness and passion.
Adam comforts Blake. He's the sexiest in his book. Blake says Adam is beautiful on the inside. TIME FOR A BRO HUG AND KISS. So the others don't feel out, there's a big group hug between coaches.
Blake feels you live and die by song choices. But his team can get away with anything. He tries to stay out of their way.
Filler. Filler. Filler. It's time for a Voice confessional. Coaches and team members share embarrassing moments. Cher and the mentors are involved here, somehow. Do I have to blog this? There will be a video later.
The Top 10 take the stage. The first two artist who are safe are James Wolpert and Matthew Schuler.
James Wolpert, Kat Robichaud and Will Champlin take the stage, guitars in hand, to sing Fall Out Boy's "Sugar We're Going Down."  It's super pitchy. Like really, it is.
The remaining 8 join Carson on stage. Two more are safe, and they are Ray Boudreaux and Will Champlin! There goes my crappy predictions! I thought at least one of them would hit bottom.
Blake Shelton and his team take the stage to sing ZZ Top's "Sharp Dressed Man." Cole Vosbury needs a longer beard for this performance. Everybody is suitable for Southern rock. It all turns out.
The remaining six take the stage. Carson will reveal two more saves. And they are Tessanne Chin and Jacquie Lee.  It's a clean sweep for both Team Adam and Team Christina!
Carson is in the skybox reading off some factoids. He points to the rafters. Look at the spotlight people in the rafters! Carson has a secret ingredient for Bloody Marys. It's Matthew's 21st birthday tomorrow.
Caroline Pennell and Tessanne Chin take the stage to sing "Royals" by Lourde. The two have completely different vocal styles. This is a little weird. There are background singers there to make the difference.
The remaining 4 artists take the stage. Carson sends off Cole Vosbury. Wow. Caroline is in the bottom 3!
Austen Jenckes, Kat Robichaud and Caroline Pennell are in the bottom 3!.
To save your fave: tweet #VoiceSave and the FIRST NAME – 5 minute Instant save starts now! Glancing at the tag in twitter, I think Caroline has this. Can't believe she hit bottom, though. See that song choice SUCKED. Not seeing too many Kats. Looks like she's a definite goner.
THE TWEET WINDOW IS CLOSED.
America INSTANTLY SAVED Caroline Pennell. Of course.
Kat Robichaud and Austin Jenckes are eliminated.
America Saved
James Wolpert – Team Adam
Matthew Schuler – Team Christina
Ray Boudreaux – Team Blake
Will Champlin – Team Adam
Tessanne Chin – Team Adam
Jacquie Lee – Team Christina
Cole Vosbury – Team Blake
Caroline Pennell – Team Cee Lo – INSTANTLY SAVED BY AMERICA