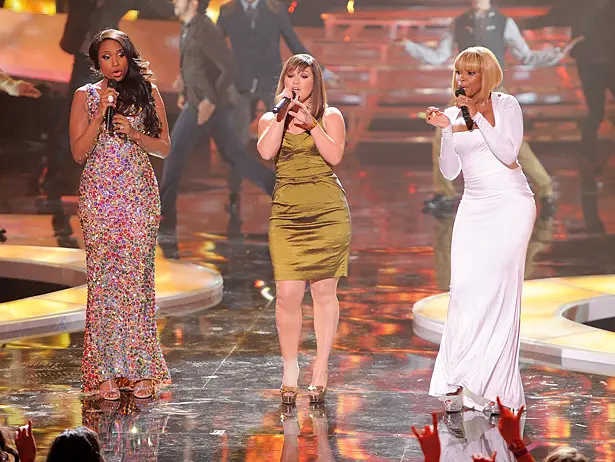 Jennifer Hudson! Kelly Clarkson! Mary J. Blige! performing on VH1 Divas Celebrates Soul, taped last night at the Hammerstein Ballroom in New York City.
The special will air tonight on VH1 at 9 pm.
Kelly had twisted her ankle earlier in the evening, but it didn't stop her from taking the stage. She tweeted, "Just finished taping Diva's for VH1 and seriously there are some really talented ladies y'all should tune in tomorrow night to see! Funny part of the evening is I twisted my ankle in a pair of heels right before the show started in a freakin pot hole on the street! Hurt like hell but still one of my favorite shows I've ever been a part of!"
Click for a set list of songs: check out a set list of songs here.
The photo above was taken during a medley of songs: "You Keep Me Hanging On" sung by Kelly Clarkson, Jennifer Hudson and Mary J. Blige.  "Spotlight" sung by Jennifer Hudson.  "Real Love" sung by Mary J. Blige.  "Since You Been Gone" by Kelly Clarkson. The ladies came back together for a reprise of "You Keep Me Hanging On.
Kelly Clarkson was featured in the Detroit Medley with Marsha Ambrose, Sharon Jones and the legendary Martha Reeves: "Nowhere To Run" sung by Marsha Ambrosius, Sharon Jones and Martha Reeves.  "Chain Of Fools" sung by Kelly Clarkson and Ledisi and "Sweet Love" sung Marsha Ambrosius and Ledisi.
Jennifer Hudson took part in the Memphis Tribute: "Knock On Wood" was sung by Jessie J and Jennifer Hudson. "I'll Take You There" sung by Erykah Badu, Chaka Kahn and Mavis Staples.
Also, Jennifer Hudson sang "Night of Your Life" and Kelly Clarkson performed her single "What Doesn't Kill You Makes You Stronger".
There were also musical tributes to Chicago, London, and Philadelphia and a tribute to the late Amy Winehouse.
Florence Welch, Estelle and Travie McCoy were also some of the other performers who took part in the special to celebrate soul music.
Preview: Jennifer, Kelly and Mary J.