Many fans agreed that Kelly Clarkson made the WRONG decision on The Voice Knockouts last week when she chose country crooner Tanner Gomes over the feisty pop singer, Marisa Corvo to move on to this week's Playoffs.
And although The Knockouts were taped two months ago, in September, Marisa is STILL pretty upset that Kelly didn't choose her. In the days after her elimination aired, Marisa amplified tweets from many angry fans, who didn't mince words.
Marisa returned tweets from fans who criticized Kelly, and dissed Tanner's vocal prowess. One fan knocked country music as a whole. And at one point, Marisa flat out said that Kelly was "not in her right mind this year" and that she is "definitely going to regret" not picking her! Ouch.
After the performance aired, she DID thank Kelly for her "input and ideas on the song and the arrangement," adding "It was a pleasure to work with you."
But then, Marisa complained that "lots of people still hating on the LGBTQ community." I couldn't find any homophobic tweets. Marisa's back story, you may recall, told how her record label dropped her after she came out as gay. She and Diane Warren are good friends, apparently.

Maybe the angry reactions from fans got her going. But Marisa either retweeted or acknowledged posts that shared some rather negative opinions of Kelly and Tanner.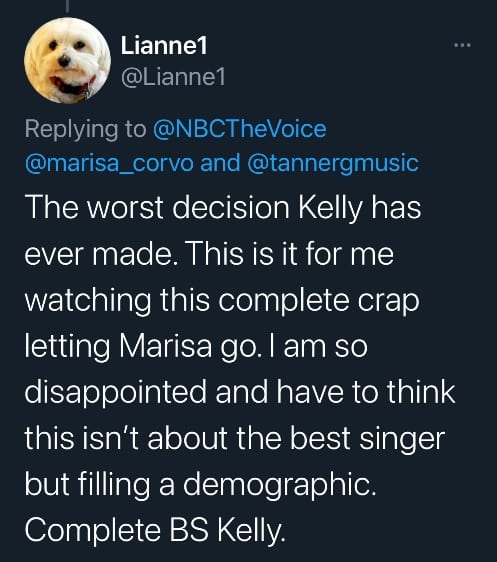 Marisa responded "Amen."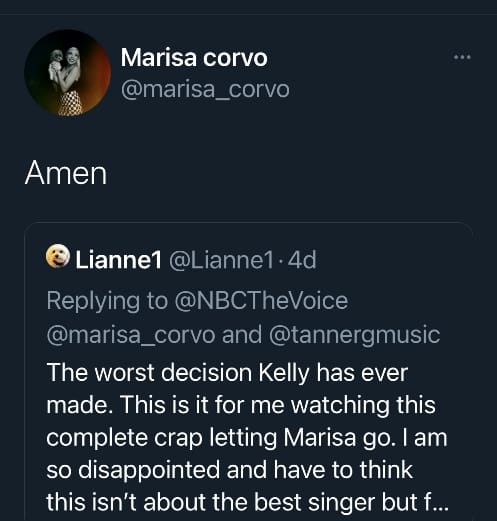 Marisa returned a tweet that accused Kelly of "pulling a Lyndsey [sic] Graham." The Senator from South Carolina hated Donald Trump's guts, but eventually kissed the  president's a**. So…I don't know? Kelly did say she'd choose the most original performance. Which I agree she didn't pick. But returning a post from a fan accusing Kelly of being disingenuous? That's not very nice.
This fan condescendingly compares the country music on The Voice to watching the 60's and 70's country themed variety show, Hee Haw as if it were a negative thing. I guess Marisa agrees? ( The comedy on Hee Haw was cornball, but featured all the country music greats. The hosts Buck Owens and Roy Clark were superb musicians. BUT I DIGRESS.) 
Pretty delusional right here.
Kelly Clarkson "messed up" says this fan, retweeted by Marisa.
This fan, whom Marissa retweeted, calls Kelly's decision "boneheaded" and adds that the show is "to [sic] much about the coaches."
While Tanner delivered a by-the-books rendition of Tim McGraw's "Real Good Man, Marisa swung for the fences with a reworked edition of Cher's "If I Could Turn Back Time."
Marisa's performance wasn't perfect. She had pitch problems, and it took her a minute to find her footing in the arrangement. But, she outshone Tanner both vocally and creatively in the end.
However, for whatever reason, Kelly chose to keep Tanner on her team. And her fellow coaches–Blake Shelton, John Legend and Gwen Stefani–were unwilling/unable to steal Marisa.
I made note of the mistake in my recap. But, here's the thing. While it's disappointing to be eliminated by a coach or fans, it's better to save the frustration for a session with a highly trained counselor. Because NO GOOD EVER comes after a contestant openly disses the show that brought them some measure of fame. Other than a contestant's diehard fans, viewers generally hate "ungrateful" artists.
The truth here: Tanner is probably not going to make it past this week's Playoffs. But then, Marissa probably wouldn't have either. Kelly's decision was probably based on rounding out her team with a country male contestant. She's already got pop singers on her team. Also, stay on Kelly's good side and she might lend a hand after the competition is over. The singer is known for staying involved in her team members 'careers. Throw shade, and she'll probably write you off.