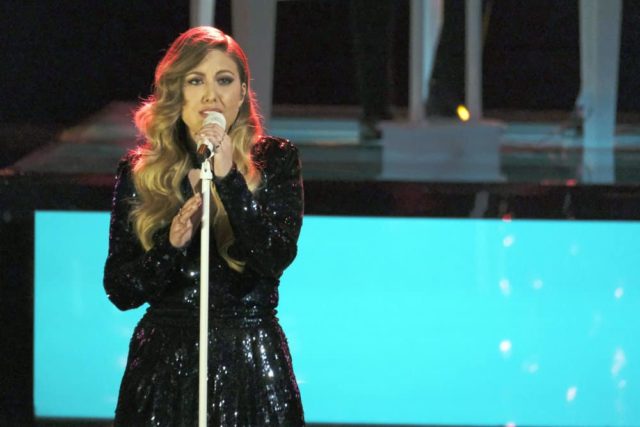 The Voice reigning champion, Maelyn Jarmon, has dropped a new Christmas song, a cover of "Have Yourself a Merry Little Christmas."
"IT'S HERE!!," Maelyn posted on Twitter, "This song has such a special place in my heart. It's about making the best of the present and hoping for a better future. I hope you all enjoy it and #HaveYourselfAMerryLittleChristmas"
In a recent interview with Janet & Nick in the Morning on KISS 98.5, Maelyn described the song as "my favorite Christmas song" and added, "I'm such a purist when it comes to holiday music. I go straight for Nat King Cole, Frank Sinatra, Bing Crosby and Karen Carpenter." However, Maelyn "still gave my own take on it. I love doing that song."
Surely, Maelyn will perform the new song on Dec. 7 when she appears at the Mary Bridge Festival of Trees event in Tacoma, Washington. Proceeds benefit Mary Bridge Children's Hospital. 
Listen to Maelyn's sweet, jazzy take on the Christmas classic "Have Yourself a Merry Little Christmas" below. 
Maylyn's interview with Kiss 98.5 also included details about the Team John Legend singer's upcoming album. Like every winner, Maelyn signed with Republic Records as part of her prize package. And so far, she's ecstatic. "They have been so fantastic," she enthused, "My album will be coming out in the new year…probably in the form of singles and be an EP and eventually an album."
She travelled for the first four months after winning The Voice last May. But for the last two months, she's been recording in Los Angeles. And according to Maelyn, the label is giving her a ton of freedom. "They're letting me write, which is really really nice." She added, "It's been fun that I've really gotten to have control of my music. You just never know what the experience is going to be like coming out of that. It's really been wonderful."
Additionally, John has been involved with her post-Voice career. "We wrote a song together and we're talking about the production and arrangement," she said, "He gives the advice and we email back and forth. As busy as he is, he still finds time to communicate with me. He's been fantastic."
Check out the interview below.