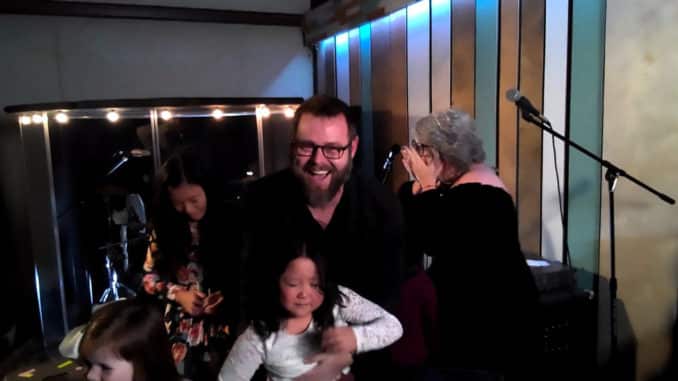 The Voice Winner Todd Tilghman Plans on Pursuing A Country Music Career.  
The Voice crowned Todd Tilghman, a 42-year-old father of eight, the season 18 champ earlier this week. The pastor from Meridian, Miss. shared with fans that he plans on recording country music, hopefully with the help of his coach, Blake Shelton.
The singer garnered a four chair turn during his Blind Audition with a rendition of "We've Got Tonight" by Bob Seger & the Silver Bullet Band. During the course of the competition, Todd ran the genre gamut from country )"Anymore" by Travis Tritt) to 80's power ballads  ("Glory of Love") to Christian contemporary  ("I Can Only Imagine" by MercyMe).
Todd's Winner's Single Was First Introduced on Songland Season 2 Premiere
Todd's original song on the finale "Long Way Home" was first introduced by The Voice season 4 artist Ryan Innes on the Lady Antebellum episode. The tune was also co-written by Dustin Christensen from The Voice season 9, Ester Dean and others.  "Long Way Home" reached No. 1 on the iTunes Overall Chart and No. 1 on the iTunes Country Chart.
Country Music Intimidated Him Prior to The Voice, He Hopes to Collaborate with Blake Shelton
Now that The Voice win is behind him, what kind of music is Todd planning to make? In a Q&A with fans on twitter, Todd said, "I'm not 100% sure which sub-genre I'll fall in," he said. "But I feel like I'll go a little more country." He continued, "I was always a little intimidated by that because I didn't think I had a super country voice, but on the show, and having the coach I had, it really did encourage me that [country music] is something that I love and something I can do. So I'm going to give it a show.
And does he plan on working with Blake in the future? Todd said: "We actually talked a little bit about it. I hope so. I don't know for sure. But I'm going to say yes, in faith. Let's do it!" Todd told fans that he already has some songs written. "I have some ideas for others. And I also plan to find some others from some of these people in the world who are just so gifted in that area."
Todd isn't the First Tilghman to Compete on an NBC Reality Show
Todd's 20 year old son Egan, who is a set, prop and costume designer, and a contestant on the NBC reality show Making It last year, helped Todd with his at-home set designs. "Even the stage for "I Can Only Imagine" with the lamps," Todd told TV Line, "The show gave us a concept, but he set it all up. He has really, really proven just invaluable to me."