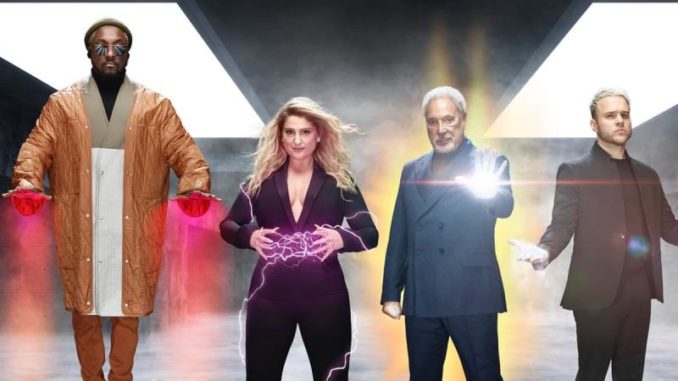 The Voice UK continues for a fifth week of Blind Auditions on Saturday (Feb 1) on ITV. Olly Murs, Will.i.am, and Sir Tom Jones are all back for another season in the big red chairs. Pop singer Meghan Trainor is the new kid on the block.
During the Blind Auditions, each coach will choose 10 acts before moving on to the Battle Rounds. So far, Tom has 7 team members, while Olly and Meghan have 6 acts each. Will only has 5 artists on his team. 
Darci Wilders – I Can't Help Falling in Love With You by Elvis Presley – 18 year old from Strabane Northern Ireland. She grew up in a musical family. She has a pretty, but unremarkable voice. It's a bit trembly. She's nervous, probably. It's taking a minute for turns. Her phrasing is dull. Finally, Meghan hits her button. When Darci breaks down crying, Meghan runs on stage to hug "I sing the song the same way," Meghan says, "But you sing it so much better." Darci says she likes the old classics and isn't much of a "modern music person." Tom says, "I was thinking about it." 
Only Meghan turns.
Lucy Calcines – Mi Gente by J Balvin & Willy William – 21 year old from London. Her parents are from Cuba, she was raised in Spain. "I feel more Latina than anything else," she says. She speaks very good English, but with an hispanic-american accent? Interesting. She starts her performance off with a whistle tone, which gets Will and Meghan hitting their buttons immediately. Her vocal is a little screechy, though. It's an energetic performance, but she's a bit out of breath. Olly and Tom hit their buttons at the end. Will quizzes her in Spanish. Way to go. He says Latin music is popular–it's important that she's on the show. Will wants her to sing again, so he can record and send to Balvin. Welp. This is over. Meghan loves her stage presence. "It's like a party," she says. Lucy notes Meghan collaborated with her favorite artists, Charlie Puth and CNCO. Olly knows he's got nothing–he brags that he won last season. And unsurprisingly, Lucy picks Will.
4 chair turn. Lucy picks Team Will
Priscilla Cameron – Juice by Lizzo – 31 year old full time mom from Birmingham. She's got two young children and performed with her parents in a band. Hm. I don't think this is a great competition song. It's hard to sing and doesn't show off the voice. The performance verges on karaoke as a result. Unsurprisingly, there were no turns. The coaches have mixed feelings. "I couldn't tell with that type of song," says Meghan. Exactly. A BAD song choice did her in. 
No turns
Zindzi Thomas – War Cry by Queen Naija – 31 year old mom from Salford who works for a payment/debts company. She has a throaty, soulful voice and a good range. Finally, when she finishes on a big note, Will hits his button. He turned around because of the song that "touched the heart, the mind and the soul." Meghan compliments her "power." Tom regrets not turning.  Olly does two a little bit. He might steal her in the next round, he says. 
Only Will turns
Julius Cowdrey – Take Me Home (Original song) – 25 year old from London. He describes himself as a singer/songwriter. The chorus is pretty? He's taking a huge risk with an original song, especially a ballady tune. His voice isn't super strong. And nobody turns. It was a risk that did not pay off. It might have if his voice was better. Meghan calls him a "great songwriter." Tom regrets not turning. Meghan and Will thought his vocal was weak. I agree. 
No Turns
Olly convinces Tom to sing his 1065 hit  "It's Not Unusual."  He recorded it as a demo for Sandie Shaw and she convinced him to sing it again. It's one of the great classic pop songs of the era. Amazing. Tom is almost 80 years old, and his voice is as strong as ever.
Blessing Chitapa – I'd Rather Go Blind by Etta James – 17 year old from Dudley. Her parents are both pastors. Also, she loves science. She sounds very young. She's got potential, but could use a few years to mature. As a side note: "I'd Rather Go Blind" is a song that can be retired from singing shows now. Olly hits his button at the last minute. Will calls her performance "Awesome." Meghan is sorry she didn't turn. "I hate myself," she says. Olly loves her soul and control. 
Only Olly turns. 
Holly Scally – Lay Me Down by Sam Smith – 16 year old from Glasgow Scotland and has a twin. Nice tone. Very sweet. On the chorus her voice opens up. Her voice sounds very mature. Meghan hits her button. She's the best singer on a so so night of performances. Olly hits his button at the last minute. Meghan calls her "cool and calm…you belong out in front." She can't believe Holly is only 16. She's mad Olly turned. "You sounded like you experienced so much," he says. Holly admits that she hoped for Team Meghan. And that's who she picks. 
Meghan and Olly turn. Holly picks Team Meghan
Jonny Brooks – Sweet Thing by Van Morrison – 29 year old from Ireland. He's working as a janitor in a cathedral, but has gone from day job to day job. His mom "put him forward" for the audition. He accompanies himself on acoustic guitar. It's a great song choice, but he's no Van Morrison. He lacks the soul. But he does sing with passion. Meghan is thinking about it. But in the end, Olly and Tom hit their buttons last minute. "It felt so powerful," says Olly.  "You owned that song, you captured the room," says Tom. "You lived it." Meghan calls his voice "butter." She regrets not turning. "I blew it." Will thinks he looks like a superstar. What? Jonny picks Sir Tom!
Tom and Olly turn. Jonny picks Team Tom