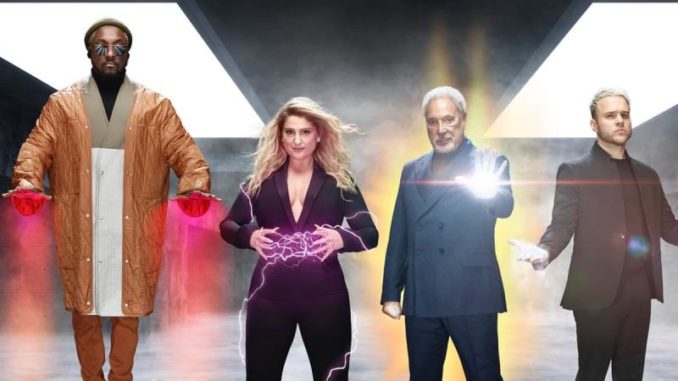 The Voice UK continues for a third week of Blind Auditions on Saturday (Jan 19) on ITV. Olly Murs, Will.i.am, and Sir Tom Jones are all back for another season in the big red chairs. Pop singer Meghan Trainor is the new kid on the block.
During the Blind Auditions, each coach will choose 10 acts before moving on to the Battle Rounds. 
Alan Chan – You Know My Name by Chris Cornell – He's a full time music student from London. He learned to sing by mimicking the radio. He uses martial arts to help his singing. He's making the audience laugh before his performance. What a joker! His voice is an interesting rock baritone. There's some pitchy stuff, but he's unique sounding. Nobody is hitting their button. A big song ending rock scream gets Olly to turn. Will calls his voice "heavy." He was expecting hellboy instead of a sweet soul. Oh wow. He's 40! He's got 17 and 18 year old kids! He looks MUCH younger! He also sings jazz and R&B. Olly is very happy right now. Alan imitates the vocal stylings of each coach. He's very charming! 
Only Olly Turns
Oli Ross – Sail by AWOLNATION – She's a 21 years stylist from Leeds. Her mom, in a wheelchair, suffers from MS. Oli's voice is sweet, clear and strong. But also kind of edgy. Meghan hits her button right away. On the second voice Oli goes growly. Her range is impressive and colorful. She goes a little pitchy when she lets loose at the end. But overall she's good. Will and Olly turn at the last minute. Oli is so excited she falls to her knees and pounds the stage.  Will offers her some water. Meghan promises to make her the best she can be. Will promises honesty. Olly loves her aggression and power. In the end, Oli chooses Team Meghan. Hm. Will might have been a better choice. He's a creative, invested producer. Oli felt Meghan's sincerity.
Meghan, Will and Olly turn
Oli chooses Team Meghan.
AK – Eye of the Tiger w Original rap lyrics – Twenty four year old is a bricklayer from Southampton. He's been writing rap lyrics since high school. His mother will see him perform for the first time tonight. He's freestyling. But freezing. It must be nerves. There are long stretches of silence. This is not good. Meghan winces. Nobody is going to turn for this. What a mess. He knows he blew it. The coaches are not supposed to turn for a no turn, but Will runs up on stage to comfort him. He asks what happened. He's been practicing so much, but he had a brain freeze and could never get back on track. Sad. 
No Turns
Doug Sure – Feels Like Summer by Childish Gambino – Thirty one year old electrician from Crystal Palace. He lives with his wife. He gets nervous. She reminds him to keep his eyes open! Doug accompanies himself on acoustic guitar. He's not taking his wife's advice! He's pretty good, though. Olly hits his button right away. Will is considering it. He has his hand on his button…and he hits it. Meghan follows! Doug notes how nervous he is. Meghan is surprised. "You're so cool Doug!" She calls it a superstar moment. Olly confesses that he's always wanted to be that cool. Olly says he helped last year's winner with her nerves. Will turned because Doug brought the emotion. Will will teach him to have fun. Olly whips out his The Voice trophy. 
Olly, Will and Meghan turn
Doug picks Team Will
Belle Noir (Female Trio) – Feel it Still by Portugal the Man – Jasmine, Sarah and Emily have been singing together for three years. Their harmonies are night. But they kind of give the song the Postmodern Jukebox treatment. And I don't like Alt Rock songs sung in that style. It's not my thing. Olly and Tom eye each other like "Are you going to turn? Go ahead and turn!" Eventually, they both do. Tom compared them to the Andrew Sisters. Exactly. The Andrew Sisters covering Portugal the Man. Not my jam. Olly loves how unique they are. Megan regrets not turning. They pick Team Olly. I'm a little surprised! Tom would have been a better choice to guide their old fashioned sound. Oh. They are looking to develop a contemporary sound, so Olly it is. 
Olly and Tom turn
Belle Noir picks Team Olly
Meghan Trainor & Olly Murs Duet – Meghan's "Dear Future Husband" is her favorite, because her secret fiance used to sit in the audience during her tours, and she'd sing it straight to him. Olly's got a bone to pick, however. One of his songs, "Dance with Me Tonight" sounds very similar. He's not mad! They sing a duet of both songs. Yikes. "Dear Future Husband" is horrible. The lyrics are so…cringey. Gotta give Meghan props for making the most of what's basically a one note wonder.  
Jennifer Jamieson – Wish You Well by Sigala ft Becky Hill – Twenty-six year old from Glasgow, Scotland is a singing waitress. She attended a musical theater college in London. I like her tone. She hits her stride on the chorus. Nice phrasing. She's getting a little desperate waiting for a turn, though. She becomes increasingly screachy, which is probably why nobody. Turned. If she has stayed calm, it probably would have worked out. The audience is BOOING. Immediately, the coaches express regret. Fun fact: Becky Hill competed on Season 1. 
No Turns
Sean Connolly – Suddenly by Billy Ocean – He's a renewals advisor from Essex. He calls people whose car insurance is about to run out. It's boring, but he needs to provide for his 4 year old daughter. It appears that he's not a very experienced singer. This song choice is horrible. It's so old fashioned. He's not a bad singer, though. A little nasally, but his tone is nice, clear and rangy. He clearly needs more experience, though. He has no personality. The singer they just rejected, was better. Tom hits his button at the last minute. Maybe, he can help him. Tom calls his tone "lovely." 
Only Tom Turns 
Gevanni Hutton – Everybody's Free by Rozalla – He's a 17 year old student living in London. He grew up in Jamaica, moving in with his dad at 15. He misses his mom, but the UK has more opportunities. He sounds younger than 17. His voice lacks control at this point, but it's very very pretty. But man, when he hits the big notes? OUCH. SO OFF KEY YIKES. He could be very good in a few years. His deliver is earnest and emotional. So there's that. Will turns at the very last possible moment. The song was over! Can he do that? I guess he can. His dad runs out on stage to congratulate him. Aw. The kid is crying. The Voice UK tends to end with emotional moments that aren't necessarily vocally great. Will says he teared up when Dad came out to hug him. His mom and brother are his dad, says Will. Will liked his emotion, and the twist he put on the song. Meghan compares him to Lauryn Hill. She thinks in 5 years, they'll regret not turning for him. Gevanni cries as he explains how he wants to take care of his parents. Will remembers promising his mom that he'll buy her a house someday. Will is sure Gevanni will make it with focus and work. HUGS TEARS ALL AROUND! 
Only Will Turns