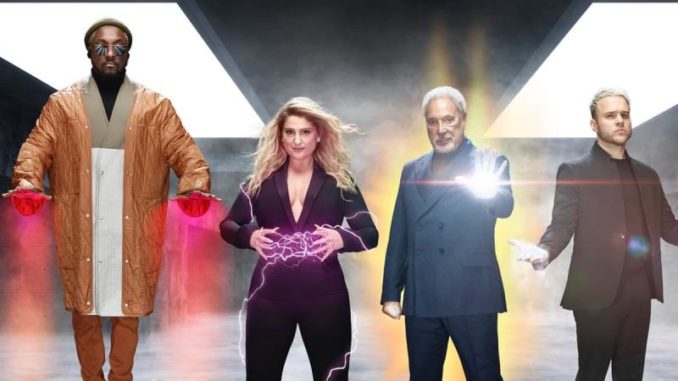 The Battle Rounds end on The Voice UK  on Saturday (March 7) on ITV. Olly Murs, Will.i.am, and Sir Tom Jones are all back for another season in the big red chairs. Pop singer Meghan Trainor is the new kid on the block. Emma Willis hosts.
In each battle, one act will win and advance to the Knockouts. The loser will either be eliminated, or stolen by another coach. Each coach has one steal to use. The Battle Rounds will air over the course of 3 weeks. This is the third and final week!
Team Will
Baby Sol vs So Diva – My Lovin' by En Vogue – Baby is a jazz singer, So Diva is a Motown tribute act. The song choice seems to favor them. Will calls the pairing a straight-out diva fest. And, Baby admits that the song is a challenge.  I'm getting some real Chaka Khan vibes off of Baby Sol. The trio come off as her backup singers, to be honest. Tom calls it "tremendous." Meghan says everyone shined equally. She is impressed with Baby's scatting. Olly thinks the talent was equal. Will is torn! But he picks Baby Sol. And then Tom steals the Trio. At least, the remaining losing acts won't have to stand around awkwardly waiting for a possible steal!
Will picks Baby Sol, So Diva is stolen by Sir Tom
Team Meghan
Darci Wilders vs Katie & Aoife – I Want It That Way by Backstreet Boys – Darce was a one coach turn. The young sister duo are only 16. They need a few more years, to be honest. Darci is a little nervous being up against a group. I expect twins to blend better than these two. Everybody sounds nervous, though. This isn't a great battle. There's quite a bit of caterwauling going on here. Olly noted the obvious nerves, but felt they grew in confidence as the song went on. Tom calls the performance "delightful." Meghan chooses Darci, The right decision, although both are weak contestants.
Meghan picks Darci,  Katie & Aoife are eliminated
Team Tom
Shezar vs Lara George – Young Hearts Run Free by Candi Staton – Shezar is a four chair turn. Her brother is Labrinth! Tom pairs her up with Lara, who also has a big voice. She's a pal of Olly's from their days working in a call center. This song choice is so old-fashioned. Shezar, in particular, seems cooler, in her sleek afro and cool earrings. Lara looks like a housewife. They're both good vocally. But Shezar has the stronger voice. Also, it's hard to imagine Tom letting the sister of a famous singer go. Olly is so proud of Lara. Will calls it "amazing." Tom picks Shezar. Lara does not seem surprised. Olly looks sad. 
Tom picks Shezar, Lara is eliminated.
Team Olly
Brian Corbett vs Cameo Williams – Eternal Flame by the Bangles – Cameo and Brian were both one chair turns. Cameo didn't know the song. Brian says he wouldn't have picked the songs in a million years. Oops! Neither seem thrilled. In any case, this is a very odd match up. Cameo's affectations are annoying. Brian has a folk rock vibe that's ill suited to the song. Their harmonies are off keay. When Cameo trills up into her head voice, she totally loses her pitch. That was terrible from beginning to end. Meghan says she felt "all their emotions" in the performances. Yes. emotional terror. Tom admits that the performance was "unsure" but notes that the song is tricky to sing. "It wasn't perfect," says Olly. Ouch. But he appreciated the emotion. Olly chooses Cameo. Poor Brian didn't stand a chance with that bizzaro song choice.
Olly picks Cameo, Brian is eliminated
Tom sings a bit of his 1988 Prince cover "Kiss."
Team Olly
Cat Cavelli vs Belle Noir (Jasmine, Sarah and Emily) – Dance Monkey by Tones and I – Olly calls it the ultimate "sassy" battle. It's another group! Belle Noir do a retro thing, kind of like Postmodern Jukebox. The group feel the song is vintage, but also contemporary. They're happy. Cat is a little intimidated. Her young daughter is in the audience. Cat is intermittently pitchy. She's very odd. The trio reminds me of a cruise ship act. This performance is a shouty mess. Olly says the girls choreographed the performance themselves. Meghan is thrilled, saying they all gave 100 percent passion. That was crazy!. Tom thinks it sounded and looked great. Will says the trio did an amazing job. To cat he says, "MEOWW." He thinks she's an amazing artist. Olly wishes there was a steal left. But he chooses Cat. 
Olly picks Cat, Belle Noir are eliminated
Team Will
Gevanni Hutton vs Shauna Byrne – Imagine by John Lennon – These artists are very young. Gevanni is from Jamaica, his blind audition was rough. Shauna is very poised for a teenager. Will admits he had to hold back tears during their rehearsal. Also, Will thinks he shouldn't have paired them together. They both bested their auditions here. It's a tough choice for Will. Tom hates that there are no steals left. "You're so good," he says. Olly is blown away by their talent. "The future hasn't been written for you both." Meghan says Shauna sings like she's 38. He compares Gevanni to a famous icon. Will asks the singer eliminated to come back next year. Uh. I don't think they can do that? In America, a chair turn disqualifies a singer from coming back. In the end, Will picks Gevanni. Hm. I would have picked Shauna. She's the more polished singer. 
Will picks Gevanni, Shauna is eliminated
Next week, the Knockouts begin! There are celebrity mentors: Tom Jones will work with Shania Twain, Olly Murs with Ellie Goulding, Meghan Trainor with Ella Eyer and Will.i.am with Jessy Nelson from Little Mix.