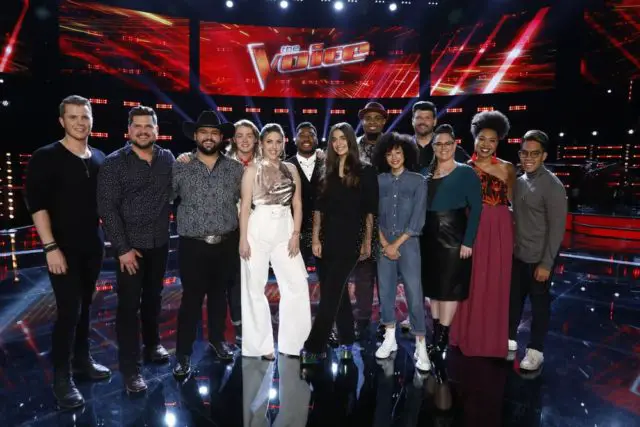 Here are your Top 13 The Voice iTunes studio recordings. Apple streams WILL count as votes tonight. Check out all The Voice season 16 Top 13 song spoilers right here.
The Voice Season 13 Top 13 Power List: Rank the Contestants
Dayna live blogs The Voice Top 13 performances tonight (May 6) at 8 PM ET. Join us!
The Voice Season 16 Top 13 Song Spoilers
LB Crew – Team Adam Levine –  I'll Make Love to You by Boyz II Men – AUDIO
Mari – Team Adam Levine – Foolish by Ashanti – AUDIO
Jej Vinson – Team Kelly Clarkson – Close by Nick Jonas – AUDIO
Rod Stokes – Team Kelly Clarkson – When a Man Loves a Woman by Michael Bolton – AUDIO
Celia Babini – Team John Legend – Shallow by Lady Gaga and Bradley Cooper – AUDIO
Maelyn Jarmon – Team John Legend – The Scientist by Coldplay – AUDIO
 Shawn Sounds – Team John Legend – A House is Not a Home by Luther Vandross – AUDIO
Andrew Sevener – Team Blake Shelton – She Got the Best of Me by Luke Combs – AUDIO
Carter Lloyd Horne – Team Blake Shelton – Let it Go by James Bay – AUDIO
Dexter Roberts – Team Blake Shelton – Something Like That by Tim McGraw – AUDIO
Gyth Rigdon – Team Blake Shelton – Nobody But Me by Blake Shelton – AUDIO
Kim Cherry – Team Blake Shelton – Whatta Man by Salt-N-Pepa – AUDIO
Oliv Blu – Team Blake Shelton – Smooth Operator by Sade – AUDIO