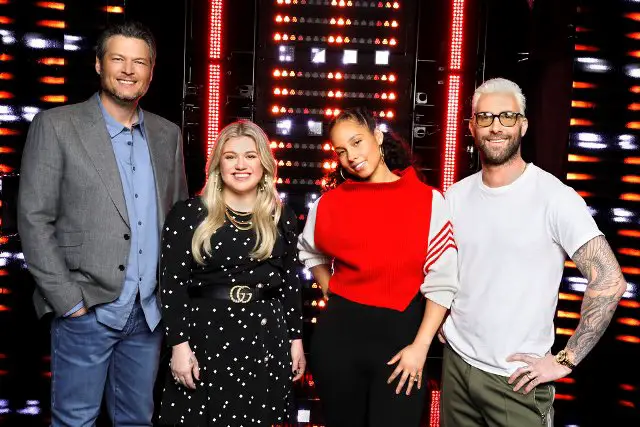 Check out the full schedule for The Voice season 14, set to premiere on Monday February 26.
GOOD NEWS it looks the Playoffs will be LIVE again. 1Iota.com, the company that seats The Voice studio audience, has posted availability for the next live shows. And there are NO live shows on the calendar until April 16.
Furthermore, it looks like The Voice will go back to a Monday/Tuesday/Wednesday Live playoff schedule, with dates open for Monday April 16, Tuesday April 17 and Wednesday April 18. That means probably two nights of performances and a results only night. Unless that Wednesday episode is a clip show…
The season 13 Playoffs were taped ahead for the first time since season 6. Playoffs for seasons 11 and 12 were live, but had no results shows or overnight voting. Instead, the instant vote determined which contestants moved on to the final rounds. 
In any case, other than finale week, all the live show tickets are available now at 1Iota.com That's a full six weeks of live shows. Yay.
FYI: The Knockout Round with coaches Blake Shelton, Adam Levine, Kelly Clarkson and Alicia Keys was taped on Tuesday (Feb 6). The Top 20 has been chosen, so watch out for spoilers. The action will pick up with the Playoffs, which will determine the Top 12.
UPDATE: According to Goldderby, the three night Live Playoffs will proceed like this: 
Top 24 perform on Monday April 16. After a real time vote, highest vote getters on each team advance to the Top 12
Top 20 perform either on Tuesday April 17 or Wednesday April 18. Presumably, two team will perform on each day. Again, after a real time vote, highest vote getters on each team advance to the Top 12. The coaches will each choose a remaining team member to round out the Top 12
Real time voting is unfair to west coasters and too random. However, I do like the idea of singers performing twice. The more chances a contestant gets to strut their stuff on the stage, the better. 
Here's The Voice season 14 schedule (sources 1Iota, FutonCritic.com, Goldderby). This post will be kept pinned on the sidebar. Watch for updates!
Mon Feb 26 – 8 pm – (2 hours) – Blind Auditions Part 1
Tue Feb 27 – 8 pm – (1 hour) – Blind Auditions Part 2,
Mon Mar 5 – 8 pm – (2 hours) – Blind Auditions Part 3
Tue Mar 6 – 8 pm – (1 hour) – Blind Auditions Part 4
Mon Mar 12 – 8 pm – (2 hours) – Blind Auditions Part 5
Tue Mar 13 – 8 pm – (2 hours) – Blind Auditions Part 6)
Mon Mar 19 – 8 pm – (2 hours) – The Battles Premiere
Tue Mar 20 – 8 pm – (1 hour) – The Battles part 2
Mon Mar 26 – 8 pm – (2 hours) The Battles part 4
Tue Mar 27 – 8 pm – (1 hour) The Battles part 5
Wed Mar 28 – 8 pm – (2 hours) Best of Blinds and Battles (clip show)
Mon Apr 2 – 8 pm – (2 hours) The Knockouts part 1
Tue Apr 3 – 8 pm – (1 hour) The Knockouts part 2
Mon Apr 9 – 8 pm – (2 hours) The Knockouts part 3
Tue Apr 10 – 8 pm – (1 hour) Road to the Lives (clip show)
Mon Apr 16 – 8 pm – Live Playoffs part 1 – Top 24 perform
Tue Apr 17 – 8 pm – Live Playoffs part 2 – Top 20 (two teams) perform
Wed Apr 18 – 8 pm – Live Playoffs part 3 – Top 20 (two teams) perform
Mon Apr 23 – 8 pm – Live Finals – Top 12
Tue Apr 24 – 8 pm – Live Finals – Top 12 Results
Mon Apr 30 – 8 pm – Live Finals – Top 11
Tue May 1 – 8 pm – Live Finals – Top 11 Results
Mon May 7 – 8 pm – Live Finals – Top 10
Tue May 8 – 8 pm – Live Finals – Top 10 Results
Mon May 14 – 8 pm – Live Finals – Top 8
Tue May 15 – 8 pm – Live Finals – Top 8 Results
Mon May 21 – 8 pm – (2 hours) – Live Finale pt 1 – Final Four perform
Tue May 22 – 8 pm? – (2 hours) – Live Finale pt 2 – Winner crowned