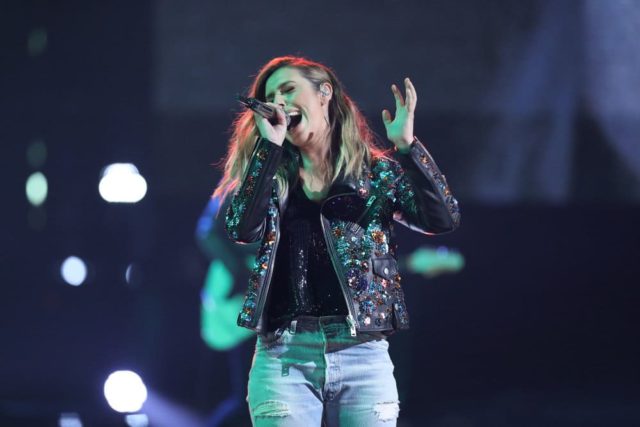 The Voice ratings lost 3/10ths of a point, compared to last week's preliminary numbers, bringing American Idol within 1/10ths of a point to its rival. Idol stayed steady at 1.4 in the 18-49 demo, while The Voice garnered a 1.5. Notably, both The Voice and Idol adjusted up in last week's final update.
The Voice and American Idol will not go head to head again until finale week in May.
Next week, The Voice will battle opposite an all-sports version of Dancing with the Stars. I would imagine the premiere will offer the singing show some competition.
ETA: Season 13's Live Top 12 show earned a 1.7 in the demo. Last spring's Top 12 Live Top 12 garnered a 1.9.
Ratings for "The Voice" dropped some on Monday, allowing a steady "American Idol" to come very close to a tie among adults 18-49.

"The Voice" averaged a 1.5 in the 18-49 demographic, down from 1.8 last week for its lowest Monday mark this season. "Idol" held steady at 1.4, giving the two shows their closest head-to-head finish so far this season.
Via TVByTheNumbers
8 p.m.
The Voice (NBC) (8-10 p.m.) 1.5/6 8.28
American Idol (ABC) (8-10 p.m.) 1.4/5 7.59
The Big Bang Theory (CBS) – R 1.0/4 6.41
Lucifer (FOX) 0.7/3 2.82
Supergirl (The CW) 0.4/2 1.38
8:30 p.m.
Young Sheldon (CBS) – R 1.0/4 6.06
9 p.m.
Young Sheldon (CBS) – R 1.0/4 5.86
The Resident (FOX) 0.8/3 3.92
iZombie (The CW) 0.2/1 0.71
9:30 p.m.
The Big Bang Theory (CBS) – R 1.0/4 5.55
10 p.m.
Good Girls (NBC) 0.9/4 4.14
The Late Late Show Carpool Karaoke Primetime Special (CBS) 0.8/3 3.84
The Crossing (ABC) 0.7/3 4.24