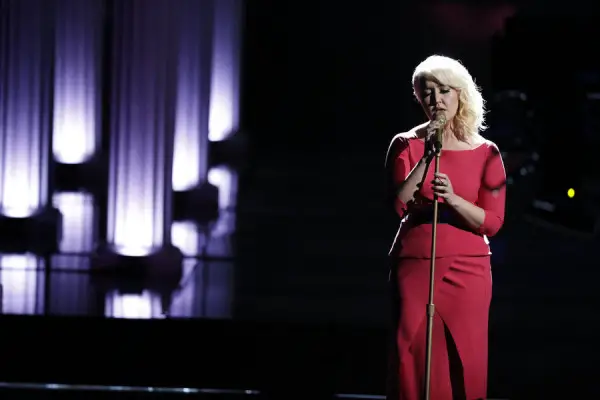 Once again, Sawyer Fredericks SHOOTS up the iTunes chart, immediately after the East coast broadcast. AND with a boring-ass song nobody knows. There must be something about a fresh faced boy singing songs about overcoming adversity that compel folks to vote for him. What am I talking about? All Sawyer has to do is stand there and breathe and he earns votes. Even that preposterous performance of "Take Me To The River," which had Sawyer surrounded by go go dancers, is closing in on the Top 20 (caveat: I liked the vocal). He is the winner, now and forever.
But what's the deal with Kimberly Nichole, sitting at the bottom of the chart? "Dirty Diana" was really entertaining. Maybe it was too over the top for viewers. And maybe America doesn't want Tom Petty turned into an R&B thing. While Kimberly is the best performer left on the show, she doesn't pull on the emotional heartstrings the way plaintive Sawyer, the imperfect, but emotional Koryn, the bluesy and passionate Meghan and earnest Joshua do. India tries to touch hearts, but there's a missing connection there. She and Kimberly could very well be in the bottom 2 tomorrow.
And to remind ya'll: One ONE finalist goes home tomorrow. There will be a twitter save between the Bottom 2 contestants. The Voice alums, Jacquie Lee, Craig Wayne Boyd and Avery Wilson are set to perform.
Notably, last week, all songs were in the Top 40 by midnight or so. Perhaps splitting iTunes dollars between TWO songs for each contestant has had an affect on the rankings. Last week's performances were better. But then, the contestants had to split their attention between two performances. I liked that the singers chose their own songs this week. The coaches almost seemed superfluous this week. Not that there was much time to spend with them, considering 12 full-length performances had to be squeezed into 2 hours. Less coaches, more contestants. I'm all for that.
iTunes Chart as of 12:30 am
7. Sawyer Fredericks – Shine On
13. Meghan Linsey – Amazing Grace
22. Sawyer Fredericks – Take Me To the River
33. Meghan Linsey – Steamroller Blues
35. Joshua Davis – In My Life
45. Koryn Hawthorne – Everybody Hurts
67. India Carney – Glory
72. Koryn Hawthorne – Dream On
83. Joshua Davis – Desire
111. India Carney – Lay Me Down
146. Kimberly Nichole – Free Falling
185. Kimberly Nichole – Dirty Diana
Now it's YOUR TURN. VOTE for your favorites. Who do YOU think is leaving the competition?
The Voice 8 – Top 6 – Favorite Performance
The Voice 8 – Top 6 – Favorite Contestant
The Voice 8 – Top 6 – Grade the Episode
The Voice 8 – Top 6 – Who SHOULD go Home
The Voice 8 – Top 6 – Who WILL go Home