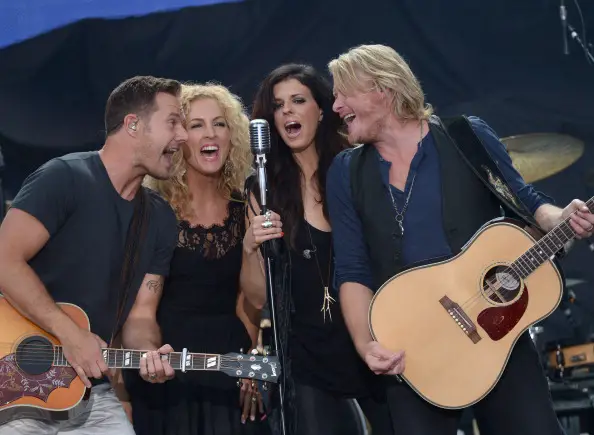 Access Hollywood reports that country group, Little Big Town, will serve as adviser for Team Blake Shelton on the upcoming season of The Voice.
"It's a huge honor," LBT's Kimberly Schlapman told Access' Liz Hernandez in a new interview. "We love the show. We have always watched it." Added Karen Fairchild, "We begged and begged and cornered him!"

Blake is excited for Little Big Town (comprised of Kimberly, Karen, Jimi Westbrook and Phillip Sweet) to receive the mainstream exposure a network television hit provides.

"There is gonna be an entire new audience who is gonna find out these people are which is – they need to know who they are," he told Liz. "It's the same thing that happened to me when I started doing this show as country artist. We don't get that many opportunities to be on television and we do we got to make the most of it and I am excited for allot [sic] of people to find out who Little Big Town is.

"I mean, if you are a country music fan you already love them, but if you are not necessarily someone who listen to country radio all the time, you are gonna find out who they are and it's gonna be a big deal," he added.
Little Big Town is releasing their new album Pain Killer on October 21.  The band's previous album, Tornado has sold over 1.1 million copies.
LBT join Stevie Nicks, who will assist Team Adam Levine, and Gavin Rossdale, stepping in to aid wife Gwen Stefani. No word yet on who will be advising coach Pharrell Williams.
Team Advisers help the coaches prepare contestants for the Battle Round phase of the competition. But first, hopefuls have to survive the Blind Auditions, during which they sing, hoping one of the superstar coaches turn their chairs for them.
The Voice premieres this fall on NBC, Monday September 22.
Via Access Hollywood