The Top 8 perform for YOUR votes tonight. I'll be live blogging the performances right here!
Whoo! I may get my very own pair of Michelle Chamuel glasses….just like the ones Usher donned to support his only remaining team member, because once again, the quirky singer's performance of "Grenade" was my favorite performance of the night.  She's a born performer, with a unique voice and the ability to get to the emotional core of a song.  I love her!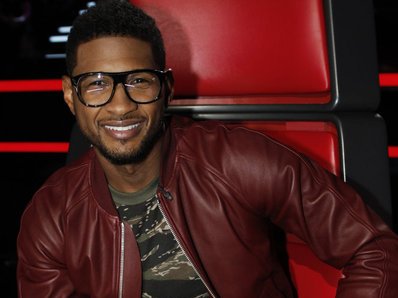 Also A+ tonight was Sasha Allen and her powerful performance of "Without You" and back in the game? Amber Carrington who took on a huge song–"Skyfall" and won the audience and the coaches over.
Judith Hill was disappointing again this week, with a song she chose for herself.  Turning a Justin Bieber song into a Vegas show tune was not the way to go this week.  Judith continues to struggle with presenting herself as a relevant artist.  Sasha, the other pro contestant, is doing a better job with the contemporary numbers despite coming from Broadway.
Sarah Simmons song choice was a big misstep for her.  Her performance of the Gotye song was awkward and not a good fit for her vocal abilities. At this stage of the competition, anything could happen. With the surge of votes that will surely greet Amber tonight, Sarah could get left behind.
Danielle Bradbery continues to be the little robot that could, thanks to her poise (which is beginning to unnerve me, to be honest) and her radio ready voice.
Holly Tucker gave one of her better performances tonight. But at what point are these country acts going to start knocking each other off? Danielle and Amber are both more popular than she is.  That Amber didn't sing a country song tonight might help, come to think of it.  On one hand, Adam should allow Amber to stick to the genre she'll pursue once she's set loose from The Voice. But on the other, Adam  may be trying to set Amber apart from Blake's country bunch, so she's not splitting votes with them. Hm.
Out of all the country singers, Holly is the least memorable, so she could be in trouble.  That The Swon Brothers don't suck may be enough for the duo to get by, as they are the last males left standing in the competition.
***
As we know, Team Adam and Team Blake remain intact. Team Usher and Team Shakira each only have 1 team member left.  Look out for a few group performance tonight!
But first, Blake Shelton takes the stage to perform his new single "Boys 'Round Here." It's your typical southerners blah blah we drive trucks blah blah we drink beer blah we're hicks.  Sorry. This cliched sh*t is super-boring.  Is that Raelynn singing her little cameo? I didn't even recognize her. Eta: oops It's Gwen Sebastian, also from Season 2.
Carson knows Spanish and he seems pretty fluent. He and Shakira have an exchange that leaves them blushing. This is what happens when there are two hours and only 8 contestants. There's PLENTY of time to fill. The judges agree that it's now in the hands of America, and all they can do at this point is to coach and support their team. Usher puts on a pair of Michelle Chamuel glasses. He's joined her team! 'Cause she's all he's got. I don't think he has to worry yet.
Judith Hill – Team Adam – #ThatPOWER by Will.i.am and Justin Bieber– This song is a very odd choice. It was Judith's idea, and Adam admits he would not have picked the song for her.  Covering Justin Bieber. Okeedokee.  She feels it's time to step out and is ready to take a risk. Judith needs to make herself seem relevant at this point, and I'm not sure she's pulling it off.  It's a contemporary song, reimagined for Las Vegas.  She's got a powerful voice and uses it imaginatively.  But what is it about Judith that makes her seem so OLD? She's only in her 20s.  Could it be her style–super-polished to the point that it lacks any edge. Blake calls her hair badass. He's glad she's revealing her personality.  Usher thought it was an incredible way to open the show. Shakira calls it a very "audacious" move. Adam was confused with her choice, but he has come to love her version of it. – 1-855-864-2301 Sprint Text 1 to 8642 –  Download from iTunes
Holly Tucker – Team Blake – Done by the Band Perry – Holly has chosen her song this week, too, and Blake is on board. It's a perfect time to show America some attitude, he says. Well, this is a departure from last week's church hymn.  It's the best Holly has performed in a few weeks.  It's like she's suddenly come to life. Holly tends to smile inappropriately though sad songs–performing lyrics as if she doesn't understand them. But here, she's 100 percent present on stage and performing as if the song is her life story.  Maybe she should stick to upbeat, sassy songs, because she was pretty great here. Usher loves her boots and says she did an incredible job. Shakira dug her sass and attitude. Adam thinks she can sing anything. Blake says it was the first time she totally owned a song. Hilariously, Carson calls Usher "Urkel" and Usher shoots back with "Jimmy Neutron."  Adam laughs "Carson, you've been served."  – 1-855-864-2302 Sprint Text 2 to 8642  – Download from iTunes
Christina Milian is up in the sky box asking the contestants really stupid questions while she reveals baby photos from the contestants and coaches.
Next, Michelle Chamuel, Judith Hill, Sarah Simmons and Sasha Allen perform Diamonds by Rihanna. I can't take my eyes off of Judith and her giant hair. Welp, we've got 4 of the best singers left in the competition performing together. It's pretty hard to go wrong here.  They can't even mess up Rihanna's boring "Diamonds".
The Swon Brothers – Team Blake – Seven Bridges Road by Steve Young/Eagles – The last remaining guys in the competition dedicate their next song to the folks back home in Oklahoma.  Blake compared the duos harmonies to a modern day Eagles.  The boys sing in front of  campfire made of real fire. CHEESY!  The background singers sound a little off. If they are doing that echo thing on purpose, it's distracting. The guys were worried about nailing their harmonies, but they sound great together, especially at the end when they hit it a 'cappella. The country-rock deal suits them well. They are presenting themselves as a viable country duo. I really can't see them going home this week. They may last all the way to the finals. Usher thought it was incredible. Shakira says that the classic Eagles harmonies really suited their voices.  Adam felt there were a couple of moments that were a little scary, but he's just nitpicking. Blake feels they are proving to the audience that they have what it takes.  – 1-855-864-2303 Sprint Text 3 to 8642 –Download from iTunes
Sasha Allen – Team Shakira – Without You by David Guetta feat. Usher – Sasha becomes really excited when Shakira hands her "Without You."  And in order to connect to the song, Sasha will be be thinking about her fiance, the father of her kids, as she performs the song.  This is one of my favorite current pop songs, I hope Sasha doesn't blow it.  And she doesn't! The tune is a bit out of her range, but it doesn't matter.  What  I like about Sasha is the way she shapes a song. She knows how to play with dynamics. In this case, she takes a contemporary song, that doesn't have a ton of melody or lyrics, and still manages to spin an exciting story. I'm a fan.  Adam is still whining that he gave her away to Shakira.  Blake is sure she bought Shakira another week on the show. Sasha conjured incredible emotions as she sang his song. He really loved it. Shakira thinks she's the whole package and can do it all.  – 1-855-864-2304 Sprint Text 4 to 8642 – Download from iTunes
Sarah Simmons – Team Adam – Somebody That I Used to Know by Gotye – Sarah is also a painter, if you didn't' know. Whomever Sarah directs the song to needs to be shuddering with fear by the end of the song, says Adam. Hm. Said person might have fallen asleep during that performance. This is the wrong song for Sarah. She's a singer who does best with rangy material, and this went nowhere.  There were also some pitch problems and her vocals sounded really forced and artificial. I didn't buy her as the scorned woman, and that kills me, because so far, I've been a fan of her work. I hope her performance last week wasn't her peak. Blake loves the different aspects of her voice. (Too bad she didn't have a song to show it off). Usher thought it was great to show a different texture. Shakira thought her cover was interesting.  Adam says it's impossible not to love her. No one on The Voice has done the song right until tonight, says Adam.  – 1-855-864-2305 Sprint Text 5 to 8642 –Download from iTunes
Danielle Bradbery, Amber Carrington, Holly Tucker and The Swon Brothers sing Sugarland's "Something More."  Not bad. The Swon Brothers were kinda the odd men out on this performance though. It would have worked better with an all-female group. But that's what happens when there are only 2 guys and 7 girls left in the competition.
Michelle Chamuel – Team Usher – Grenade by Bruno Mars – Michelle chose her song this week. Usher wants to strip the instrumentation back, and put her voice front and center. "The war is still on," says Usher, "And we're going to get through this together."  Michelle begins the song gazing at herself in a hall of mirrors. It's the right touch to kick off another beautiful, theatrical performance from this unusual artist.  I believe every single word Michelle sings–she doesn't have a false bone in her body. She's an incredible combination of stage presence and dynamic vocals. She doesn't have the best technical voice in the competition, but she sure knows how to phrase a song, and use her range to portray emotion.  Her voice is a direct line to what she's feeling inside.  Shakira calls it "spectacular."  She loves her stage presence. Adam calls the performance exciting and dynamic. One of the best of the night, he says. Blake admires her big voice and thought it was her best. Usher says "You put in the work. People can identify with an incredible spirit. You represent true inner beauty." To say he is effusive would be putting it mildly.  – 1-855-864-2306 Sprint Text 6 to 8642 – Download from iTunes
Danielle Bradbery – Team Blake – Grandpa (Tell Me 'Bout the Good old Days) by the Judds – She's going to sing the song as a tribute to her grandpas, which she never met. She's having a little trouble with the lyrics in rehearsal. She's got a little set that includes a front porch with a swing.  Ugh. Phony nostalgia. I hate it so much. Things were so much simpler and pure in the good old days, goes the song. Only in your foggy mind, maybe. Danielle performs the song with the right amount of longing and affection, however. She's such a natural talent, it's scary.  Danielle also has on some fancy boots, which Usher notes. "You're a prodigy," he says. Shakira says she possesses star quality. Adam feels she's an incredible country music artist just waiting to be born. "It's cool that you sang a song about Blake." Ha. Blake says, "You are amazing," and then he buys into the phony nostalgia. With all the bad news on the TV just "take me back to when the days were good."  I could write a dissertation refuting that notion, but I'll refrain. – 1-855-864-2307 Sprint Text 7 to 8642 – Download from iTunes
Amber Carrington – Team Adam – Skyfall by Adele –  Amber is a country singer, but you'd never know it by the songs Adam gives her. Adam says Amber can't fade into oblivion singing country pop songs. But if that's the genre of music she plans to record after the competition, maybe that's what she should be singing.  At any rate, Adam wants to give Amber a challenge, and wow, she more than measures up. She apes a bit of Adele's enunciation, but she manages to transcend karaoke by using her big vocals effectively. Very dramatic and emotional. She misstepped horribly with "Breakaway" last week–a mid tempo Kelly Clarkson cover. But this fabulous performance should have her climbing the iTunes charts once again. Pitch perfect. Blake calls it the diva powerhouse performance of the night. Usher calls her incredible. Shakira felt the performance worked, even though she's been sceptical of Adele covers.  Adam feels that Adele has finally been done justice on the show. "You can sing anything." he says. – 1-855-864-2308 Sprint Text 8 to 8642 –  Download from iTunes