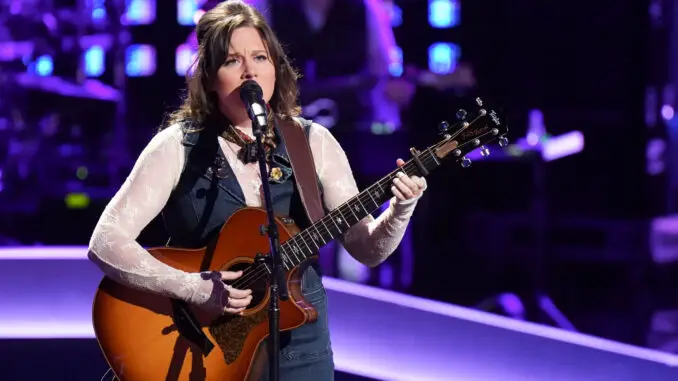 The Voice 24 Knockouts end as Alexa Wildish stuns with a folksy Cher cover. Carson Daly drops a MAJOR 'Super-Save' Twist!
The Voice Season 24 Knockouts wrapped up with the fourth and final episode. John Legend used the final save, but an emotional moment from Team Niall Horan within a competitive trio ended the round with a bang. In that trio, Alexa Wildish showcased why she's such a standout, while 13-year-old Julia Roome showed maturity beyond her years, and Lennon Vanderdoes brought two of the coaches to tears. (Read our Recap)
Alexa, a 34-year-old singer from Lyons, Colorado, had the biggest moment of the night. In rehearsal, where it is revealed she is singing "Believe" by Cher. She said, "When I had stripped the song down and felt it in a real way, I was like 'this is incredible'." Alexa wants it to feel as if she had "written the song" herself. She relates to the song, inspired by her first love, saying "no matter how hard we tried to be together, it was this push and pull."
After hearing her sing in rehearsal, mega-mentor Wynonna Judd says, "I began to cry, and I think that's the greatest compliment," adding, "last night I drove through Laurel Canyon, and I went by Joni Mitchell's house. She's my shero. You remind me of a young Joni." Dan, of Dan + Shay (subbing for Niall in rehearsal while he's on tour) advises Alexa to "feel all of the emotion, take it all in." Shay calls the moment one of the "most awestruck moments" he's ever had. "She is a total empath," Dan says, adding, "she's got it." Julia, Alexa's opponent, is brought to tears by her singing.
Lennon brings John and Gwen to tears
During their performances, this trio awed me, each singing beautifully, beginning with Alexa. Ballad versions of this song have become a singing competition standard, but Alexa's rendition was extra folksy. Her approach is kind of throaty, and I mean that in a good way. Her vibrato is showcased excellently here. The singer has a way of building emotions and dynamics in her performances, and her rendition is a clear example of that, as she makes the listener really pay attention to the meaning of the question of "do you believe in life after love?". She's simply one of the best pure vocalists this season.
Lennon, the final performance of the trio, brought both John and Gwen Stefani to tears. All of the performances were simply magical, but it was Lennon's performance that sent the coaches over an emotional edge. Nevertheless, it was Alexa who stood out to Niall the most.
A 13 year old singer, mature beyond her years
"Nobody does what you just did anymore," says Gwen to Alexa. "It's a singer-songwriter warm sound where you're just really into the lyric." John tells Alexa the song was a "cool choice" adding that she "executed it flawlessly." Niall says, "these two crying says it all," noting that none of the coaches have a steal or save left. He names Alexa the winner. He calls her the most "mind-blowing moment" he has had on the show. Calling Alexa a "one-in-a-million talent," Niall believes she can win it all.
Alexa may have won, but Julia's beautiful pop tone and maturity shined on Sia's "Unstoppable" as she showed off the most power she has exhibited on stage to date. The 13 year old singer has truly blossomed. Lennon's tear jerking performance of "I Won't Give Up" felt honest in its emotion. It stinks that the coaches were without saves or steals as both of these performances were worthy of moving on in the competition. The coaches and mentors' reactions to these singers show just how talented they are.
Carson Daly reveals a BRAND NEW TWIST that could bring back eliminated contestants!
There were a few others who also moved on tonight with stunning performances, and they were from the other pairing of the night from Team Legend. Mac Royals won with a silky smooth Robin Thicke song, and Taylor Deneen brought some old-school soul that earned her a save.
At the end of the episode host Carson Daly reveals that there is a super save where each coach gets to bring back one artist, making a top 24. There were several impressive performances where singers went home including tonight, so it'll be interesting to see who John, Gwen, Niall, and Reba McEntire decide to bring back to round out their teams. Playoffs which have already been taped start next Tuesday (Nov 21). Hopefully the singers continue to bring their "A" game for the Playoffs.