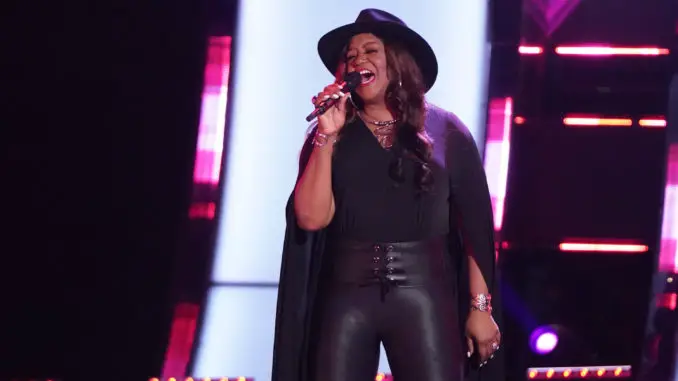 Experienced singer, Wendy Moten, Closes The Voice 21 Premiere
Tonight was the premiere of The Voice's 21st season. Season 21 is a special one; it's the first one since Season 1 to be a single-cycle season (meaning another season won't air for another year) and it also features the biggest star to ever be a coach on The Voice, Ariana Grande. The show wrapped up with an audition from a very talented and experienced singer, Wendy Moten.
Wendy sang the Chaka Khan version of "We Can Work It Out" by The Beatles. She started off a little jazzy, easing her way into the number which got Blake Shelton to use his block on John Legend before she transitioned into the disco-esque number displaying her huge range. Her voice sounds so healthy especially considering her age. This isn't an audition that I loved stylistically, but I know just how good Wendy is. Her technical prowess is impressive and it's no surprise that she easily got a 4 chair turn.
Was it "Top 3 of all time" like Blake said after the audition? I'd say no to that but it was pretty stellar. Most of the banter consisted of Blake's "lying" about not blocking John. He even asked Ariana, "did you block John?" when the audition wrapped up. John said that the show is "lucky to have" Wendy. Ariana was speechless, noting that she's never heard someone sing like Wendy. Kelly Clarkson noted her "transcendent", "powerful" voice. Despite a strong pitch about Wendy belonging in the foreground from Ariana, Wendy chose Blake. This was probably due to her Nashville roots.
Country could be Wendy's secret weapon
It'll be interesting to see how Wendy navigates this competition as she's the second oldest chair Turner at 55 years old next to Season 11's Dan Shafer. Notably, in 1992 Wendy had a song "Come On in Out of the Rain" chart on the Billboard 100 and she performed on the Tonight Show. But after her record label dropped her and she began singing background vocals. She also has country as a secret weapon. She's performed backup for Tim McGraw, Faith Hill, and Trisha Yearwood to name a few. She also has appeared at the Grand Ole Opry.
Whenever she pulls the country card, it could be game over for the others. A front runner for sure but, I'm just not so certain that it's game over just yet for others. Hopefully some of Tuesday night's premiere talent come to play and join Wendy and Girl Named Tom as Season 21 front runners.
The coach's performance was epic
I'm hoping the premiere isn't how the entire season unfolds, as it was for the most part, kind of lackluster. It did feature some good old The Voice style banter that displayed how "everyone" loves Ari. I thought Ariana came across as very professional, respectable, and although a bit nervous, a very strong pitcher.
And did I forget to mention, the epic coaches performance that was a mashup of "Hold On, I'm Coming" and "Respect" that kicked off the night. It was truly sensational.
The highlights of the night for me were sibling trio Girl Named Tom (my favorite audition), teen Jack Rogan whose tone I enjoyed despite his sleepy rendition of "House of the Rising Sun," and  Wendy. Katie Rae, Vaughn Mugol, and Kinsey Rose served pretty good vocals but nothing really stood out to me about them.
One thing I do appreciate is the show, even more so in recent years, does not dodge the past fame that some contestants have had. Right away, they had Wendy talk about her hit "Come In Out Of The Rain"( UK number 8 and number 55 in US)  and how after her record deal, she's been a backup singer for years.