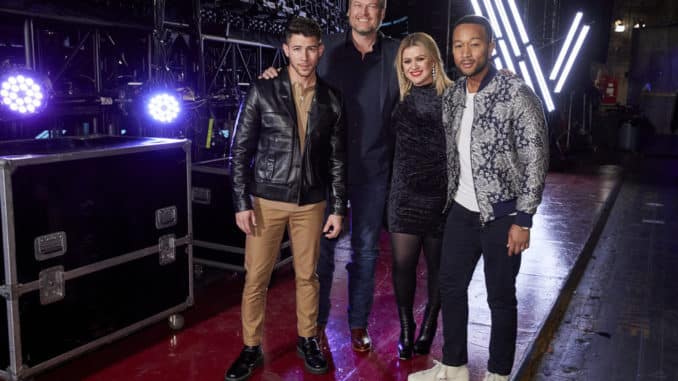 The Voice Monday March 30 Battle Pairing Spoilers
The Voice season 18 Battle Rounds continue next week, with more unforgettable matchups resulting winners, losers, steals and saves.  Check out song and match up spoilers for Monday's (March 30) episode below. For the first time since season one, the teams are comprised of 10 members rather than 12.
As far as the rest of the season is concerned, according to The Voice page at Futon Critic, there will be no Tuesday episodes this season. This, due to the postponement of the three week live finals originally schedule in May,  Ldue to coronavirus concerns. 
The Voice Coaches' Celebrity Mentors
As always, each coach has brought a celebrity mentor on board to help get their teams ready for battle. Nick Jonas will team up with his brothers Joe Jonas and Kevin Jonas. Kelly Clarkson will join forces with pop star Dua Lipa, John Legend and UK R&B singer Ella Mai will work alongside each other, and Blake Shelton will enlist the help of Bebe Rexha. The crossover country singer served as a "Fifth Coach" on The Voice season 16 digital "Comeback Stage" series in 2019
Team Blake Shelton
Jacob Daniel Murphy vs Toneisha Harris – Good as Hell by Lizzo – Blake put these two artists together because they both have big vocal ranges. After Toneisha's son was diagnosed with leukemia, she put a hold on her music career. Now that he's in remission, she's back. Jacob's dad and brother both served in the military, "I was the artistic one," He says. Check out a full preview of Jacob and Toneisha's battle HERE.
Cam Spinks vs Kailey Abel – What Ifs by Kane Brown and Lauren Alaina – Blake chose the song because he thinks it "lands" between what both of them do artistically. Cam grew up on a farm where he and his family manage a real estate investment company. Kailey's dad is a pastor. She was Blake's last team member.
Team Kelly Clarkson
Gigi Hess vs Micah Iverson – Someone You Loved by Lewis Capaldi – Ever since Kelly heard the Lewis Capaldi song, she envisioned it as a duet. Gigi works a a pre-school for kids with behavioral issues. Micah grew up in Tokyo.
Team John Legend
Cammwess vs Mandi Castillo – Senorita by Shawn Mendes and Camila Cabello – Cam loved basketball growing up, but eventually decided to pursue music. Mandi, a bilingual singer, worked in construction before auditioning for The Voice.
Darious Lyles vs Nelson Cade III – Come Together by The Beatles – Darious helps children with behavioral problems, grades 3-12. He uses music as therapy in his classes. Nelson's mom is a school teacher and his dad a rocket scientist.
Team Nick Jonas
Anders Drerup vs Tate Brusa – Circles by Post Malone – Nick says he is taking a massive hit, and giving it a new twist with two unique voices. Tate began singing as a little kid. Years of singing incorrectly created a rasp in his voice. Anders is a bit older than Tate, and has spent his years playing rock and classic rock. 
The Voice airs airs Monday March 30 on NBC at 8 pm ET/PT
WATCH: Meet the Six Duos Battling on The Voice Monday March 30