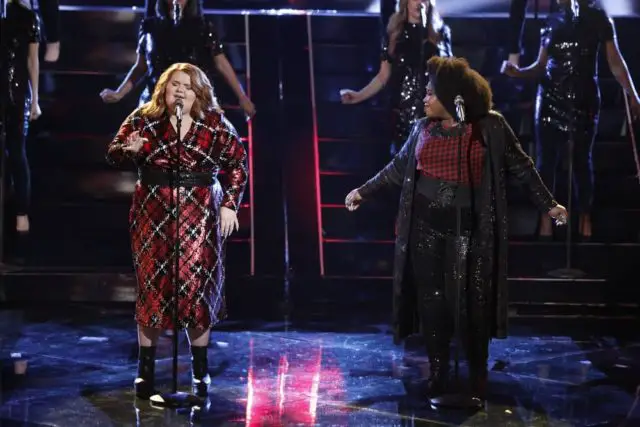 The Voice season 15 Live Finals continued on Monday night (Dec 10). EIGHT finalists took the stage for YOUR votes. Which ones were your favorites? It's time to vote in the POLLS!
The Voice Season 15 Recap – Top 8 Performances – Live Blog and Videos
With FOUR artists leaving The Voice tonight, anything can happen!  The Top 8 will become the Final Four.  I'm sticking with my prediction that Chevel, Kirk, Kennedy and MaKenzie will end up in the final. I'm not sure who will have to sing for the save. I'm thinking…MaKenzie. She performed "Vision of Love" competently, but she has had better performances. And she sang second. But WHO KNOWS. Maybe Reagan will sail straight into the finals. It could happen!
Speaking of which. There is a ton of talent on The Voice this year. But I have finally put my finger on the reason why I'm often left could. These artists are just so predictable. Plenty of solid singing, but no surprises. There haven't really been any major moments in the finals. Well, for me. Your mileage may vary, of course. With so many singers leaving the competition, it's probably too scary to go out on a limb. Sarah is the only one to take artistic risks, which is why I'm a fan. And probably why she'll go home tonight without singing. 
I am a little surprised Kymberli's Tori Kelly cover tanked on the iTunes chart. Huh. She and Sarah could end up in the bottom 2 tonight. Chris, Reagan and MaKenzie singing for the Instant Save. What do you think? 
iTunes Charts at 4 am
5. Chevel Shepherd – Blue
7.  Kirk Jay – I Swear
11. Kennedy Holmes – This is Me
12. Reagan Strange – You Are the Reason
15. Chris Kroeze – Can't You See
19. MaKenzie Thomas – Vision of Love
59. Sarah Grace – Sign of the Times
103. Kymberli Joye – Never Alone
Prior Weeks
78. Sarah Grace – Amazing Grace
100. Kirk Jay – Tomorrow
133. Chevel Shepherd – You're Looking at Country
165. Kirk Jay – I'm Already There 
VOTE VOTE VOTE
Favorite Top 8 Performance
Favorite Top 8 Duets
Choose the FOUR Contestants WHO WILL ADVANCE TO THE FINALS.
NOTE: VOTE FOR WHO WILL BE SAFE!