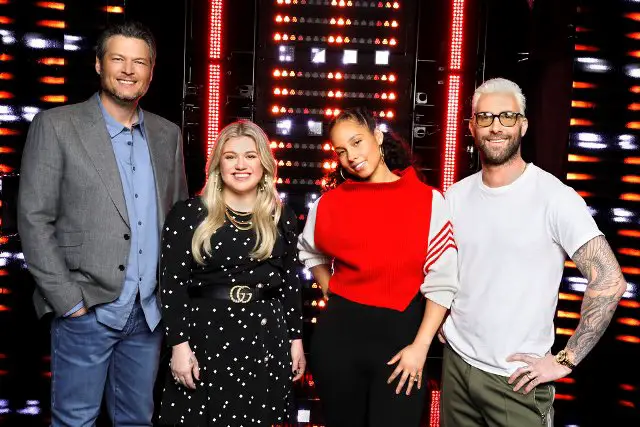 The Knockout Rounds begin tonight on The Voice season 14 (April 2). Find out what each of the winning contestants will sing beginning at 8 pm ET on NBC. The winner of the Knockout will move on to the Live Playoffs. The losing contestant is eligible for a steal or a SAVE from their coach.  Each coach has a steal and a save to round out their teams. Twenty Four singers will be left standing at the end.
Additionally, each of the coaches will enlist the help of former The Voice winners to ready their teams to go head to head. Team Adam Levine will enlist the help of season 9 winner  Jordan Smith, Team Blake Shelton will join forces with reigning champ Chloe Kohanski, season 13 winner Chris Blue will lend a hand to Team Alicia Keys and season 3 winner Cassadee Pope will help Team Kelly Clarkson.
We saw Jackie Foster and and Mia Boostrom paired up in a leaked audition. It looks like one was either stolen or saved. Four Team Adam singers were left standing by the end of the episode. It looks like Blake teamed up Kyla and Spensha and they both survived.
Austin Giorgio – Team Blake Shelton – Almost Like Being in Love by Frank Sinatra – Download at iTunes
Drew Cole Team Adam Levine – Slow Hands by Niall Horan – Download at iTunes
Jackie Verna Team Adam Levine – American Honey by Lady Antebellum – Download at iTunes
Johnny Bliss – Team Alicia Keys – Alive by Sia – Download at iTunes
Kaleb Lee – Team Kelly Clarkson – Free by Zac Brown Band – Download at iTunes
Kyla Jade – Team Blake Shelton – You Don't Own Me by Leslie Gore – Download at iTunes
Spensha Baker – Team Blake Shelton – Broken Halos by Chris Stapleton – Download at iTunes
Jackie Foster – Team Adam Levine – Bring Me to Life by Evanescence – Download at iTunes
Mia Boostrom – Team Adam Levine – Wade in the Water – Download at iTunes