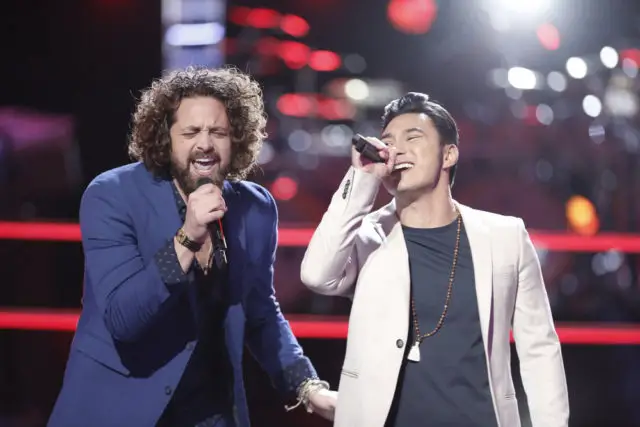 Today's poll has every performance included, and here is why: About an hour after the show ended, The Voice decided to upload full performances of all the montaged performances–including those from last week.
It was odd. The show chose to upload full performances of every Blind Audition, including those that were montaged. Then, when the Battle Rounds began last week, it was back to uploading the edited results from broadcast.  Today, when clips were uploaded immediately after the show as usual, the short edit of montages went up.
But then, suddenly, The Voice uploaded full edits of all the montaged Battle Rounds at once.  Maybe the sudden uploads had something to do with RaeLynn. Blake's team members Enid Ortiz and Valerie Ponzio performed the season 2 alum's single "Love Triangle." It seemed to be purposely timed with this week's release of her new album, WildHorse. But then montage! Which rendered the pimping pointless. Maybe somebody complained. Maybe it was Blake. I don't know…
The Voice 12 Recap – Battle Rounds 3 Live Blog (VIDEOS)
Anyway. GLAD full performances are uploaded for every pair. Blake seemed so super high on Americana artist, Valerie Ponzio but didn't advance her in the end. Her performances weren't consistent. But then, Enid's weren't either. Between the two singers, I would have chosen Valerie.
Gwen made the correct decision in the Jozy vs Troy battle. Jozy had major pitch problems.  Hanna and Sheena were pretty evenly matched (I really liked Sheena's Blind Audition though–she was the beach bar singer who sang "Baby Girl"), but I'm not surprised Adam went for young Hanna and her bubbly personality.
Now, time to VOTE FOR YOUR FAVS.
Favorite Duet
Who was Robbed?
Grade the Episode