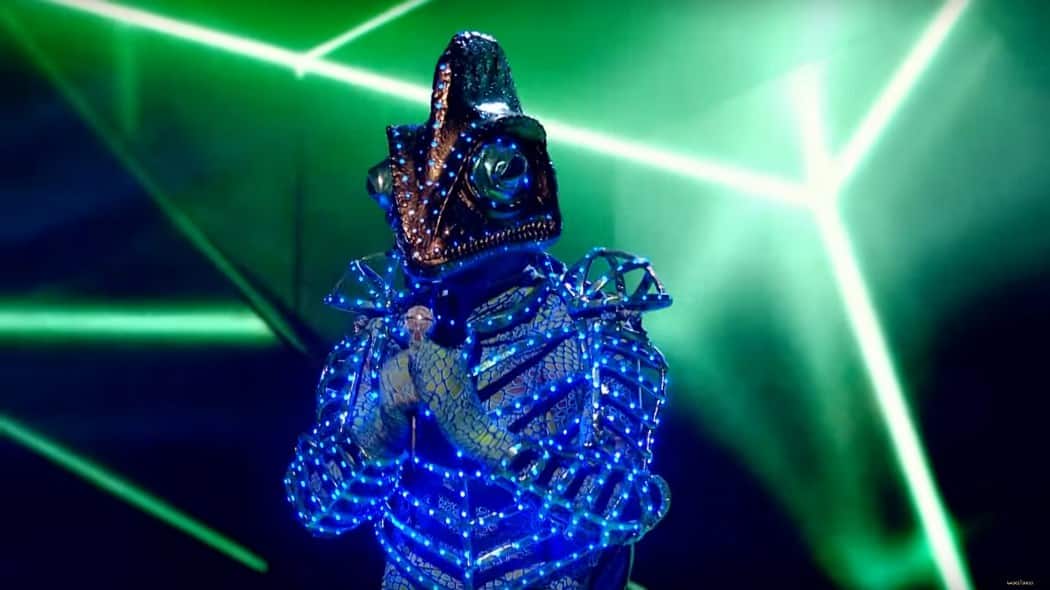 After becoming a huge hit for FOX TV here in the United States, The Masked Singer premiered in the UK last Saturday (Jan 4). US judge Ken Jeong joins pop singer Rita Ora, chat show host Jonathan Ross and TV presenter Davina McCall on the panel. Twelve celebrities dress in elaborate costumes so that a panel of judges and the audience at home have to guess their identity.
This week (Jan 11), after five of the remaining 10 masks preformed, the third celebrity, The Chameleon, was unmasked! And…get ready for it…The Chameleon was Justin Hawkins! Last week, the judges were sure Chameleon was a sports figure. Remember, clues usually DON'T point directly to what the masked celeb does for a living. But considering Chameleon's tall, slim body and seemingly muscular legs, the character came off as somewhat of a HE MAN. Rita Ora began to flirt with him immediately. Interestingly, most of the judges guesses were black men. But this week, it became clear the Chameleon likely performed for a living. And Justin's trademark falsetto was on full display!
Unlike last week, there was a sing-off. Duck seemed like a goner, until she busted out some opera for her last chance performance. Even Chameleon's tender "True Colors" couldn't save him, which was pretty disappointing.
For those who don't know, Justin's band The Darkness is known in America mostly for their 2003 alt/rock single, "I Believe in a Thing Called Love." Additionally, a track Justin wrote, "Music Again," was recorded by American Idol alum Adam Lambert for the singer's 2009 debut album, For Your Entertainment. I was disappointed to see Chameleon go. To put it bluntly, Duck got by on a party trick. she was mostly not very good. Fun fact: Some folks think Duck is Mel C from Spice Girls.
Chameleon Performs Feel it Still by Portugal
Chameleon performs True Colors by Cyndi Lauper
Chameleon Unmasked
Chameleon Reacts
Duck Performs Livin' on a Prayer by Bon Jovi
Duck saves herself with an operatic ditty
Last week I mentioned that I REALLY liked Unicorn. He performed this week. And there are SOME folks who believe it's Scissor Sister Jake Shears underneath the mask. In his clue package, Unicorn said that the New York stage changed his life. Jake starred in Kinky Boots recently. Hm.
Unicorn performs Juice by Lizzo