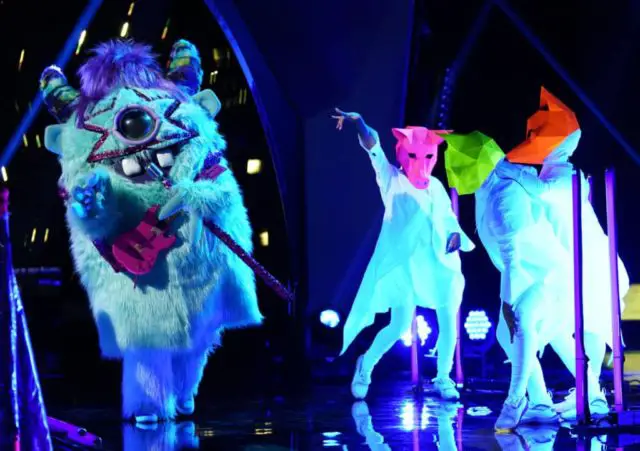 It's week 7 of The Masked Singer and I think I've nailed (with the help of y'all and the rest of the internet!) who the remaining six singers are behind those elaborate masks! The judges, Robin Thicke, Jenny McCarthy and Ken Jeong are beginning to guess some identities correctly. Namely–Robin is convinced The Bee is Gladys Knight. Joey Fatone has come up a few times as The Rabbit. Jenny guessed The Peacock is Donny Osmond and it's been mentioned that the Alien could be LaToya Jackson.
We will be live blogging the performances and results beginning at 9 pm ET/PT. Join us then. 
Here's what the contestants had to say the last time they performed:
The Bee: Guess: Pretty clearly Bee is Gladys Knight! Clues: "I've been performing for a long time. And I thought I'd done it all in my career. But dressing as an insect is definitely a first for me. It was at a birthday party when I was eight years old. That's when my mama first gave me the idea to form a group. I guess it was always in the cards. We got a record contract and my career has been all peaches and marmalade ever since. Being on the show, it's a trip singing songs that other people have written. It makes me feel like queen bee. It's all in me."  Bee's "revealing item" was a bunch of bakeware. "This is my second favorite thing to do," she told the judges. Visual clues from the episode: A little girl is at a party with some younger relatives. A shot of waffles!  Constant references to a "group." Gladys Knight's backup singers are a brother and cousins. Also, she owned a chain of chicken and waffles restaurants in Georgia. And of course, there is that DISTINCTIVE voice.
The Peacock: Peacock is most assuredly Donny Osmond. His sister Marie gave the game away in a recent interview with Access Hollywood.  Clues: "Being behind the mask has been very strange and very lonely. Before my last performance, I was standing all alone getting ready and I couldn't even talk to the crew because I had to remain anonymous. Without this mask, everyone recognizes me and they want to chat. But here I feel invisible. It's like my entire career just disappeared into thin air. By day I perform as my 176 pound real self. But by night I ride into the competition masked and ready for battle. Winning would mean everything to me. As my opponents step up their game, I'm going to step up mine." Peacock's "revealing item" is a long haired wig "Because of this wig I was thrown in jail."  Visual clues from the episode: That rainbow flag refers to his Broadway run in Joseph and the Technicolor Dreamcoat. (Ha, the panel think it's an LGBT thing. Nooooo. Donny is a conservative Mormon.) Maybe "Step up my game" refers to his Dancing with the Stars win.
The Monster: Clues –  Many fans believe The Monster is T-Pain–a rapper, singer and record producer. "During my last performance the panel giving my voice some love went a long way to healing a deep wound. Like everyone else, I've had my share of dark days. But I'm a fighter. I've fought my demons. And I discovered the little teddy bear I am at heart. This experience is far more meaningful to me than just wearing a monster costume. It's about being proud of who I am. Don't even think about swinging your negativity my way. Cause I'll just swing back."  Monster's "revealing item" is a headset. Visual clues from the episode: A teddy bear. Dancing in front of a pink cadillac. Throwing money around.  Computer game play.  A music producer's board.  T-Pain is also a big gamer. He had an accident in a golf cart that knocked out a bunch of his teeth (there have been some golf references!). Also, as far as dark experiences–T Pain's niece was murdered in his hometown, Tallahassee. 
The Alien – Despite FOX attempting to lead us astray, The Alien is likely Latoya Jackson   CLUES: "Being in this competition has been such an incredible experience. I spent my entire life under a microscope poked and prodded. And for the first time I'm unknown. No one talks to me or sees me. I'm finally getting some peace and quiet. And I love it. Growing up I always craved the simple life. That's hot! But it seems being born in a famous family, I was destined for the limelight. I mean, I'm only human. Even when I put this mask on. And tonight, what I'm bringing to this performance is what I'm feeling inside. Happy."The references to the reality show Simple Life" in the last episode  have thrown off some fans (there was an item in People today speculating it's one of the Richie sisters). However there have been MORE clues that point to one of the Jackson siblings, including her  Revealing Item which was a police badge from Indiana. The Jacksons are from Indiana, and LaToya starred in a reality show the found her on an Indiana based police force.  Visual clues from the episode: She's reading a book "How to take over the world." Also, cutting foliage with a pair of hedge clippers.  While saying she craves the simple life, she sits down in the grass for a picnic with her bodyguard. She floats by a hissing snake (LaToya apparently digs snakes). 
The Rabbit – Guess: Joey Fatone from Nsync – Joey told an entertainment site that he's not the Rabbit. LIAR! Also, the judges have mentioned Jenny McCarthy's husband, former boy bander Donnie Wahlberg as a possibility. He gave a coy answer to a reporter who asked. But C'MON. That would be awkward  CLUES: "Well howdy friends! I've been working my tail off to keep you guessing who I am. And showing off my range is part of my master plan to throw you off. What can I say? I'm a trickster (Joey is the funny one in NSync I bounce here, I hop there, and then I'm gone. So chew on this–I'm about to bust out all the old school moves." Visual clues: Food stand with "Brooklyn piza available" sign in the window.  (Joey Fatone is from Brooklyn). Also, in previous episodes, there where nods to beaches and amusement parks ('Nsync got their start in Orlando, Florida home of Disney and Universal parks). Rabbit's "Revealing Item" was a magician's kit. WELL THEN.  (Note to FOX: Google is our friend!)
The Lion – Guess: Lots of fans thinks Lion is Rumer Willis. But she has come out to say it's not her. She could be lying though!   CLUES – Previous clues include a newspaper named Hailey's Times. Rumer grew up in Hailey, Idaho. She comes from a "pride" of woman–Rumer has four sisters. Also, her Lion's Revealing Item was…a hair scrunchie! "It's a family heirloom," Lion said. Rumer's mother Demi Moore was known for wearing scrunchies back in the 80's. So pants on fire Rumer! Whe know it's you. Heh.
PHOTO GALLERY