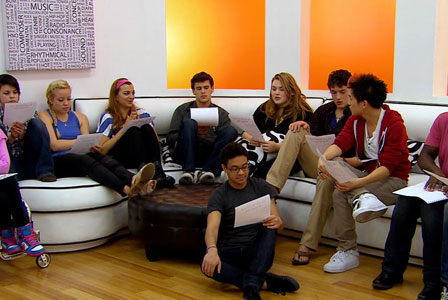 Cory Monteith is the mentor this week on The Glee Project. He'll be helping the kids tap into their vulnerability.  Next week, Naya Rivera will mentor the Sexuality episode!
I'll be posting results in this space at the end of the episode. Videos and recaps later!
There were NO Eliminations this week!
Oh Ryan. YOU KILL ME. Heh.
Bottom 3:
Mario – "Over the Rainbow"
Lily – "Mercy" by Duffy
Charlie – "Fix You" by  Coldplay
NO CUTS THIS WEEK. Although, I believe Mario was expendable. He's only marginally talented, and his personality is pretty annoying. But that't the reason to keep him. He'll be good for drama.  Last week two went home, so the show can afford it. But if I'm not mistaken, at one point there will need to be a double elimination.
Front runners at this point are Shanna and Blake. I'd put my money on Shanna. Ryan needs a new Rachel Berry, and the blond vocal powerhouse could fill the bill. And there's that crack baby story. She'll rival Rachel Crow, because Shanna didn't have the nice family to step in to adopt her.
There are still too many contestants for me to get really excited yet. That's one reason why SOMEBODY should have gone home tonight.
***
This week, Cory Monteith dropped by the Glee Project classroom to give the kids tips on how to break down those barriers that keep them from  BEING REAL.  The vulnerability theme is built around one of Glee's signature touchstones—Bullying.  Cory, in the role of Finn Hudson, has played both the oppressor and the oppressed.  Couple that with his considerable acting chops and it puts him in a unique position to advise the contestants.
When Glee casting director, Robert Ulrich, reveals the theme to the remaining 11 contestants, they are totally thrilled. I don't know if some of them are being naïve in regard to how scary the assignment could get in terms of stripping away comfortable defenses, or they really are psyched to lay themselves bare. Some of the contenders are up to the task, while others struggle. The week's homework assignment is "My Life Would Suck Without You. "  by Kelly Clarkson. Charlie questions the ability to get vulnerable while singing a high-energy pop song. It really is a good question.
The only thing Robert is willing to reveal about the special guest mentor, as he is handing out the sheet music, is that they could "write the book on vulnerability."  "Oh!" exclaims Abraham, "Chris Colfer wrote a book!"  That would be the logical guess, but it's not quite right…
In the meantime, the kids squabble over who gets what line in the song.  The days of "rock paper scissors" has given way to cutthroat competition.  Alpha chicks, Lily and Aylin are NOT getting along.  Lily bitch faces Aylin until she gets the line she wants. I see some major head butting between these two if they stay in the competition.
Robert introduces Cory as the most accessible actor on the show.  The actor strolls into the room with his football helmet under his arm as the kids lose their crap.  Does a Glee star exist who won't make these kids go insane?
Cory acknowledges that the assignment is tough. The kids will have to tap into the thing that makes them feel uncomfortable as a person so they can bring that to the role. "If it's real for you, it's going to be real for the audience," explains Cory.
The kids perform. Their answer to bringing vulnerability to "My Life" is to make sad panda faces while singing the song's poppy lyrics. I'm not sure Kelly Clarkson would approve. Actually, I'm pretty sure she wouldn't.  Lots of over-acting going on up in here.
After, Cory is full of constructive criticism. He tells Abraham not to reach so hard for the emotion. Lily's body language is sexy, rather than vulnerable.  Ali should try not to push her vocals so hard.  The exceptions were Shanna  and Nellie whom he felt were both fantastic.  In the end, he chooses Nellie as the homework winner. She can't believe it. She'll get a one on one mentoring session with Cory, and a step out moment in the video.
The music video this week is "Everybody Hurts" by REM. There's no choreography involved (Damn, I'm going to miss Zach telling the kids they suck in several different ways!)  Instead, director, Erik White will drop by to talk about bullying, which will be the central theme of the video.
Erik wants the video to really resonate with kids. He asks the contestants to call up different incidents from their lives when they have been bullied. Of course, that's nearly everyone. Blake was picked on in middle school, but once he got into high school, he guiltily stood by as a kid was bullied by a group of his classmates. Shanna was teased for being a crack baby—her mom was a drug addict.  Lily confesses to being the bully—terrorizing girls in middle school, until she finally realized how cruel she had been. By the end, it appears that everyone is in the emotional place they need to be to shoot the video.
It's time for vocals with Nikki Anders.  Everyone is nailing their lines.  Nellie is having some problems, but lucky she has that mentoring session with Cory.  He advises her to draw on personal experience, and it turns out the day before was the 10th anniversary of the death of her sister.  Cory tells her to get to that place inside that feels uncomfortable, and don't run away. Back in the studio, Nellie nails the vocal.
Ali, the wheelchair girl, is accustomed to keeping up that super happy façade. Nikki has to cajole her into finding that sad place.  Mario the blind guy has trouble singing on pitch, but when Nikki calls him out on it, he becomes defensive, bringing up the fact that he's classically trained. Nikki is not pleased.  Aylin talks about classmates calling her "terrorist" because she's Muslim.
The mentors are happy with this week's video, which features the kids in vignettes that portray the them being bullied, and bullying others.  During the commercial break, there is an anti-bullying PSA featuring Cory.
Strangely, the kids playing the bullies REALLY REALLY get into it, scaring the mentors a  little. Lily can't lip sync.  Like, she really sucks at it. Robert notes that Blake is the best actor and Michael is close behind.  Charlie is in a group of boys bullying Mario, and suddenly grabs his cane. He was NOT supposed to do that. The crew is pretty upset.  Abraham shines this week in a way he hadn't before.  Lily is 100 percent convincing as a bully. She practically beats the crap out of Aylin.
The mentors assemble to choose the bottom 3. Blake is called back first due to his superb acting in the video. Abraham, Michael, Shanna, Aylin and Tyler are called back next.  Nellie, Lily, Mario, Ali and Charlie are in jeopardy.  The mentors critique the remaining contestants. Nellie, the homework winner, sounded amazing on the track, but she needed to commit a little more. Nellie can't deal with looking foolish in front of people. Oh. She'd last about 3 seconds on Glee. Or in any situation that required her to act, for that matter.  Lily's lip-syncing gaffe was a problem. Charlie grabbing Mario's cane indicates he might have trouble following direction. Charlie apologizes to Mario. Ali is still having trouble being "big in the face."  She has to learn to strip it back.  Mario still refuses to admit that he could be pitchy.  Nikki, in particular is irritated by his attitude.  "None of you are ready," she chastises. "That's why you are all here. "
Robert, Nikki and Zach have made their decision. Charlie, Mario and Lily will perform for Ryan. Nellie and Ali are relieved to learn they are on the call back list.
The mentors hand out song assignments. Lily is handed "Mercy" by Duffy. She's PISSED that she's in the bottom 3.  "Over the Rainbow," is assigned to a humbled Mario and Charlie shouts AWESOME when he finds out he'll be singing "Fix You" by Coldplay.
The kids have two hours to rehearse.  Lily can't understand why she's NOT on the callback list, because she feels she nailed her part in the music video. Mario feels like he's been handed a wake up call. He refers to himself in the 3rd person and declares that he's "shaking in his boots."
Last chance performance for Ryan Murphy is next.  Robert says unlike last week, all of the contestants rose to the occasion. They had to take many factors into consideration when making a difficult decision. Lily is first. She does her big girl vamp thing with "Mercy."   Ryan is worried about her, because she doesn't seem to be an underdog.  She begins to cry. She knows she can show Ryan so much more. And she proceeds to do just that. Chick is a good actress. She turned on the tears right on cue. Ryan is impressed, feeling that he has finally seen her vulnerable side.
Charlie takes the stage next.  He does his best white boy singer dude deal.   He is super duper vulnerable, ending on a purposely wobbly note. Ryan felt like he had no idea what was coming next in the performance, and he's glad because he doesn't want Glee to be a damn karaoke show. (WHOOPS. Too late). Ryan is inspired by his performance.  The subject of his bad behavior—grabbing Mario's cane—during the video shoot comes up.  Charlie says he's still getting used to TV. Ryan notes that he's the type of person who will always make the brave choice.
Mario is last.  He has a nice voice, but he's the least impressive of the 3.  About his pitchiness, Mario speculates that the studio noise is affecting his ability to stay on pitch. Ryan says that when Nikki gives him a note, that being defensive will not help him. Mario says he meant no disrespect. He begins to cry. He begs for another chance…in the wordiest way possible. Back in the waiting room, Mario is all defensive again.  The kids tell him that he really has a way of expressing himself that rubs people the wrong way. There's something really off and strange about this guy…and not in a way that would help Glee.  Mario is the one that should go.
Robert arrives with the call back list. He always looks so sad when he puts it up. The kids go out to take a look. They are all so nervous.  One by one, as they gather the courage to look at the list, their faces turn from fear to joy…every last one.
YOU ARE ALL CALLED BACK the list says.
That's right. No cuts this week. Ryan wasn't ready to part with anyone yet.  Much rejoicing ensues back at the dorm. Or maybe the kids are just acting like they're happy for their saved compadres. It's a competition, remember?