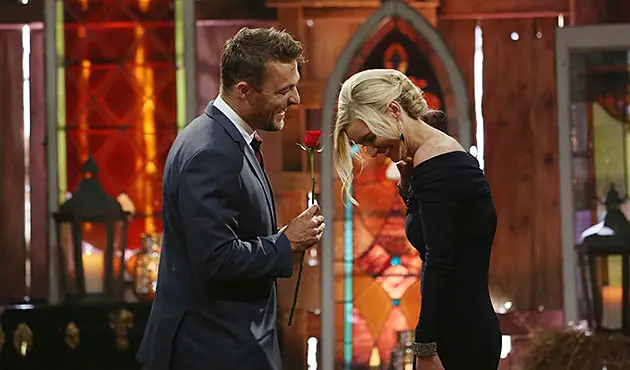 Gosh. Who didn't see this coming. The producer of The Bachelor announces that Chris Soules and Whitney Bischoff have called off their engagement. What a shock, that two people who met on a scripted reality show over the course of 10 weeks won't be getting married after all. Lather rinse and repeat!
Sad news to report: @souleschris and @whitbisch are no longer engaged…

— Mike Fleiss (@fleissmeister) May 28, 2015
"Whitney Bischoff and Chris Soules have mutually and amicably decided to end their engagement," the couple said in a joint statement. "They part with nothing but respect and admiration for one another and will continue to be supportive friends. They wish to thank everyone who has supported them through this journey."
Chris popped the question to Whitney during the March 9 finale of The Bachelor, which was filmed about six months ago.
Rumors had been swirling that the couple split, but I imagine they decided to stay a fake couple, at least until Chris's run on Dancing with the Stars was over. If Whitney had married Chris, she would have moved from Chicago where she works as a fertility nurse, to Chris' small town Iowa farm. Or not. Chris seems to spend more time in Los Angeles than anywhere else.
Honestly, do contestants really go on this show to find the love of their lives? Really?
Via US Magazine.