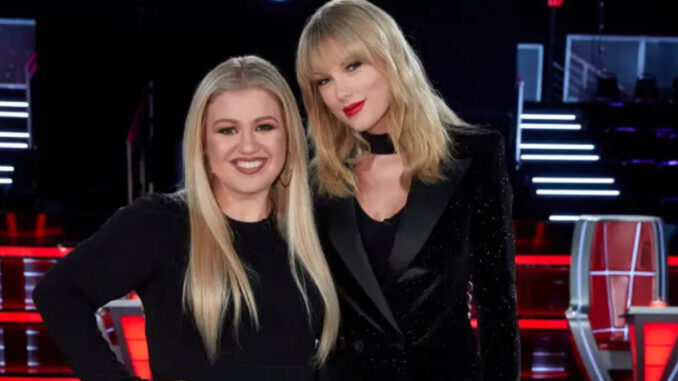 Taylor Swift sends Kelly Clarkson flowers every time she drops a reissue
Did you know that Kelly Clarkson gave Taylor Swift a great idea that has resulted in the latter garnering great success re-releasing her older albums? Taylor hasn't forgotten.
"You know what's so funny? She just sent me flowers," The OG American Idol winner told E! News recently. "She's so nice. She did. She was like, 'Every time I release something'—'cause she just did 1989. I got that really cute cardigan, too."
Here's the story: Kelly suggested in a 2019 tweet that Taylor should re-record her music after Scooter Braun's company Ithaca Holdings LLC acquired her former label Big Machine Label Group and obtained the rights to the masters for her first six studio albums (her music catalog was subsequently sold to Shamrock in 2020). Taylor followed her advice, resulting in a series of wildly popular re-issues.
"You know if they're going to find a loophole, you find a loophole"
However, The Kelly Clarkson Show host won't take all the credit for Taylor's windfall.
"She's a very smart businesswoman," Kelly said. "So, she would have thought of that. But it just sucks when you see artists that you admire and you respect really wanting something and it's special to them. You know if they're going to find a loophole, you find a loophole. And she did it and literally is, like, the best-selling artist I feel like of all-time now."
Kelly also gave credit to Taylor's fans.
"It's so cool to see a fanbase really get behind her in that too because it's important," she added. "She's known for being such an incredible songwriter and the soundtrack to a lot of people's lives and that's her life. So, you should have the option of owning that."
Kelly and Taylor have, of course, crossed paths over the years, including when Taylor served as Mega Mentor on The Voice in 2019 while Kelly sat on the coaches panel.
Meanwhile, Kelly is living her best life after moving her daytime talk show to New York City. She told People magazine at a SiriusXM press event where she announced the launch of her own year-round channel, "I was very depressed for the last three years — and maybe a little before that, if I'm being honest. I think I really needed the change," the chemistry singer said. "I needed it for me and my family as well. My kids are thriving here. We're just doing so much better, and we needed a fresh start."
Kelly's looking great these days. She's lost some weight. Check out her new hairstyle–bangs!