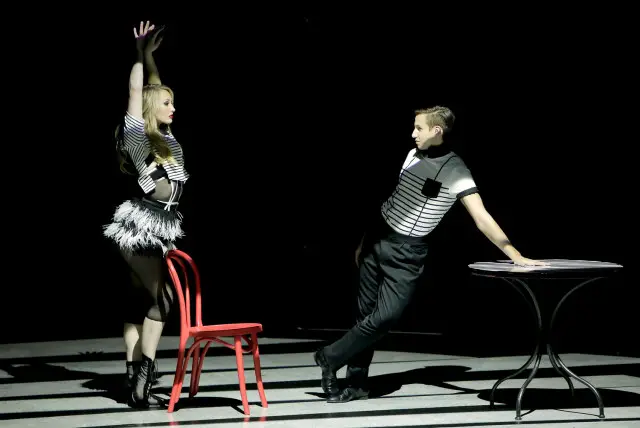 SYTYCD Season 12 Top 10 Results and Performance – Live Blog & Videos
Derek and Kayla – Jazz by RJ and Nick – Got It by Marian Hill – Derek is basically in his style this week. Kayla is just so incredibly sexy in this. Her hair is like a character all its own. Derek is believably masculine in this. I'm impressed. That over the back flip was amazing. This is Derek's best dance this season. Not crazy about the music, but the choreo is on point. Kayla is on point. She's incredible. Paula says his strength prevailed this week. Paula loved the flip also. Her constructive criticism is that he needs more passion in his dance. Jason says we saw a different side of him, and says it was fly. He fed off of Kayla's magnificent energy. Nigel says he couldn't take his eyes off Kayla, but Derek pulled it through in the end. He credits Kayla for pulling a different side out of him. RESULTS! Derek is in the bottom two stage dancers.
Click for Mac's full SYTYCD Season 12 Top 10 Results & Performance Recap
Derek's Solo- Drip Drop from Empire – Derek started dancing because of So You Think You Can Dance. Travis inspired him. That must make Travis feel old. He studied with Victor Smalley, at the same studio of Ricky from last season. Some cool tricks in his solo. He took more advantage of his time than Hailee did. He opened with the pirouette, and didn't come back to it.