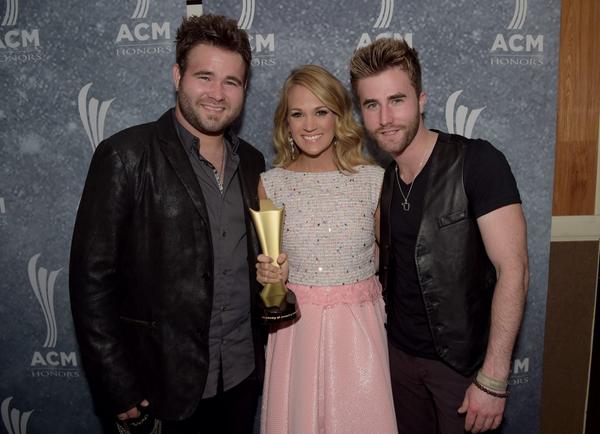 What's it like being an opening act for a huge country superstar like American Idol singer Carrie Underwood? The Swon Brothers who have been travelling with her as an opening act on her Storyteller tour, take fans behind the scenes of the glamourous life on the road in a two-part video series from The Voice.
OK. It's not really all that glamorous. But it looks like a lot of fun. The brothers, Colton and Zach, were contestants on The Voice season 4 finishing in 3rd place for Team Blake Shelton. After being signed to major label Arista Nashville, the duo released their self titled post-Voice debut in 2014.
The brothers eventually parted ways with the label, but it didn't stop them from recording more music. The Swon Brothers' latest album Timeless was released independently early this year. Despite no longer being label mates, the duo has had the incredible opportunity to promote the new set on the road, in front of thousands of people, opening for Carrie. It helps that they are all childhood chums, having spent their formative years in Oklahoma. Zach and Carrie attended college together! They took a couple of classes together.
Part 1
In part 1, we get a look at their tour bus. "#2 you cannot do." That's a rule! Also, their bunks are slightly larger than their band mates. "The perks of being a duo!" quips Zach.
https://youtu.be/KNiou17wqOk
Part 2
Colton and Zach tour the backstage of one of the venues, including a "VIP" room where they chill before the show. "It's really cool for me to see people singing the brand new stuff," says Colton. "Because then you know people are coming up to hear you."
He goes on to gush about performing with Carrie. "I think one of our favorite things about being on tour has to be when we get to sing with Carrie, to get to be part of her actual show. That's unreal!" Carrie had just announced the fall leg of her tour, and the guys couldn't be more excited that they will be continuing on as an opening act.
https://youtu.be/LggqnJyT7TI
BONUS VIDEO Y'ALL! Carrie invites The Swon Brothers and fellow opener Easton Corbin on stage for a cover of the Nitty Gritty Dirt Band's well-loved country hit "Fishin in the Dark." This is a special performance, as the group performed in front of an enthusiastic hometown crowd in Tulsa Oklahoma on April 28.