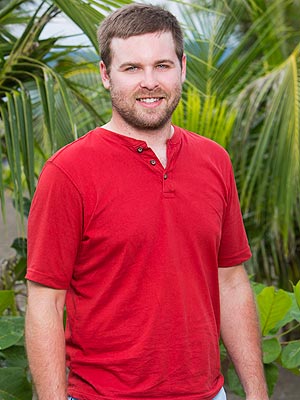 Sad news. Caleb Bankston, who competed on Survivor: Blood vs. Water, has died at age 26, reports People Magazine.
Caleb was killed when the train he was on derailed on Tuesday. Caleb, 26, worked at the Alabama Warrior Railway in Birmingham. He competed on Survivor: Blood vs. Water in 2013 alongside his fiancé, Colton Cumbie, leaving the game at ninth place.
"Caleb was an amazing man and friend," fellow contestant Aras Baskauskas tells PEOPLE. "One of the sweetest and most sincere humans I've ever come across. I am gutted by his loss. My thoughts and prayers are with his family."
Sabrina Thompson, who competed on Survivor: One World with Caleb's fiance: "While playing Survivor with Colton, he would talk about his boyfriend, Caleb, around the clock 24/7. Within seconds of meeting Caleb at the finale and Survivor events, it's no wonder why he raved about him. You were instantly drawn to his big smile, warm spirit and Southern charm. May God rest his soul … gone too soon."
Via People Magazine
UPDATED TMZ has the details of Caleb's death:
"Survivor" star Caleb Bankston was crushed to death by 2 rail cars when the train on which he was riding derailed … TMZ has learned.

Bankston — a contestant on "Survivor: Blood vs. Water" last year — was checking on something in the small space between two of the cars when the train went off the tracks. Cops say the rear car slammed into the forward car … with Bankston caught helplessly in between.

Since this is an industrial accident, Birmingham PD says the Federal Railroad Administration and the railway company's safety officer will conduct separate investigations.

So far, it is unknown what caused the derailment. We're told there was one other worker on the train at the time of the crash … he was not injured.
Read more at TMZ.com